Karnataka MLA ignores warnings, detained by Ballari Police

Sensing trouble after MLA Zameer's visit to Ballari in order to stage a protest over MLA Somashekhar Reddy's controversial comments against minorities, Ballari police detained the legislator and his followers. This has resulted in tense atmosphere as the Ballari Congress unit had asked the leader not to visit Ballari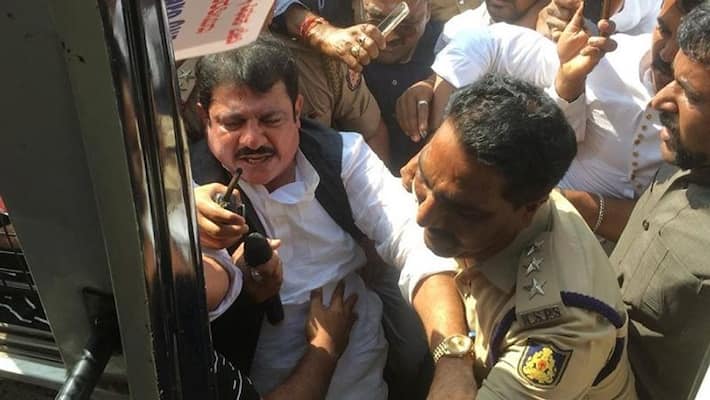 Ballari Police detained Chamrajpet MLA BZ Zameer Ahmed Khan sensing the hostile atmosphere post a speech. Khan had challenged Ballari MLA Somashekhar Reddy and said that he will sit before his house and protest for controversial remarks. He even challenged Reddy to bring a sword.
Local leaders say Ballari has been very peaceful and they are very surprised by Reddy's recent gesture.
"Reddy's comment is very hurtful. He said Hindus are 80% and referred to Muslims, saying you are 18% only and warned of consequences. Counter statement and action by Zameer will only create more tension in the area and we asked him to cancel his plan to visit Ballari. Despite our pleas, he came and was detained by police," said GS Mohammed Rafiq, President Ballari District Congress.
Former Ballari MP VS Ugrappa said he had personally asked Zameer not to visit Ballari as the situation is volatile. "Somashekhar Reddy has become a villian after his hate speech. Zameer wanted to challenge him on his home turf but we advised him not to make any speech as the situation may become worse, " said Ugrappa.
Despite warnings from senior Congress leaders, Zameer with his followers visited Ballari
Last Updated Jan 13, 2020, 5:30 PM IST