Karnataka govt mandates reading of Indian Constitution's Preamble in educational institutions from today
To mark International Democracy Day, Karnataka mandates daily recitation of the Constitution's Preamble in schools and colleges. Over 2.27 crore participants, including organizations, support this initiative, which aims to promote democratic values and principles.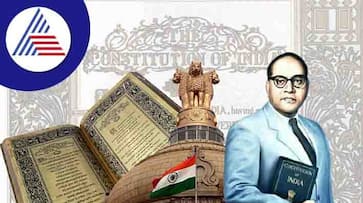 To commemorate International Democracy Day, the Karnataka State Government organized a special event where the Constitution's Preamble was read aloud on the steps of the Vidhana Soudha. This significant activity has now been made compulsory in schools and colleges all across Karnataka, requiring students to recite the Constitution's Preamble daily.
An impressive 2.27 crore participants, including people from Karnataka, India, and worldwide, have registered for this Preamble reading initiative. The Constitution's Preamble will be echoed in various offices, spanning from panchayats to ministries. Even associations, corporations, multinational companies, government departments, and banks have enlisted for participation, committing to recite the Constitution's Preamble at their respective locations. District Collectors will spearhead this initiative.

Bharat, the Mother of Democracy: Deep dive into the booklet given to world leaders at G20 Summit 2023
The overwhelming support received for this program has been truly remarkable, with citizens from all corners of the country showing their enthusiasm. Below, you will find the text of the Constitution's Preamble, which is to be recited daily in schools and colleges:

Explained: A look at how Bharat found a place in the Constitution, but came after India
Preamble of the Indian Constitution:
WE, THE PEOPLE OF INDIA, having solemnly resolved to constitute India into a SOVEREIGN SOCIALIST SECULAR DEMOCRATIC REPUBLIC and to secure to all its citizens:
JUSTICE, social, economic and political;
LIBERTY of thought, expression, belief, faith and worship;
EQUALITY of status and of opportunity;
and to promote among them all
FRATERNITY assuring the dignity of the individual and the unity and integrity of the Nation;
IN OUR CONSTITUENT ASSEMBLY this twenty-sixth day of November 1949, do HEREBY ADOPT, ENACT AND GIVE TO OURSELVES THIS CONSTITUTION.
Last Updated Sep 15, 2023, 12:35 PM IST