Karnataka Congress president's post: Former CM Siddaramaiah checkmates DK Shivakumar with MB Patil

To take control over Karnataka Congress affairs, it seems like former CM Siddaramaiah has deliberately suggested MB Patil, a Lingayat, as the next president of Karnataka Pradesh Congress Committee (KPCC). Siddaramaiah, along with his followers, is camping in Delhi for the same purpose.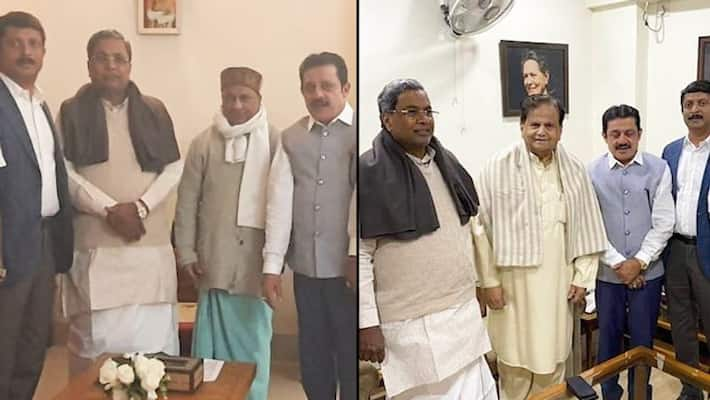 Bengaluru: Former Karnataka CM Siddaramaiah, who is camping in Delhi along with his followers and former ministers MB Patil, RV Deshpande, BZ Zameer Ahmed Khan, MLA Bheema Naik, Raghavendra Hitnal and others, met senior Congress leaders and Rajya Sabha MP, Ahmed Patel, AK Antony.
The meeting is said to be a part of a strategy to placate DK Shivakumar and ensure MB Patil gets the Karnataka Congress president's post.
However, MB Patil has denied his interest in grabbing the coveted post and said, " We have come here only to ask the high command to appoint the next Karnataka Pradesh Congress Committee (KPCC) president. The idea is to draw a strategy to come back to power in Karnataka during the next elections."
He further added that there is no difference between Siddaramaiah and DK Shivakumar and said that no matter who the party picks as next KPCC chief, every Congress leader will work united and defeat the BJP.
The BJP accused the Congress of engaging in internal fights instead of devising strategic plans for better administration.
"The fight is for personal benefits. Siddaramaiah will lose his prominence if DK Shivakumar becomes KPCC president. Both are from southern Karnataka and here Gowdas and Kurubas do not get along well. In North Karnataka, Lingayats and Kurubas have no such animosity. Apart from this reason, Siddaramaiah wants his man MB Patil as KPCC chief so that he can act as super KPCC president," said Vaman Acharaya, BJP spokesperson.
Last Updated Jan 14, 2020, 5:36 PM IST