Karnataka: Congress leaders rush to religious places ahead of by-polls
Karnataka Congress leaders like Siddaramaiah, Dinesh Gundu Rao paid a visit to religious places in the wake of the Assembly by-polls being held on December 5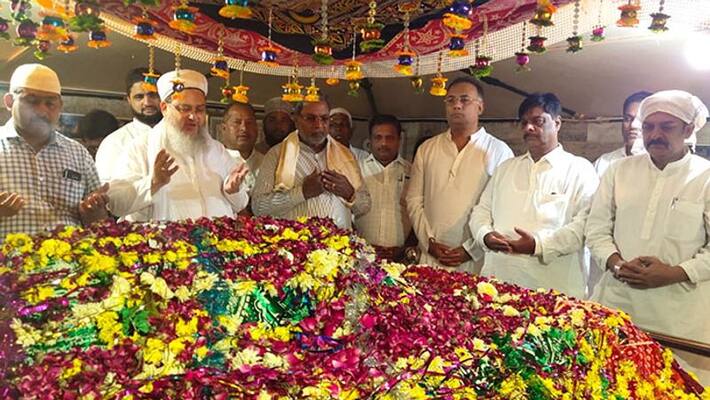 Bengaluru: Ahead of the by-polls in Karnataka on December 5, state Congress leaders are leaving no stone unturned to impress the Almighty and the public too. 
Leaders like former CM Siddaramaiah, KPCC president Dinesh Gundu Rao visited Mureed Nawaz Hazrat Saayedna Ham Fee Dastagir dargah in Vijayapura. 
They also visited the Buddha Vihara Nirmana Samiti in the same place. 
Also Read: BJP leader Raju Kage quits
By-polls for fifteen constituencies will be held on December 5 and the results will be announced on December 9. 
The by-polls are necessitated as seventeen members of the Congress and JD(S) decided to bid goodbye to their parties for various reasons, thereby toppling the coalition government, headed by HD Kumaraswamy These members also tendered their resignations to the then Speaker Ramesh Kumar. 
However, the then Speaker Ramesh Kumar did not accept their resignations. In fact, he disqualified all the seventeen till the end of the current assembly term (2023). 
Aggrieved at this order of the then Speaker, the disqualified members approached the top court, seeking it to set aside the Speaker's order and allow them to contest the by-polls. 
The top court will pronounce its verdict on Wednesday (November 12). 
Congress and JD(S) leaders alleged that these seventeen disqualified members were being influenced by the BJP. Their counsel also informed the top court that the disqualified members who flew to Mumbai and stayed put at a hotel there was at the behest of the BJP. 
On the other hand, the disqualified members alleged that they were being meted out step-motherly treatment. Some of them even put out allegations of interference by leaders like HD Revanna, saying they were poking their nose in things which were irrelevant to them. 
The BJP too is stuck in a mess in relation to the disqualification. While the party is giving tickets to these disqualified members, some of its own members like Raju Kage have openly dissented against it and have quit the party as well. 
 
Last Updated Nov 12, 2019, 2:10 PM IST