Karnataka CM Yediyurappa warns BJP leaders to refrain from stoking controversy over Jesus statue
Karnataka chief minister BS Yediyurappa issued a warning to the BJP ministers and leaders to not make an issue out of the 114-foot Jesus statue and target Congress' DK Shivakumar over it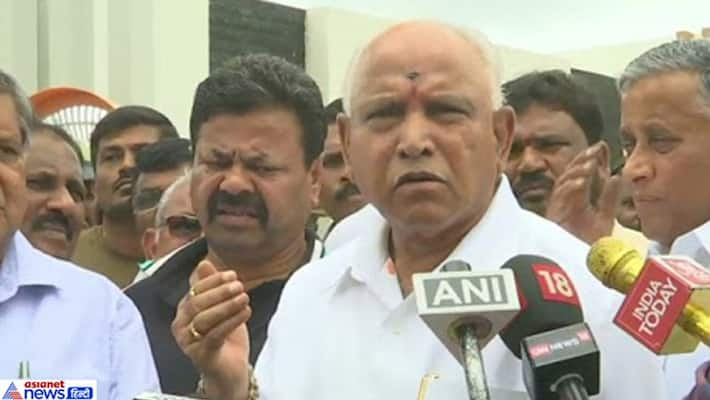 Bengaluru: While Karnataka Congress leader and trouble shooter DK Shivakumar justified the laying of foundation stone for installing a 114-foot statue of Jesus Christ at Kapala Hill in Kanakapura, on the outskirts of Bengaluru, many BJP leaders accused him of being involved in appeasement politics and pleasing Congress interim president Sonia Gandhi.
Chief minister BS Yediyurappa warned BJP ministers and leaders not to drag the issue and make controversial statements targeting the statue project and former minister DK Shivakumar.
Speaking at the Cabinet meeting, Yediyurappa said, "Former minister DK Shivakumar should not be criticised or targeted in this regard. Creating controversy over the statue has already led a community to drift away from the BJP. And this might work in DK Shivakumar's favour. If the land is illegally sanctioned rather than openly criticising, let the revenue department take action."
According to sources, Yediyurappa has said that if the statue controversy gains momentum then it might affect the saffron party.
Congress strongman DK Shivakumar laid the foundation stone for erecting the world's tallest statue of Jesus Christ in his constituency, Kanakapura taluk of Ramanagara district as a gift to Christian community predominant in the region. BJP leaders such as Ananth Kumar Hegde, CT Ravi, R Ashoka and Pratap Simha ridiculed Shivakumar and took a dig at him saying he was trying to appease his Italian mother (Sonia Gandhi) and involving himself in appeasement politics.
Reacting to BJP leaders, Shivakumar had said that the land had been sanctioned by the erstwhile HD Kumaraswamy government, and he had paid for the land. He had said the criticism directed against him was out of ''jealousy'' towards his secular outlook.
Last Updated Dec 31, 2019, 2:20 PM IST