Karnataka: Bus burnt to ashes in Ramanagara, passengers unhurt
SRS bus travelling from Bengaluru to Ramanagara, Karnataka, caught fire when it was parked outside a resort. However, no one was hurt in the incident.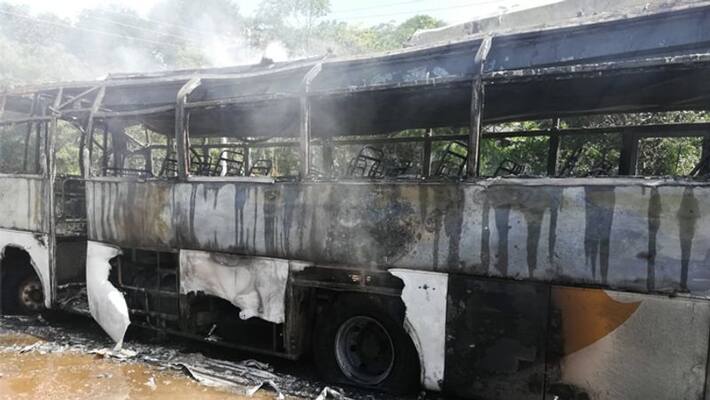 Ramanagara: It was a lucky escape for passengers who had boarded the bus to Padarahalli in Ramanagara district, Karnataka, caught fire. The parked bus is said to have caught fire due to short circuit. 
A number of passengers had arrived to Shilahandara Resort in the bus belonging to SRS travels. The incident was reported to have took place when the bus was parked outside the resort and no fatal accident was reported. 
The SRS travels bus arrived from Bengaluru around 11 am and the passengers deboarded the bus at the resort. After passengers deboarded the bus, the driver and the conductor were still in the bus. However, they too deboarded a while later but left the AC in the bus running. 
A small fire was seen in the bus in the afternoon due to a short circuit. The bus driver and conductor tried to enter the bus to douse the fire. However, the fire soon engulfed the bus and burned it to ashes.
Some belongings of the passengers were also charred in the fire. The fire tenders rushed to the spot and doused the fire. But it was too late, the bus was completely burnt. Sub inspector Lakshman Gowda of Paradahalli station inspected the spot and lodged a complaint. A complaint has been filed at Ramanagara rural police station. 
Police sources said the bus caught fire due to a short circuit in the bus and soon the bus was burnt to ashes. However, no fatal accident was reported and all passengers, including the bus driver and conductor were out of the bus when the incident occurred.  
Last Updated Dec 13, 2019, 12:51 PM IST