Karnataka Assembly by-polls: Don't need JDS' support, we will win majority of seats, says BJP
With hardly 24 hours to go for polling, the Karnataka BJP unit has openly cornered JDS saying it does not need anyone's support as it will get the majority after by-polls results on December 9. Earlier, there was a rumour about the JDS backing the BJP in case the saffron party fails to get the required number and even Kumaraswamy has dropped hints about supporting chief minister Yediyurappa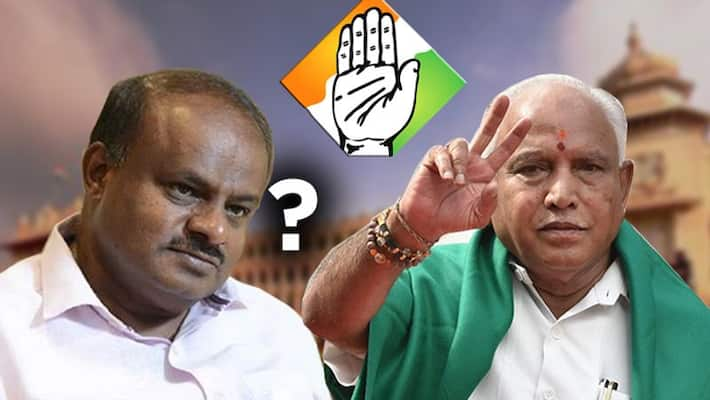 Bengaluru: With rumours of the JD(S) joining hands with the BJP post Karnataka Assembly by-election results on December 9, the saffron party has openly said that it will not need anybody's support as it is confident of getting the majority of seats.
The BJP came to power after 17 lawmakers from the JD(S)-Congress coalition government resigned. After losing the majority in the Assembly, HD Kumaraswamy was forced to resign as the chief minister of Karnataka and BS Yediyurappa staked a claim and became the chief minister for the fourth time. 
The 17 disqualified MLAs then won the battle in the Supreme Court about their disqualification and later joined the BJP only to contest from the same Assembly constituencies on BJP tickets.
As of now, the BJP has 105 MLAs in the 224-member Karnataka Assembly. It has to secure another eight more seats to stay in power as the magic number is 113.
The election commission declared the by-election to 15 Assembly seats. The BJP is leaving no stone unturned to make the government strong. And the Congress is hoping that in case it falls short of numbers, it is planning to stitch an alliance with the JD(S), again.
Leaders speak
Eshwar Khandre, Karnataka Congress Working President
"There is a possibility of winning more number of seats and there is also a chance to form an alliance. The JD(S) also has options. The final decision has to be taken by the party high command."
S Prakash, BJP Spokesperson
"There is no question of any alliance with the JD(S) as we will win majority of the seats in by-polls. The BJP does not need the JD(S). The hope of Congress forming an alliance with the JD(S) will also be crashed after the results."
JDS undecided
Bandeppa Kashampur, former minister, says that it will play a crucial role after by-election.
"We are hoping to get at least five seats. Regarding supporting the BJP or Congress, we are not yet decided as we have differences with both. It is left with HD Deve Gowda and HD Kumaraswamy to take a call post results," said Kashampur.
Last Updated Dec 4, 2019, 1:55 PM IST