Karnataka: Another suicide reported at Netravati bridge, echoes CCD owner VG Siddhartha's death
Tragedy strikes again at the Netravati Bridge, where Coffee Day chain owner Siddhartha ended his life in 2019. Another individual, Prasanna, has now taken his life at the same location, renewing concerns about suicides at the bridge. In 2020, authorities installed a barrier to prevent such incidents, but the recent suicide has drawn attention once more.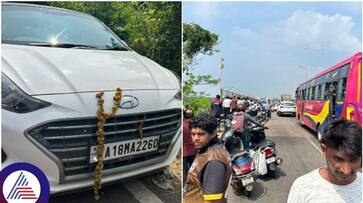 Tragedy struck once again at the Netravati Bridge, the same spot where the owner of the internationally renowned Coffee Day chain, Siddhartha, had taken his own life four years ago. Siddhartha's suicide in 2019 had a profound impact, and it led to a series of suicide cases at the bridge following his demise.
Prasanna, a 37-year-old resident of Gokul Farm in Chikkamagaluru, chose to end his life by jumping into the river from the same bridge that Siddhartha had used. This distressing incident has reignited concerns about suicides at the Netravati Bridge, prompting a fresh case registration at the Ullala Police Station.

CCD founder VG Siddhartha dies; new interim chairman on board
V.G. Siddhartha, the owner of the popular Coffee Day chain, tragically took his own life in July 2019 by jumping into the Netravati River from the Netravati Bridge in Ullal, Karnataka, India. His suicide had a significant impact and led to a series of suicide cases at the same location. 
In response to the alarming increase in suicide attempts, authorities took preventive measures by installing a barrier in 2020, which effectively reduced the number of incidents. However, after three years of respite, the bridge is back in the headlines due to another tragic suicide.
Last Updated Oct 30, 2023, 4:20 PM IST