Karnataka: 14 dead in firecracker shop blaze near Bengaluru
A fire at an Anekal firecracker shop near Bengaluru resulted in 14 deaths, with fears of more casualties. Firefighters extinguished the flames, and efforts focused on recovery. The shop owner survived with burns. Traffic congestion on Hosuru highway occurred, affecting emergency response. Twenty people worked at the shop, with four injured, six missing, and most workers from Tamil Nadu.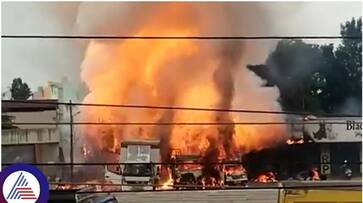 A devastating fire erupted at a firecracker shop in Anekal, located on the outskirts of Bengaluru, resulting in the tragic deaths of at least 14 people. Concerns remain that additional casualties may be discovered as the situation continues to develop.
The fire originated at an Atthibele firecracker shop and quickly spread, engulfing the entire establishment. The blaze emitted fierce flames and thick smoke, impacting nearby areas. This fiery disaster also extended its reach to neighbouring shops, leading to the destruction of firework trucks, goods vehicles, and motorcycles.

Bengaluru: Commuters rally for Purple Line metro operations with #StartPurpleLineOperations campaign
In response to the emergency, firefighters promptly arrived at the scene and effectively extinguished the flames. Presently, efforts are concentrated on the recovery of the deceased individuals affected by this catastrophic fire. During the fire's rampage, five charred bodies were discovered within the shop. Altogether, it is believed that 10 individuals were present inside the store at the time of the incident. 
However, the shop's owner managed to escape but suffered burn injuries during the ordeal. Regrettably, the fire engendered a substantial traffic jam on the Hosuru highway, which even affected a fire brigade vehicle, leaving it trapped in the gridlock.

Bengalureans roast Karnataka govt over idea to levy congestion tax on 9 city roads
A total of 20 people were reportedly working at the firecracker shop during this unfortunate incident. Four among them sustained minor injuries and survived, while the whereabouts of six others remain unknown. Authorities are conducting exhaustive searches amidst the fire's ashes and the surrounding vicinity in their quest to locate the missing individuals. Regrettably, the search is impeded by the prevailing darkness.
It has been noted that the majority of those impacted by this tragic event hail from Tamil Nadu. This includes the injured shop owner, who is currently receiving medical treatment. Three more workers sustained injuries and are now under hospital care. Further details regarding the deceased workers are anticipated to surface once the injured individuals recuperate. The authorities are actively seeking the drivers of the lorries and Tata Ace vehicles that were parked near the firecracker shop, as there is concern that they may have been trapped during the incident.
Last Updated Oct 8, 2023, 11:24 AM IST