Kannada activists storm railway station to shut shops and stop trains; protesters taken into custody
Hundreds of pro-Kannada outfits staged a protest at Majestic Railway station and raised slogans against PM Narendra Modi and the Central government demanding the cancellation of the new reforms related to agricultural marketing and the newly proposed APMC policy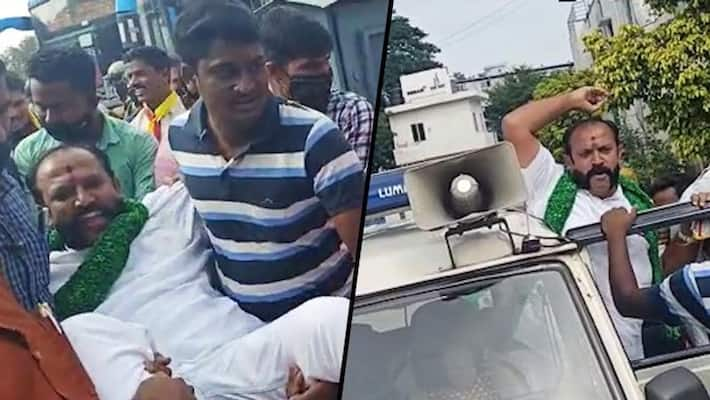 Hundreds of pro Kannada outfits led by Kannada Rakshana Vedike and Karnataka Ranadheere Pade stormed Majestic Railway Station. They were taken into custody.
Kannada activists raised slogans against the Union government, Karnataka CM BS Yediyurappa and demanded that the government withdraw the new reforms related to agricultural marketing, proposed APMC policy and others terming them as anti-farmer.
Narayana Gowda, president, Kannada Rakshana Vedike said, "BS Yediyurappa took oath in the name of farmers and now his government has arrested activists agitating against the anti-farmers bill and proposed policies. We will not stop our agitation until this is dropped." 
Also watch:  Kannada Rakshana Vedike activists block Mysuru Road near Satellite Bus Stop, arrested
Police who have deployed battalions have taken hundreds of activists into government buses and police vans. After registration of cases, they may be allowed to go in the evening.
As police dragged activists from the protest venue and bundled them into buses, the activists shouted' 'Aiyaiyyoo Anyayaa', 'Beke Beku Nyaya Beku' (This is injustice. We want justice).
As the activists were taken in buses, few other activists blocked the road at Anand Rao Circle, stopped the buses and protested.
 
Last Updated Sep 28, 2020, 12:21 PM IST