Kalamassery blast: Jehovah's Witnesses shifts prayer meetings online
The Kalamassery blast took place on Sunday (Oct 29) during the Jehovah's Witnesses prayer meeting. In the wake of the blast, the community has decided to conduct prayer meetings online.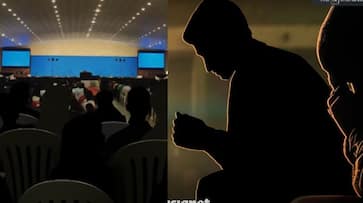 Kochi: In the wake of the blast at the convention center in Kalamassery, Jehovah's Witnesses have temporarily stopped their prayer meetings. The community of believers has announced that the Kingdom Hall prayer meetings in the states of Kerala, Tamil Nadu and Karnataka have been temporarily stopped. Believers in 'Jehovah's Witnesses India' component have been instructed to hold prayer meetings online till further notice.
Also read: Kalamassery blast: Condition of 4 victims critical, two on ventilator
The decision was taken in the wake of the Kalamassery bomb blast. The national spokesperson of the organization, Joshua David, stated that the decision was taken in consideration of the safety of the members.
An explosion rocked a convention centre in Kalamassery in the Ernakulam district of Kerala, claiming three person's life and injuring over 25 others. The cause of the explosion, which went off at 9:45 a.m. on Sunday (Oct 29) is not yet known. The injured have been shifted to Kalamassery Medical College. 
As many as 35 people are undergoing treatment and seven people are admitted to the ICU Two are reportedly in critical condition. According to preliminary information from police sources, traces of low-intensity explosives have been found. Latest reports suggest that IED bombs brought in tiffin boxes exploded as its traces have been found. 
According to eyewitnesses, around 2,000 people had been participating in the religious congregation when the explosion went off.
Three people succumbed to burn injuries in the blast. The deceased are Libina (12), Kumari (52) and Leona Paulose (55).
Also read: Kalamassery blast: Prime accused Martin Dominic made bombs at his house
Last Updated Nov 6, 2023, 8:30 AM IST