JDS to offer outside support to BJP post Karnataka by-polls on 'moral grounds'?
With statements coming from former CM HD Kumaraswamy that his party will not attempt to destabilise Karnataka government, it has generated curiosity about the fate of the government headed by BS Yediyurappa. It is said that the BSY government will complete its term regardless of the by-poll results as the JD(S) seems to be "offering outside 'support"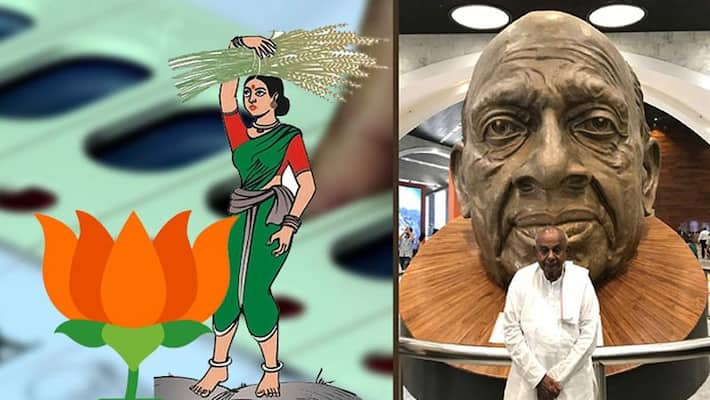 Bengaluru: JD(S), the regional party that always plays a crucial role in forming government will once again come into the limelight post be election to 15 assembly segments in December as JD(S) is apparently offering 'outside' support on 'moral grounds'
According to sources, JD(S) supremo HD Deve Gowda had conversed with PM Modi a few weeks ago and is said to have come to understanding that his son HD Kumaraswamy should not be targeted in the alleged 'phone tapping case'.
Could a photo of HD Deve Gowda posing in front Sardar Vallabhbhai Patel statue on his social media account, be evidence of this development?
If one can remember, PM Modi also appreciated HD Deve Gowda's gesture, on Twitter, of visiting the Statue of Unity.  "This conversation on Twitter between PM Modi and HD Deve Gowda is a hint that the JD(S) is offering support to the BJP," said a source.
However, BJP termed this news as a mere rumour and expressed confidence of bagging more seats and gaining majority to form a "strong" government.
"The appreciation of Statue of Unity by HD Deve Gowda is a fact and there's nothing wrong in it. Good things need to be spoken of and one should not wrongly interpret Gowda's tweet. With regard to the JD(S) offering support, so far, they have neither approached us, nor we have spoken to them. Only few JD(S) MLAs have spoken about it. We will get more seats in byelection and become strong." said CT Ravi, Tourism minister.
JD(S) reacts:
HK Kumaraswamy, the JD(S) President also hinted about the possibility of JD(S) joining hands with BJP post the by-election to secure its 'interest'.
"Former CM has made some statements with regard to the stability of government. He made such statement keeping in mind the possibility of the Karnataka government completing a decent term be it three years or five years. If they (BJP) need our support at that time, we will decide."
 
Last Updated Oct 31, 2019, 7:52 PM IST