Jagan launches 'book attack' against 'Emperor of Corruption'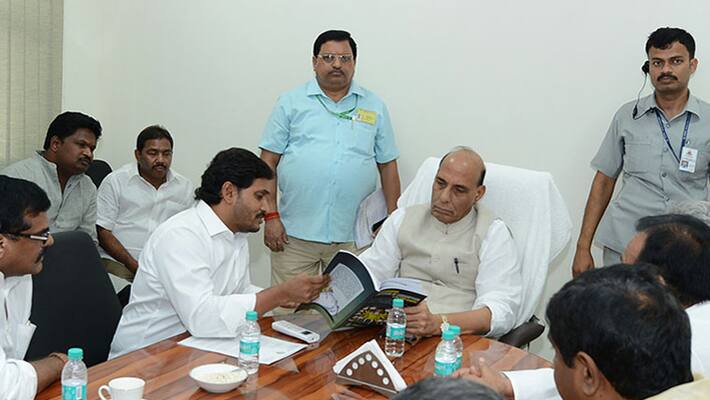 In the next couple of days, Jagan is planning to present a copy of the book to President Pranab Mukherjee and Prime Minister Narendra Modi. The 126 page book listed out 30 projects where Jagan alleges that corruption has occurred. The book elaborates on an alleged methodology employed by the TDP government in each project to collect commissions from the executioners of the project or industrialists.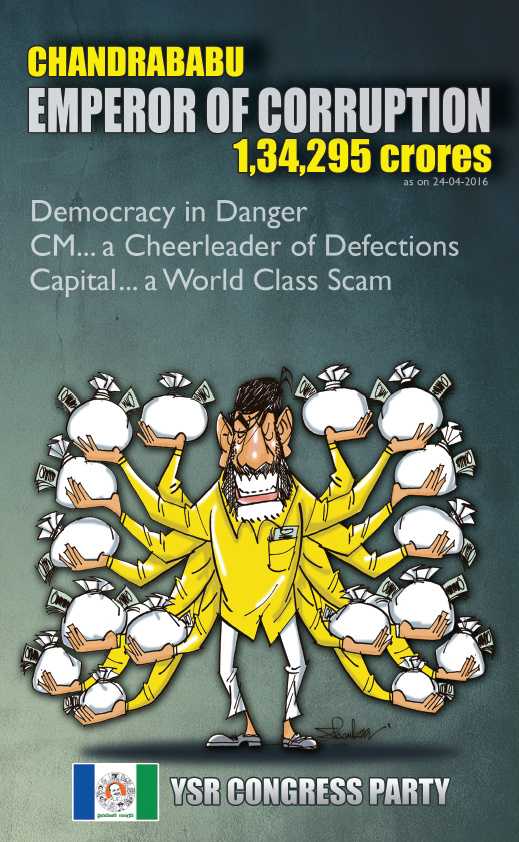 The curious thing about the book campaign is that Jagan has borrowed a technique employed by CM Naidu himself against YS Rajasekhar Reddy (Jagan's father) in 2005. 
Then the opposition leader, Naidu had launched a campaign against YS Rajasekhar Reddy's alleged corruption by publishing a book titled 'Raja of Corruption', presenting what he alleged was documentary evidence.
Naidu took the matter to Delhi and gave copies to all national leaders and sought their support in his 'campaign against corruption'. The 350-page book had analysed the General Orders issued and permissions granted to industrialists, alleging a bending and flouting of rules. This book formed the basis for the CBI inquiry into the disproportionate assets of Jaganmohan Reddy.
Earlier, Jagan presented copies of the book to  NCR President Sharad Pawar and CPM general secretary Yechuri Sitaram. Emerging from the meeting with Home Minister, Jagan said the worth of Naidu's corruption was ₹1,35,294 Crore. 
The following is the list of projects where Jagan alleged corruption took place and the amounts involved (in Crore).
*Corruption in the Capital City: ₹1,00,000
*Corruption in the Irrigation Department: ₹6,000
*Gifts from the 'Liquor Syndicate': ₹5,100
*Kickbacks in Power Projects: ₹4,000
*Kickbacks from the Sand Mafia: ₹3,375
*Polavaram Project Cost Escalation: ₹3,000
*Incentives to Industrialists: ₹2,500
*Water & Tree Scheme Distribution: ₹1,800
*Benefit from abandoning the EPC Method: ₹1,500
*Fiber Optic grid contract to a Benami entity: ₹1,400
*Gains from 'Wadawadalaa Chandranna' Scheme: ₹900
*Wastage of Funds for Godavari Pushkarams: ₹750
*Bribes in Patti Seema Lift Irrigation Project: ₹700
*Corruption in AP GENCO Thermal Projects: ₹670
*Nomination works in Irrigation Department: ₹500
*Land at throwaway price to a Friend of Nara Lokesh: ₹338
*Gift to Balakrishna's Son-in-law: ₹245
*Benefit to Contractors in Vamsadhara Project: ₹214
*Kickbacks in Coal Imports: ₹200
*Lokesh Deal with Millers: ₹200
*Gains from Solar Tenders: ₹155
*Additional Payments in Galeru-Nagari and Avuku Projects: ₹153
*Kuppam Branch Canal Works to TDP district president: ₹120
*Lands to NTR Trusts (in two districts): ₹100
*Gains from Support to a Minister who masterminded the Cotton Scam: ₹100
*Kickbacks from Bitrates Mines'Allocation: ₹100
*Money made from "Chandranna Gift' Scheme: ₹100
*Land gifted to MP Galla Family: ₹40
*Open Cheating in Goddumarri: ₹25
*'Additional' Cost of Nellore Barrage: ₹10
*Total: ₹1,34,295 Crore
Last Updated Mar 31, 2018, 6:35 PM IST