Turned tables: Jagan uses TDP's methods against CM Naidu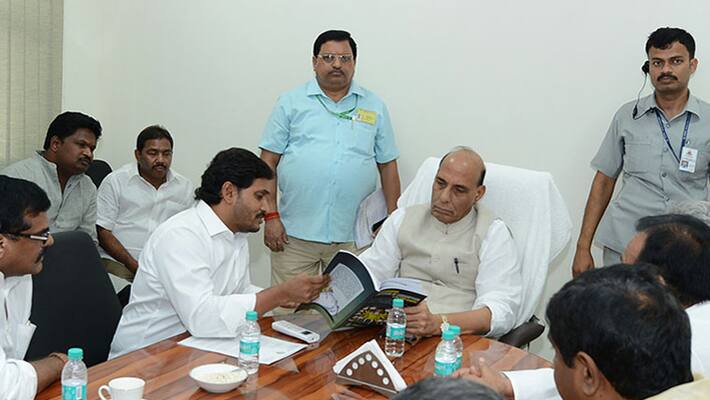 YS Jaganmohan Reddy, the Andhra leader of the opposition, unleashed a counter-offensive against CM Chandrababu Naidu, borrowing a slogan from Naidu's father-in-law NT Ramarao.
Jagan arrived in Delhi with an army of lawmakers and senior party leaders on a 'Save Democracy' campaign.
Jagan's campaign seems like a copy of NTR's campaign in 1984 when he was ousted in a palace coup led his then Finance Minister Nadendal Bhaskar Rao. NTR's famous 'Save Democracy' campaign finally resulted in the consolidation of the anti-Congress National Front coalition, which eventually restored NTR's government.
Now amid the continued defection of MLAs into the TDP and a possible split of his party, Jagan is meeting all national leaders to seek their support for his 'Save Democracy' campaign.
Jagan met Union Home Minister Rajnath Singh and complained against the 'unethical practices' of the TDP supremo and Chief Minister Chandrababu Naidu. Jagan alleged CM Naidu was engineering defections by offering between up to ₹30 Crore for some ministerial berths. 
Claiming that Naidu had resorted to unprecedented corruption in the past 22 months, Jagan said CM Naidu was using this money for 'buying MLAs from YSRC and the cash-for-vote scam in Telangana stands testimony to this.'
The curious thing about the campaign is that Jagan has borrowed a technique employed by CM Naidu himself against YS Rajasekhar Reddy (Jagan's father) in 2005.
Then the opposition leader, Naidu had launched a campaign against YS Rajasekhar Reddy's alleged corruption by publishing a book titled 'Raja of Corruption', presenting what he alleged was documentary evidence.
Naidu took the matter to Delhi and gave copies to all national leaders and sought their support in his 'campaign against corruption'. The 350-page book had analysed the General Orders issued and permissions granted to industrialists, alleging a bending and flouting of rules. This book formed the basis for the CBI inquiry into the disproportionate assets of Jaganmohan Reddy.
In Delhi, Jaganmohan Reddy is also distributing copies of a book  - entitled 'Chandrababu Naidu - Emperor of Corruption'  to all national leaders, including Union Home Minister Rajnath Singh. Earlier, Jagan presented copies of the book to  NCR President Sharad Pawar and CPM general secretary Yechuri Sitaram.
According to Jagan, the book is a compilation of documents that point to large-scale corruption by CM Naidu. Emerging from the meeting with Home Minister, Jagan said the worth of Naidu's corruption was ₹1,35,294 Crore.
Jagan urged the Home Minister to institute a CBI inquiry into the wooing of opposition MLAs by the TDP. Jagan said he had asked the Home Minister on the need to amend the anti-defection law to make disqualification automatic when an MLA defects to another party.
Jagan urged Sharad Pawar and Yechuri to extend their cooperation for the 'Save Democracy' campaign. Though Pawar did not speak to the media, Yechuri said Andhra's defections were a grave threat to democracy in the country.
"The issue Andhra defections is more serious than that of Uttaranchal," Yechuri said and added that "...CPM  is very particular about curbing the menace of defections. We support the campaign against this dangerous trend."
Last Updated Mar 31, 2018, 6:52 PM IST