India name change controversy: UN reacts to 'Bharat' debate amid G20 invitations fiasco; check details
The issue came to light when invitations for a G20 dinner were issued by President Murmu, indicating her position as 'President of Bharat,' deviating from the customary 'President of India.'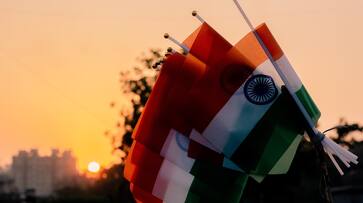 The United Nations has clarified its stance on name changes for countries, emphasizing that it considers such requests when formally submitted by governments. This statement comes in the midst of a controversy surrounding President Droupadi Murmu's G20 dinner invitations, where she was referred to as the 'President of Bharat' instead of the traditional 'President of India.'
Farhan Haq, the Deputy Spokesperson for UN Secretary-General Antonio Guterres, addressed the matter on Wednesday, drawing parallels to Turkey's name change to 'Turkiye' last year. He explained that when a formal request is received by the UN from a government, they duly consider it.
Luxury dining at G20 Summit: World leaders to feast on silver, gold-plated table settings | WATCH
The issue came to light when invitations for a G20 dinner were issued by President Murmu, indicating her position as 'President of Bharat,' deviating from the customary 'President of India.' This departure from convention sparked a debate, with some in the opposition alleging that the Modi government was contemplating a name change for the country from India to Bharat.
On Wednesday, during an interaction with the Union ministers, Prime Minister Narendra Modi advised his ministerial colleagues to avoid engaging in the political controversy surrounding the issue of renaming India as Bharat. He emphasized that Bharat is an ancient name for the country.
PM Modi shared these directives while discussing the dos and don'ts to be followed by ministers during the upcoming G20 summit. He emphasized the importance of ministers remaining in the national capital during this significant event and fulfilling their responsibilities to ensure the smooth and hassle-free participation of visiting dignitaries.
Xi Jinping's absence from G20 Summit 2023 in India reflects China's diplomatic challenges: Experts
The G20 Summit, held in New Delhi on September 9 and 10, is under India's presidency, and it will host several heads of state from around the world, including US President Joe Biden.
Last Updated Sep 7, 2023, 9:50 AM IST