INDIA meeting in Mumbai: Key decisions awaited, logo unveil likely today
INDIA meeting in Mumbai: The third formal meeting of the Opposition bloc INDIA will be held today in Mumbai where 28 Opposition parties will take key decisions and finalise the action plan to take on the BJP in the upcoming 2024 Lok Sabha elections.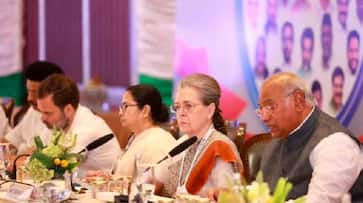 As 28 non-Bharatiya Janata Party (BJP) parties will hold a formal meeting at Mumbai's Grand Hyatt Hotel on Friday, the Opposition's Indian National Developmental Inclusive Alliance, or I.N.D.I.A., is expected to announce the formation of a coordination committee made up of 11 members who would represent the major Opposition parties and reveal a logo for the coalition. Top Opposition leaders emphasised that they must get their act together at the earliest and vowed to finalise a coordination committee along with four sub-groups to chalk out their election strategy. 
During their informal meeting on Thursday, the Opposition parties decided to move forward with their plans to challenge the Bharatiya Janata Party-led NDA in the 2024 Lok Sabha elections. The opposition alliance leaders on Thursday discussed why the government called a five-day special session of Parliament. They deliberated on whether the government is planning to club Lok Sabha and state assembly polls and that the alliance should be prepared for it.
Also Read | INDIA alliance meet: Rahul Gandhi targets Adani Group over OCCRP report, questions Vinod Adani's role
Leaders of the Opposition's INDIA alliance on Thursday said they have come together to save the Constitution and democracy in the country, and would evolve a common program as they prepare to take on the Narendra Modi-led Bharatiya Janata Party.
The alliance leaders had earlier met in Patna and Bengaluru. At Mumbai meeting, they are expected to chalk out a campaign strategy and finalise the formal structure of the bloc. The first meeting of the grouping was held in Patna on June 23 and the second meeting was convened in Bengaluru in July. The need of the hour is to strengthen the unity and sovereignty of the country, said former Bihar chief minister Lalu Prasad. 
Caught on camera: Bengaluru man attacks ISRO scientist, kicks car in road rage | WATCH
Last Updated Sep 1, 2023, 9:15 AM IST