IIT Kanpur helping India with COVID-19 battle, in the race to develop vaccine
IIT Kanpur has been busy in trying to develop a vaccine against COVID-19, while it had earlier developed low-cost ventilators and drones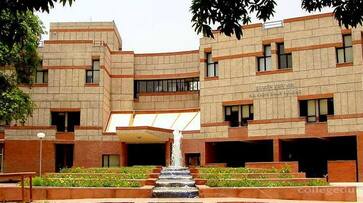 New Delhi: The race to find a vaccine and cure for coronavirus has reached its zenith. Many companies and countries have made significant strides in the search for a vaccine for COVID-19.
The search for a vaccine seems like a race against time as countries, including India, prepare to open up and relax restrictions that have been in place for at least a month.
Indian Institutes of Technology are upping their innovation and research game to help India fight its battle against COVID-19.
According to a report by Business Line, a team of researchers at the Indian Institute of Technology-Kanpur (IITK), led by biophysicist Dibyendu Kumar Das, is joining the race to develop a vaccine against SARS-CoV2 — the virus that causes COVID-19.
Das' team at IITK's Biological Science and Bioengineering department is developing two vaccines — a subunit and a live attenuated — against the deadly virus.
Also read: US accuses China of stealing COVID-19 vaccine research data: Reports
Business Line quoted Das saying, "We have received promising results so far. Later this month, we will be able to test the vaccines in animal models, which would take nearly two months. We plan to run safety and efficacy tests side by side. If everything goes well, we will be ready for human trials in three months."
One of the nation's top engineering colleges, IIT Kanpur started this work two months ago. Virology specialist Das said that for almost all COVID-19 vaccine projects, the target is the spike-protein (or S-protein), which helps the virus latch on to lung cells. If the body has antibodies against the S-protein, which it can acquire through vaccination, the virus can be neutralised when it enters the body.
Earlier, IIT Kanpur researchers had developed a low-cost ventilator that uses local components and are also designing a machine that will generate oxygen from the atmosphere. The advantage will be that oxygen need not be stored and carried around in cylinders, which are expensive and in limited supply.
Drones for police to carry out aerial surveys of selected areas in cities to detect lockdown violations have been built by IIT Kanpur. These drones can be used to monitor an area with a radius of up to 15 km using high-resolution cameras with night vision capabilities.
Last Updated May 13, 2020, 2:14 PM IST