Heavy downpour batters Karnataka's Belagavi district yet again
Heavy rainfall overnight submerged Kokatanur Yellamma Temple in Chikkodi. Roads were inundated bringing life to a standstill in Karnataka's Belagavi district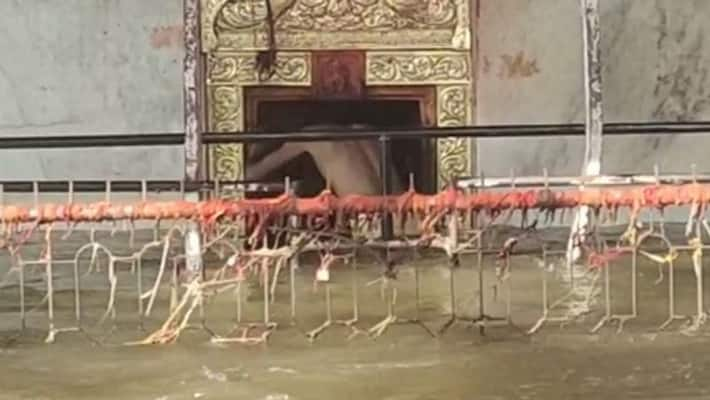 Belagavi: Karnataka's Belagavi, which is yet to recover from the floods that struck three months ago, is once again bearing the brunt of a heavy downpour. People of Belagavi had another sleepless night as heavy rains tormented the district on Wednesday night. Even as the district was trying to to return to normalcy, heavy rainfall brought life to a standstill yet again. This is the third time in a month, the district has been hit by heavy rainfall.   
Overnight incessant rains wreaked havoc yet again in Chikkodi taluk of Belagavi district. Torrential rains submerged Kokatanur Yellamma Temple as the lake adjacent to the temple flooded due to the downpour. People were wading through knee-deep water  and residents were in panic.
Crops and farms near the lake were completely destroyed. Though minister V Somanna visited Naragund taluk on Wednesday and assured farmers that their funds would be released in a couple of days, the heavy downpour again shattered all their hopes.
Also Read: V Somanna assures farmers of flood relief fund
The lake adjacent to the temple was already full to the brim due to the rains in the last two months, but sudden downpour last night led to the flooding of the lake. The roads and temple were completely flooded and now the local people are in fear that another downpour would submerge their homes as well.
There are also many tourists from Goa and Maharashtra visiting the temple, but rainwater gushed into the Yellamma temple and submerged it. Roads were also inundated.
River Krishna and its tributaries flooded the district three months ago and the meteorological department had said more rains could submerge many places.   
At present, river Krishna and its tributaries are flowing below the danger mark but the intensity of inflow of water in these rivers may increase if more rainfall occurs in the coming days. 
Last Updated Nov 7, 2019, 5:07 PM IST