Karnataka minister Somanna assures farmers flood relief fund in next three days
We are in no short of relief funds, said Karnataka minister Somanna, while inspecting flood hit areas in Naragund taluk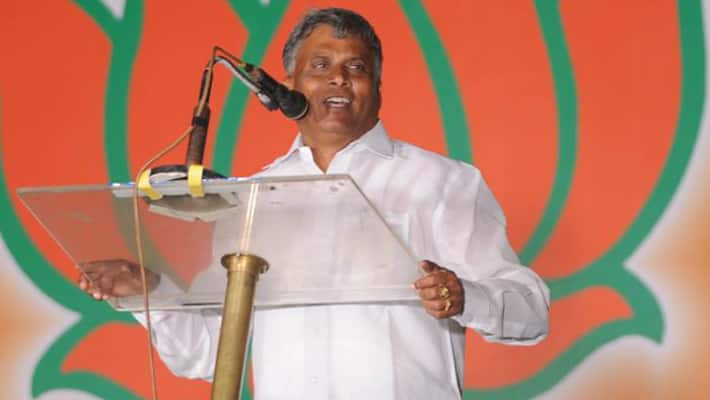 Naragund: North Karnataka has been severely hit by floods not just once but twice. Lives have been battered and thrown out of gear. The state incurred loses in crores as many rivers flooded and destroyed houses and crops. 
Minister V Somanna visited and inspected several flood-affected areas in Konnur in Naragund taluk and said, "The state government is doing its best to help the flood victims and have even released relief funds. We won't have problems with relief funds to help the flood victims. 
Somanna inspected government schools and houses in and around that have collapsed due to the flooding of Malaprabha river. 
"This year, torrential rains have been more than expected in this quarter. The heavy downpour has led to massive flooding which in turn destroyed crops, houses and even killed cattle, destroying people's livelihoods," said V Somanna. 
Somanna also hailed chief minister BS Yediyurappa's efforts to help flood victims. 
He said, "Chief minister BS Yediyurappa just came to power when North Karnataka was flooded with heavy rains. His Cabinet ministers were not even appointed then. He (BSY) toiled day and night alone to help the flood victims evacuate to a safe place. Chief minister Yediyurappa released Rs 10,000 for flood victims for their daily expenditure. We have also raised temporary sheds until the flood victims build their new homes.  I have ordered to raise down a government school in Konnur village as it has been completely flooded by Malaprabha river and we are building houses in suitable places. BS Yediyurappa has also released funds for farmers whose crops have been destroyed."
Somanna compared his government to the Congress governments in other states and said, "When compared to Congress governments in Rajasthan and Madhya Pradesh, we have give more as relief funds for the flood victims. Chief minister BS Yediyurappa and the Cabinet ministers are doing their best to help the flood victims. The Congressmen are trading charges and claiming that we aren't doing anything for the flood victims. I visited Bagalkot and Belagavi districts and I'm happy to see that Gadag district incharge minister SS Patil has worked for the people and helped them a lot." 
Somanna heaped praises for BS Yediyurappa and said, "The opposition is trying to tarnish BJP's image in the state by claiming that the ruling government is not doing enough to help the flood victims and the government will collapse in the next days. BSY is an able leader and he will complete his turn."
Last Updated Nov 7, 2019, 11:16 AM IST