Hate to the 'Tea': Chai seller shunned for supporting CAA?
Karnataka BJP MP Shobha Karandlaje wrote on her Twitter handle that a tea seller was boycotted for his remarks on supporting CAA on Facebook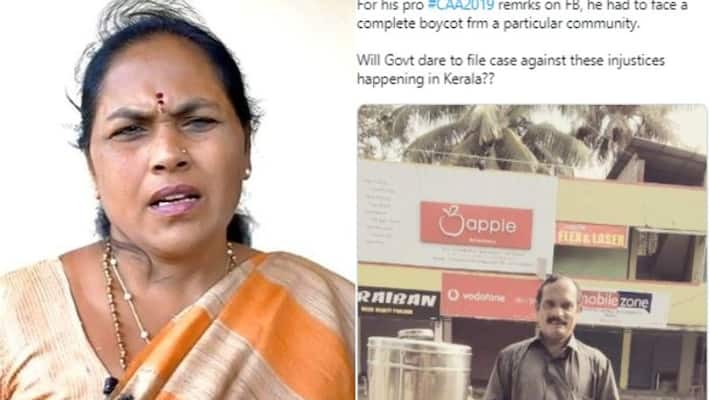 Bengaluru: The BJP has been tasting success in its aggressive door-to-door campaign to garner support for the Citizenship (Amendment) Act and also received more than 52 lakh missed calls for the same.
With more and more people voicing their support for the newly enacted Act, opposition has been trying to take them down.
Many who are supporting the Citizenship Act openly are facing the brunt by opposers. In the latest, a tea seller was at the receiving end for making supportive statements on Facebook and faced boycott. Karnataka MP Shobha Karandlaje came out in support for the tea seller and stood up for him. 
In her latest tweet, the BJP MP stated that a tea shop owner from Oachira has been shunned by people of a particular community for supporting the CAA. She wrote, "'History repeats in Kerala!? Sri Ponnappan from Oachira of Kollam was supplying tea &snacks to nearby shops. For his pro #CAA2019 remarks on FB, he had to face a complete boycott from a particular community. Will Govt dare to file a case against these injustices happening in Kerala??". 
Earlier, the Kerala police had registered a case against BJP MP Shobha Karandlaje for "misleading people by spreading fake information" over the Citizenship Amendment Act (CAA).
On Friday, a case was registered against Shobha after she criticized the Kerala government by tweeting that Hindu people of Kuttippuram Panchayat of Malappuram district were denied water supply because they supported CAA.
Last Updated Jan 25, 2020, 1:33 PM IST