Goa CM Pramod Sawant calls out Kerala health minister for spreading misinformation on BBC News
In an interview to BBC, Kerala health minister KK Shailaja spoke about the state's efforts in tackling the spread of coronavirus. During the interview, the health minister said Goa is a UT. Reacting to this, the Goa CM took to Twitter and corrected the minister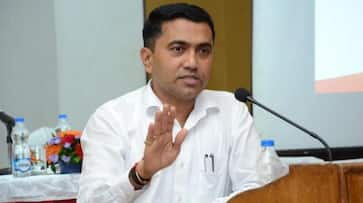 Dr Pramod Sawant took to Twitter to correct Kerala health minister KK Shailaja on errors she made during an interview she gave to the BBC on the state's efforts to tackle coronavirus.  Pramod Sawant in a five-thread tweet, stated, "I am appalled by the factually incorrect statements of Kerala Health Minister Smt. K. K. Shailaja Ji during her interview with the BBC regarding the death in Kerala of a COVID positive patient from Goa. @shailajateacher GoaFightsCOVID19  #IndiaFightsCOVID19 1/5
I wish to clarify 3 things in this matter.
1.The said patient to our knowledge and as confirmed by Kerala IDSP team is not from Goa and has not travelled from here for lack of health facilities. 2/5
2.Goa has a dedicated COVID 19 Hospital to deal with the pandemic. 7 patients have fully recovered after receiving treatment from the said hospital and we continue to treat COVID 19 patients from Goa as well as from other states. 3/5
Goa has outstanding healthcare facilities with Goa Medical College being one of the oldest and finest medical colleges in Asia. For decades, we have been treating a large number of non Goan patients, especially from our neighbouring states for different ailments. 4/5
3. I also want to inform you Madam that Goa is a full-fledged State and not a Union Territory." 5/5
Durgadas Kamat, the Goa Forward Party vice president also took to Twitter and stated, "Kerala is said to be the most literate state in India. But it's unfortunate that Kerala Min @shailajateacher has spoken like an "illiterate". Goa attained full Statehood May 30th, 1987. Goa will complete 33years of full statehood in 2022. Unconditional apology is a must!."
The minister was the guest of an interview of BBC World News which aired on Monday at 9 pm. The five-minute-long interview was aired live from Thiruvananthapuram. 
Last Updated May 19, 2020, 6:05 PM IST