Gearing up for 50,000 daily footfall: Railways races to revamp Ayodhya station ahead of Ram Temple opening
Indian Railways rushes to complete Ayodhya railway station redevelopment ahead of Ram Lalla idol installation, featuring architecture inspired by Shri Ram Janmbhoomi temple and modern amenities with an expected daily footfall of 50,000.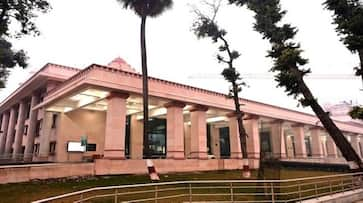 The Indian Railways is working diligently to complete the redevelopment of Ayodhya railway station by January 15, just ahead of the installation of the idol of Ram Lalla at the Ram Temple, scheduled for January 22, 2024. Inspired by the architecture of the Shri Ram Janmbhoomi temple, the revamped station aims to accommodate a daily footfall of around 50,000 individuals.
Also read: 'Proud Sanatani' Danish Kaneria hopes to visit Ayodhya's Ram temple; shares view on Indian citizenship (WATCH)
At an investment of Rs 241 crore, the redevelopment project is transforming the station into a modern facility with various passenger amenities, including shopping malls, cafeterias, recreational spaces, and parking. The two-storeyed building will cover a total area of 3,645 sqm, featuring improved platforms, two 6-metre wide foot over-bridges, and a large circulating area.
The design incorporates a front porch over the drop-off zone to shield passengers from adverse weather conditions. Certified as a green station building, Ayodhya station will provide separate arrival and departure zones for passengers. Additionally, a spacious air concourse over platforms 4/5 will centralize passenger amenities, retail outlets, cafeterias, and recreational facilities. The station is equipped with 12 lifts, 14 escalators, and food plazas, enhancing the overall passenger experience.
Officials anticipate that Prime Minister Narendra Modi will inaugurate the revamped station on January 22 during his participation in the "pran pratistha" of Lord Ram at the temple and its subsequent inauguration. The significant redevelopment is part of the larger effort to enhance the infrastructure around the holy city of Ayodhya.
Also read: Spectacular night view of the Ram Mandir in Ayodhya (WATCH)
Last Updated Nov 13, 2023, 2:37 PM IST