'Proud Sanatani' Danish Kaneria hopes to visit Ayodhya's Ram temple; shares view on Indian citizenship (WATCH)
"Former Pakistani cricketer Danish Kaneria speaks out about the plight of Hindu minorities in Pakistan, expresses his desire to visit the Ram Mandir in Ayodhya and shares his view on possibility of receiving an Indian cititizenship.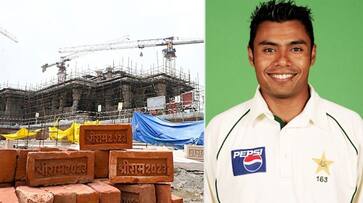 Danish Kaneria, the former Pakistani cricketer, has recently raised profound concerns regarding the plight of Hindu minorities in Pakistan, shedding light on the atrocities they face, and expressing his apprehensions about his own security in the country. Kaneria, a 'proud Hindu' himself in a predominantly Muslim nation, vocalized his fears but expressed unwavering determination to advocate for the rights of Pakistani Hindus.
Also read: Former Pakistan cricketer Danish Kaneria performing puja on Ashtami, celebrating Navratri goes viral (WATCH)
In an interview with Panchjanya recently, the former Pakistani cricketer spoke at length about his career, the atrocities he faced during his stint with the Pakistan national team, his continuing stance over atrocities against Hindus in the Muslim-dominated nation, his desire to visit the Ram Mandir in Ayodhya and his take on whether he would accept Indian citizenship, if offered.
In his interview, Kaneria emphasized the urgent need for international attention to the unreported cases of atrocities against Hindus in Pakistan. He urged India, particularly Prime Minister Narendra Modi, to address and amplify the issue within the international community, appealing for action against those responsible for these injustices. He highlighted that the continuous persecution of Hindus tarnishes Pakistan's global image, pleading for intervention to halt these atrocities.
"I have fears over my security in Pakistan, but with Lord Hanuman's blessings... I will continue to raise my voice for Pakistani Hindus. There are several unreported cases of atrocities, but the international community doesn't speak much about it. India must talk about this issue and help the Hindu minorities of Pakistan. It's very heart-touching and bad as to why Hindus in Pakistan are subjected to such atrocities. I will continue raising my voice for as long as I can. I urge PM Narendra Modi to raise this issue with the international community and press them to take action against those responsible. By carrying out atrocities against Hindus, Pakistan is destroying their own image in the world," the former Pakistani cricketer said.
Expressing his deep-seated connection to India as his motherland, Kaneria indicated his openness to considering Indian citizenship should the opportunity arise. "Will see what happens in future. If someone offers Indian citizenship, I will think about it. Definitely, it's my motherland. Our Gods and Goddesses reside in India and I really wish to visit Ram Mandir," he stated.
Kaneria also spoke emotively about his desire to visit Ram Mandir, the revered temple in Ayodhya, dedicated to Lord Ram. His sentiments echoed a profound spiritual longing to seek the blessings of Lord Ram and Lord Hanuman, expressing a heartfelt desire to visit the temple.
"There's no doubt... If Lord Ram wishes, will surely visit. Since the founding stone of the temple was placed, my heart has been yearning like a baby for their mother's milk to visit the Ram Mandir. I will definitely visit regardless of what happens. Whether in January (when the inauguration takes place) or later, I will definitely visit Ram Mandir. It is the birthplace of my Lord. I get teary-eyed just thinking about visiting the temple. I want to take the blessing of Lord Ram and Lord Hanuman," the former Pakistani cricketer said.
The 42-year-old former spinner also requested PM Narendra Modi and the Board of Cricket Control in India (BCCI) to help him lift the lifetime ban imposed on him by the England and Wales Cricket Board (ECB) in 2012 for spot-fixing. Kaneria was implicated in a plot with Mervyn Westfield, a former Essex pace bowler, to intentionally bowl no-balls during a 2009 match against Kent. While Westfield admitted guilt and faced a five-year ban, Kaneria denied involvement and is currently seeking support from India to overturn his ban.
Drawing comparisons to how the BCCI supported the likes of Mohammed Azharuddin and S Sreesanth in similar situations, Kaneria appealed for the removal of the ban that has shadowed his career for more than a decade. 
"It's been 12 years since a ban has been imposed on me. I would request Shri Narendra Modi to help me with this regard and help me clear my name and remove the blot against it. I also request the BCCI, which protects its boys like they did in the case of Mohammed Azharuddin and Sreesanth. I have lost hopes from the Pakistan Cricket Board and the Pakistan government. I wrote a lot to them, but in vain. Hence, I request PM Modi and BCCI to help me remove the ban against me," he pleaded.
Last Updated Nov 9, 2023, 12:37 PM IST