From the India Gate: Vijayan's wrath, CPI-M's Red Card and more
There is a lot that happens behind the scenes in the corridors of power. Opinions, conspiracies, power games and internal wrangling galore in the political space. Asianet News Network's massive ground presence taps into the pulse of politics and bureaucracy across the country.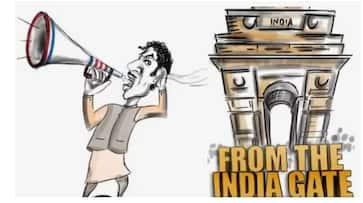 VIJAYAN KO GUSSA KYON AATA HAI?
The reasons that triggered the volcano of anger in Chief Minister Pinarayi Vijayan remain a mystery. No one can predict what would upset him and invite his wrath wrapped in sharp words. At a recent function, the name of the person to speak next was announced as Vijayan was concluding his address. His words got drowned in the announcer's voice. A furious Vijayan turned towards the organisers with a piercing look.
"What culture is this? How can he make an announcement before I conclude," he asked before walking out. The incident went viral immediately.
A few hours later, Vijayan while speaking at another event said: "I was only correcting that person who made the announcement. It's my responsibility and will continue to do so whenever I find such protocol violations."
Didn't the smile he pasted on his face look a bit artificial?
More From the India Gate: Solar storm in Kerala, turncoat villain and more
---
RED CARD
Even as efforts to cobble together the I.N.D.I.A front is still on, CPI has raised a concern. What if Rahul Gandhi decides to contest from Wayanad again? The whole narrative was scripted to make the I.N.D.I.A coalition appeal would fall apart if Rahul contests from Kerala where the main opposition is LDF.
At the recent CPI executive council meeting, a leader from Kerala raised this issue. He wanted the national leaders to pre-empt any possibility of Rahul being fielded from Wayanad again.
Though not many supported him, the issue is threatening to rock the front with UDF leaders in Kerala criticising the CPI stand.  If the fissures grow deep, I.N.D.I.A. will need a different game in Kerala.
Delay in UCC, banana republic in Rajasthan, Left blunder and more
---
POLITICAL ETHICS
Many believe that ethics is a vanishing trait in politics. But the Sangh in Karnataka has showcased how it can be practised in today's scenario. Bizman Govinda Babu Poojary was promised a ticket by Hindu leader Chaitra Kundapur. But when the final list was announced Poojary didn't find his name in spite of greasing palms liberally.
Though he complained to BJP leaders in Udupi, he was advised to remain quiet till polling was over. In fact, he was directed to work for Gururaj Gantihole in Byndoor.
A helpless Poojary drafted a complaint and shared it with Chaitra hoping that this sabre-rattling would get his money back. But Chaitra threatened him and even staged a suicide drama in his office.
Later Sangh leaders held a meeting with Chaitra's coteries including Abhinava Halshri and Gagan to hammer out a solution. But they continued to play passing the buck.
Poojary then complained to Sangh leaders and was advised to file a police complaint so that it remains a deterrent for anyone using the party's name to extract bribes.
Chandy Tourism, Lal Diary Turbulence and More
---
NIPPED IN BUD
AIADMK leaders who met BJP's top leadership to complain about state president Annamalai had to return empty-handed. They wanted BJP to remove Annamalai from the post citing his comments about former chief minister Annadurai and Jayalalithaa.
AIADMK leaders "threatened" that they would walk out of the alliance if action was not initiated against Annamalai. But none of the top leaders were ready to acknowledge their plaints.
To the contrary, BJP leaders used the meeting to put pressure on AIADMK to contest from 15 seats as a saffron ally.
Rahul Gandhi's Twenty20 challenge, hands-free bribe and more
---
MOB PHOBIA
Getting mobbed is nothing new for a political leader. But a senior Congress leader in Jaipur had a nightmarish experience. He had reached Jaipur as instructed by the high command to prepare a report on ticket distribution after taking views from all.
On his arrival in Jaipur, the netaji was in for a rude shock. About 400 ticket aspirants mobbed his car. Each had an updated biodata and was muscling in for attention.
Seeing the thronging crowd, netaji decided not to step out of the car. He sat inside the car even as ambitious leaders surrounded it.
The netaji got so scared that he had to telephone a state leader to get him to safety. Soon netaji was escorted out of the car. Sources said he could barely speak only after a rest of two hours. And the first sentence he muttered was "No more trip to Jaipur for discussing ticket distribution".
Last Updated Sep 24, 2023, 11:00 PM IST