From the India Gate: Solar storm in Kerala, turncoat villain and more
There is a lot that happens behind the scenes in the corridors of power. Opinions, conspiracies, power games and internal wrangling galore in the political space. Asianet News Network's massive ground presence taps into the pulse of politics and bureaucracy across the country.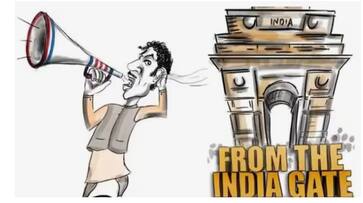 NO PERMANENT ENEMIES
In politics, an enemy's enemy often becomes a friend. The latest to reinvent this global truth is Karnataka JDS. Faced with an existential crisis, especially after the Karnataka Assembly results, JDS desperately wanted a foothold to showcase its legacy in the 2024 Lok Sabha Poll.
The search for a lifeline saw JDS leader H D Deve Gowda reaching Delhi to meet with BJP top brass. Deve Gowda was even ready to merge his party with the BJP, but his son H D Kumaraswamy rejected the proposal. Following Gowda's meeting with J P Nadda and Amit Shah, Prime Minister Narendra Modi also held a discussion with him.
Though a political wedding looks remote, BJP has tentatively agreed to concede four Lok Sabha seats -- Hassan, Tumakuru, Kolar and Bengaluru Rural -- to JDS. And if this win-win formula clicks, Karnataka will see a new alliance blooming.
More from the India Gate: Delay in UCC, banana republic in Rajasthan, Left blunder and more
---

SOLAR STORM 
Astronomers say a solar storm can throw all networks haywire and unsettle lives. A similar 'solar storm' is brewing in Kerala politics destabilising political equations. This time the revelations have put both the Congress and LDF on a back foot.
A probe report filed by the CBI in the solar scam case stated that former chief minister Oommen Chandy -- against whom sexual allegations were raised by the "victim" -- was willfully targeted.
Chandy's name was added to the list of political leaders who abused the victim. During the last few years of his life, Chandy faced a judicial probe and sat before the commission for seven hours on a single day to prove his innocence.
It has now come to light that a middleman -- known as Dalal -- was involved in this conspiracy. He had purchased the ``letter'' from the victim and it was used by CPM leaders during the assembly elections to destabilise Chandy and UDF.
But the anticlimax of this drama was the most unexpected. Congress raised the issue in the Assembly and the chief minister replied to all allegations. But the Opposition wanted an investigation into the conspiracy hatched to frame Chandy.
What shocked Congress was a press conference by the 'Dalal'. He openly said two Congress leaders, who were former home ministers, had connived to sideline Chandy using the letter.
With this Congress leaders went totally quiet on their probe demand. That the whole drama unfurled on the day Chandy Ommen took oath as MLA following his father's footsteps can only be seen as a quirk of fate.
Chandy Tourism, Lal Diary Turbulence and More
---

PREACHING vs PRACTISING
At a time when talks about ticket distribution are happening in Rajasthan, different permutations and combinations are being brainstormed.
Congress leaders said senior leaders will not be given tickets. Surprising everyone, one of the senior leaders and a minister emphasized on the need to develop a second line of leadership.
"We must not push our children into politics. There is no need, they will move forward themselves. We will serve people and let the deserving workers get tickets," he said.
His words were received with huge applause. But before the echoes died, workers came to know that Netaji was preaching after getting a ticket for his son.
'Comrade' Savarakar, KCR Vs KCR and More
---

TURNCOAT VILLAIN 
We have all seen villains playing humourous roles. But in Kerala, one actor is playing the political trapeze so hilariously inviting tonnes of ridicule.
Muscle man Bheeman Raghu, who has acted in more than 400 films, has proven his skill in comic roles of late. But his somersault in real life would put these reel characters to shame.
The actor, who had joined BJP and was fielded from Pathanapuram constituency in the 2016 Assembly constituency, suddenly changed colours. He joined CPM and publicly announced that he was a fan of a 'bold' leader like Chief Minister Pinarayi Vijayan.
Call it the height of sycophancy, Raghu stood up like a student respecting the National Anthem when Pinarayi Vijayan started his speech at the State Film Awards function recently. In a sparkling yellow shirt, he stood up and remained standing till Vijayan concluded his speech.
The image went viral. Later Raghu was to tell the media that his act was not premeditated. "I respect Pinarayi. He is more than a father figure. I felt the same awe that one feels for his own father when the chief minister began his address. It was my way of showing respect," claimed Raghu.
Rahul Gandhi's Twenty20 challenge, hands-free bribe and more
Last Updated Sep 17, 2023, 4:02 PM IST