Freedom fighter Doreswamy presents his biodata after BJP called him Pakistan agent
From being part of Quit India Movement, having been jailed and recently partaking in campaign against lake encroachers, freedom fighter HS Doreswamy is ready to give it back to the BJP as few leaders have been launching scathing attacks against him.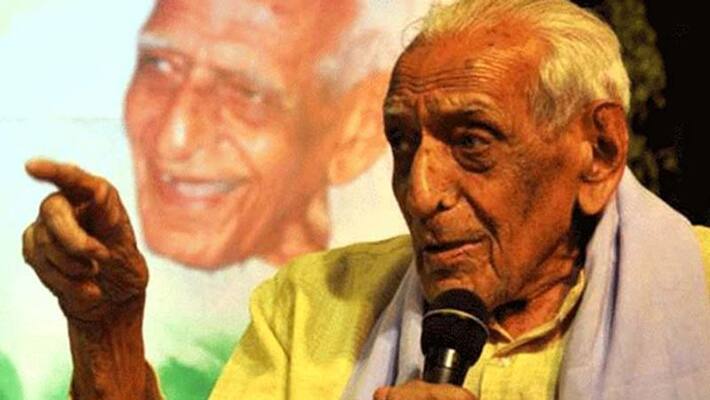 Following a scathing attack from the BJP in Karnataka especially after Vijayapura MLA Basangouda Patil Yatnal called him 'fake freedom fighter' and 'Pakistan' agent, the centenarian has enlisted his work, presenting a biodata of sorts, while asking people, "Does it appear 'anti-national'?"
Doreswamy, one of the surviving freedom fighters, recalled his student days. As a student of Government Arts and Science College, which was under Madras Presidency then, he said, "The teachers from Central College like Gopalaswamy, MV Krishna Rao and few others used to promote nationalism in their lectures."  
recalls, In 1937 a strike was organised at Banappa Park. About 30,000 people gathered to listen to Bombay Mayor Nariman who also supported Gandhi movement. Basappa an Inspector arrested Nariman and resorted to lathi-charge. At that time, Doreswamy and few others participated in the lecturer at Central College.
HS Doreswamy, who had graduated in BSc, started teaching at Gandhinagar High School, was arrested from school for providing time bombs to freedom fighters.
"The time bombs were placed at the post office to destroy government correspondents and not to kill people. The British intelligence team followed a freedom fighter from Tumkur and traced me. They searched my house in Basavangudi, Bengaluru, and later arrested me from school. They kept me in jail for 14 months and released me thereafter," he said.
Recalling how he took part in trade union activity to put British-controlled mills under pressure, Doreswamy with other freedom fighters shut the labour activity. The employees of Binny Mills, Minerva, and Raja were taken into confidence. As over 8,000 workers joined the struggle, the mills were shut for over three months.
Now, the BJP is questioning him for being seen in a photograph with Amulya Leona, who was arrested for saying, 'Pakistan Zindabad'. While few BJP leaders have been backing Yatnal, Doreswamy said he will be backed by people for his work.
Doreswamy recently joined hands with activists fighting to save lakes.
According to Doreswamy, the RSS invites youngsters to play sport and then "poison their minds with anti-Muslim hate".
Following statements from BJP leaders against the freedom fighter, historian Ramchandra Guha, writer Devanoor Mahadev expressed support to Doreswamy and condemned Karnataka BJP leaders.
Last Updated Mar 9, 2020, 5:19 PM IST