Elephant goes violent in Thiruvilwamala Vilwadrinatha Temple, throws off mahout in Kerala
A video of an elephant vigorously swinging its body and head, forcing the mahout to fall to the ground, has emerged on social media.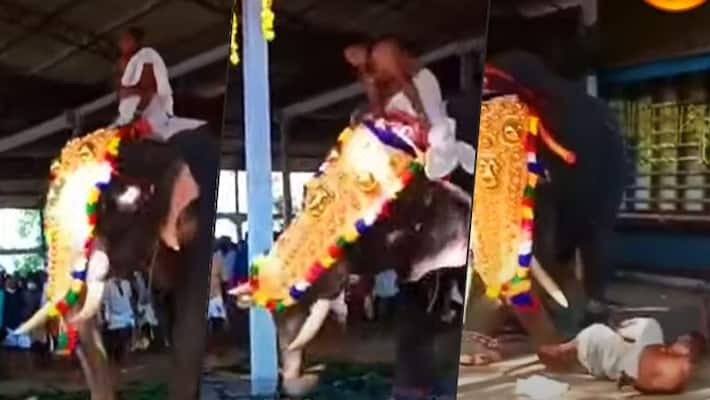 An elephant turned violent in Kerala's Thiruvilwamala Vilwadrinatha Temple. A man sitting on the tusker fell off and had minor injuries. The video of the mahout falling and narrowly escaping from becoming crushed under the elephant's feet has gone viral.
As we know, elephants take part in everyday temple rituals in Kerala. However, the incident in Thiruvilwamala Vilwadrinatha Temple located in Thrissur district has shocked the devotees. The viral video shows the tusker firmly shaking its body and head, which forces the mahout to fall on the ground. Following which the irritated elephant tries to attack the man. However, the man got up and managed to escape from the spot.
As per a report, the elephant even kicked a deepastambham (lamp) at the temple, transmitting onlookers in fear.
According to sources, the man has experienced minor injuries. Elephant squad and forest officials tamed the animal for almost one and half hours after the incident.
Last year, yoga guru Baba Ramdev also fell from an elephant while accomplishing yoga. The accident happened when Baba Ramdev was instructing yoga to saints at Guru Sharanan's ashram Ramanarati in Mathura. Baba Ramdev's balance was upset after the jumbo moved while he was doing an asana.
Last Updated Sep 25, 2021, 5:38 PM IST