Double trouble: Tiger spotted in Bengal village amid coronavirus scare
A few days ago, people of Uttar Dinajpur district in West Bengal panicked as its status changed from green zone to red zone. Adding to it, rumours of a tiger roaming around freely is giving them nightmares.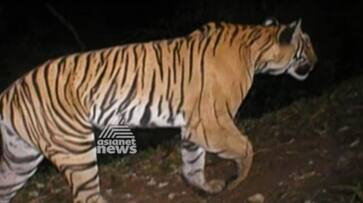 Kolkata: Uttar Dinajpur district of West Bengal recently reported the first few COVID-19 cases, after the return of migrant workers from other states. Locals panicked as the status of the district changed from green zone to red zone. 
Now, a tiger has added to their woes. Locals in the Canal Colony area of Raiganj claimed that a tiger was spotted in a corn field on Monday night. News of the tiger spread like wildfire in the adjacent Shampur-Hatkhola area too. The forest department officials too were informed. 
However, before the forest officials could arrive, the overexcited crowd, forgetting the lockdown rules, went out with torches to chase the tiger. According to eyewitnesses, the tiger was first spotted at a corn field and then took shelter in a bamboo grove after which it made its way into the village of Elenga.
Soon, there were rumours of a tiger roaming in the village. But many questions arose whether it was a tiger or not. The forest department officials said that not only the eyes of tigers shine bright at night, but all other animals too. And after hearing the description of the animal, we thought that the animal must belong to the cat family. However, it could be a fishing cat or a wild cat instead of a tiger.
Somnath Sarkar, an official of the Raiganj range of the forest department, said they were looking into all the possibilities. The situation is being monitored. Police have been asked to ensure that people do not try to chase away the wild animal again.
Last Updated May 14, 2020, 2:09 PM IST