Dismantling terror-gangster networks: NIA releases list of 43 criminals, many with Canada and Khalistan links
The National Investigation Agency (NIA) has released a list of 43 individuals associated with a terror gangster network with links to Canada and requested information about their properties and assets for potential government takeover.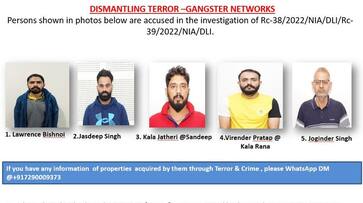 The National Investigation Agency (NIA) on Wednesday released a list of 43 individuals associated with a terror gangster network, which reportedly has connections to Canada. The agency has appealed to the public to provide information regarding the properties and assets owned by these individuals, which could potentially be subject to government takeover.
In their post, the NIA shared photographs and names of individuals such as Lawrence Bishnoi, Jasdeep Singh, Kala Jatheri (alias Sandeep), Virender Pratap (alias Kala Rana), and Joginder Singh, emphasizing that many of these gangsters are believed to be based in Canada.
The NIA has requested information about properties, assets, and businesses registered in the names of these individuals or their associates, friends, and relatives. Additionally, they have sought details about their business partners, employees, workers, and collection agents.
The agency's post states, "Persons shown in the photos below are accused in the NIA Cases RC-38/2022/NIA/DLI or RC-39/2022/NIA/DLI. If you have any information about properties/assets/business owned by them in their name or in the name of their associates, friends & relatives, please WhatsApp DM @ +91 7290009373."
These developments follow rising tensions between India and Canada after Canadian Prime Minister Justin Trudeau accused the Indian government of involvement in the fatal shooting of Hardeep Singh Nijjar. Nijjar, a designated terrorist in India, was killed outside a Gurdwara in Surrey, British Columbia, on June 18.
Intensifying crackdown on Khalistani terrorists in India; Rs 10 lakh cash reward on information
In the midst of a diplomatic dispute between India and Canada regarding the killing of Khalistani terrorist Hardeep Singh Nijjar, the NIA also announced an escalated crackdown on Khalistani terrorists operating in India. The agency has issued cash rewards of Rs 10 lakh each for information leading to the arrest of two "listed terrorists" accused of promoting the terror activities of Babbar Khalsa International (BKI) within India. The individuals named are Harwinder Singh Sandhu (alias Rinda) and Lakhbir Singh Sandhu (alias Landa).
Additionally, the NIA has offered cash rewards of Rs 5 lakh each for information on three associates of these terrorists: Parminder Singh Kaira (alias Pattu), Satnam Singh (alias Satbir Singh, alias Satta), and Yadvinder Singh (alias Yadda). These individuals are wanted in a case registered by the NIA concerning BKI's terrorist activities aimed at disrupting India's peace and communal harmony, as well as spreading terror in Punjab. The NIA has invoked sections 17, 18, 18B, 20, 38, and 39 of the Unlawful Activities (Prevention) Act, 1967, in connection with the case.
The wanted terrorists are accused of committing acts of terror and raising funds for BKI, a banned terrorist organization, through the smuggling of terrorist hardware and narcotics into Punjab. They have also engaged in extensive extortion from businessmen and prominent individuals. Moreover, they are implicated in cases related to targeted killings and attacks on law enforcement agencies, with the aim of creating a climate of terror in the state of Punjab.
NIA investigations have revealed that these terrorists have recruited new members for BKI by promising financial incentives. They have also established an operative network in various countries to advance their terrorist activities across different regions of India.
Last Updated Sep 20, 2023, 6:19 PM IST