Helpless cancer patient's daughter trolled for cribbing about ATM queues
Juhi Prakash tweets to PM Narendra Modi and CM Akhilesh Yadav for financial help.
She is unable to spend hours waiting for cash withdrawal at banks and ATMs as her father is a cancer patient.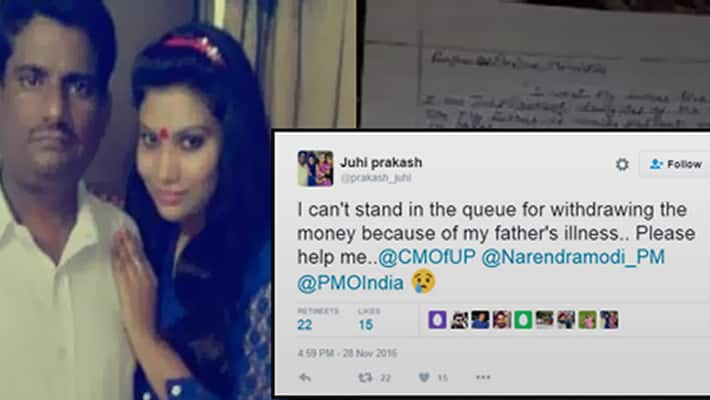 A 25-year-old got trolled online after she tweeted to Prime Minister Narendra Modi and UP chief minister Akhilesh Yadav for help, saying she cannot stand in serpentine bank queues leaving her cancer patient father alone at home.
Nitya Prakash (52), father of Juhi Prakash was diagnosed with oral cancer. She said that she cannot leave her ailing father at home as she is the only one in the family to take care of her sick father. Her mother passed away three years back.
Juhi has two brothers. But one is very sick and is undergoing treatment at an ashram in Haridwar and the other is working in a private firm.
Nitya Prakash, father of Juhi, was in the shoe business and was doing very well. However, things changed after her mother was diagnosed with cancer and a lot of money was spent on her treatment.
Responding to her tweet many tweeters have opined saying "If she knows Twitter she can easily use online or Waller payment or debit card at pharmacy, but cursing and point fingers is the easiest thing I suppose"
Juhi later even issued a statement on Twitter stating that she supported PM Modi and her intention was not to criticise his demonetisation initiative but talk about her problem.
Last Updated Mar 31, 2018, 6:33 PM IST