Death trap awaiting motorists on Sumanahalli Bridge in Bengaluru
Pothole turns into crater in Bengaluru's Sumanahalli Bridge, debris fall on road below during peak traffic hours, no mishaps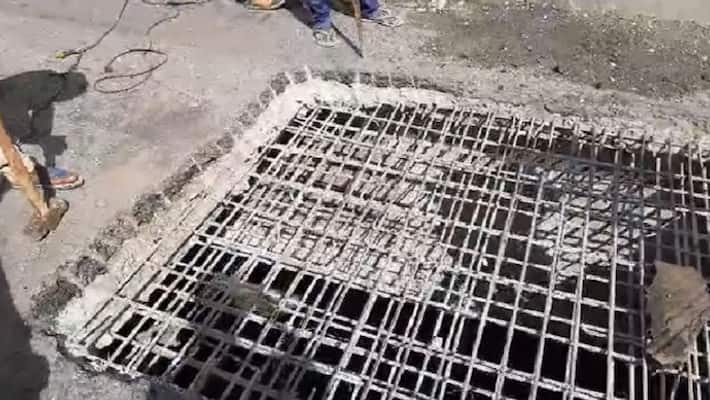 Bengaluru: A huge crater on a decade-old bridge is now acting as a death trap for motorists in Bengaluru. A portion on Sumanahalli Bridge, between Nagarbhavi and Dr Rajkumar Samadhi, collapsed on Friday evening. The substandard work has resulted in the collapse of the bridge. However, fortunately, a traffic police spotted the crater and shut down the bridge and diverted the traffic. The Bruhat Bengaluru Mahanagara Palike (BBMP) rushed to the spot as soon as the cop informed them and inspected the crater. The substandard work exposed the iron framework as soon as the bridge started crumbling and the debris fell on the service road below.
"
The flyover connects West Bengaluru to other parts of the city, especially the Outer Ring Road. According to BBMP and the police, the pothole on the bridge has been ignored for months now and heavy rains exposed the substandard work. Heavy rain and round-the-clock traffic movement weakened the cement and plaster resulting in the collapse. The fallen portion is reported to be 40cm wide and 60cm long.
A senior BBMP official reported that the bridge has had no maintenance for years and this is the first time a portion of the flyover fell on the service road below.  Fortunately no death or injury took place. Hebbal flyover had developed cracks but no unfortunate incident has taken place till date.
Commuters along Magadi Road will bear the brunt as the stretch is largely used by private and public buses, heavy trucks other than private vehicles. The flyover has been closed down for three days and the municipal corporation has called for immediate action and repair work.
BBMP called for private consultation this morning for site inspection and has asked the consultants to lay a plan to repair potholes in the city.
Last Updated Nov 2, 2019, 3:55 PM IST