Culture Corridor - G20 Digital Museum: Pictorial journey through global heritage and artistry
The article is a pictorial journey of the "Culture Corridor - G20 Digital Museum," showcasing cultural objects and heritage from G20 member and invitee countries as part of the G20 Summit 2023 in New Delhi.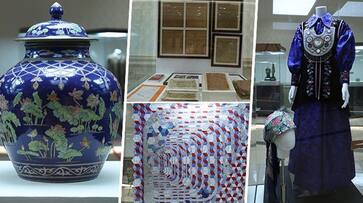 Bharat Mandapam, the venue for the G20 Summit 2023 in New Delhi, showcased a unique international project - 'Culture Corridor - G20 Digital Museum'. The culture corridor represents and celebrates the shared heritage of G20 members and invitee countries. It incorporates iconic and notable cultural objects and heritage of the G20 members and 9 invitee countries.
According to the government of India, the Culture Corridor serves as a powerful platform for promoting understanding and appreciation of diverse cultural expressions, for knowledge sharing, inclusivity, and equality, and for fostering a sense of shared identity. This project is based on India's G20 theme 'Vasudhaiva Kutumbakam' and the Culture Working Group's (CWG) hallmark campaign 'Culture Unites All', and was unveiled on 9 September 2023.
Here's a look at country wise details of cultural objects and heritage of the G20 members and 9 invitee countries:
India - Ashtadhyayi
This is a manuscript of the Ashtadhyayi, an iconic grammar treatise composed in the 5th-6th century BCE by the celebrated grammarian Panini. This text, through eight chapters and 4000 sutras, captures the science of Vedic phonetics and grammar. The grammar in Ashtadhyayi has been likened to the Turing machine, an idealized mathematical model that reduces the logical structure of any computing device to its essentials.By allowing elements of earlier rules to recur subsequently, Panini anticipated the idea of computer programs by over 2500 years.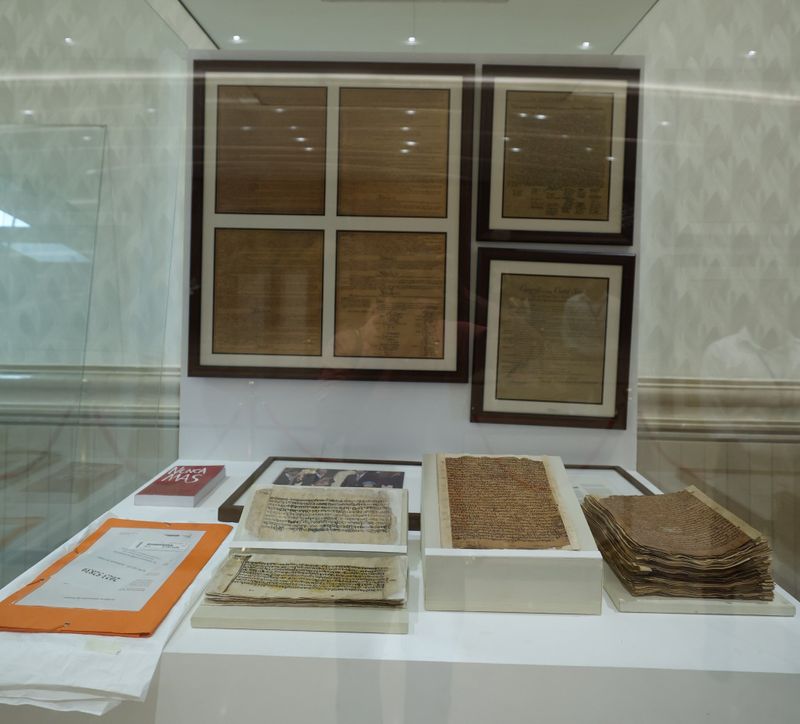 Indonesia - Batik Sarong Textiles
Batik, with sacred importance in Javanese culture, involves applying melted wax onto fabric, often using a canting pen for intricate motifs. Originally influencing courtly matters, Batik has spread beyond Java, impacting Indonesia's broader social fabric.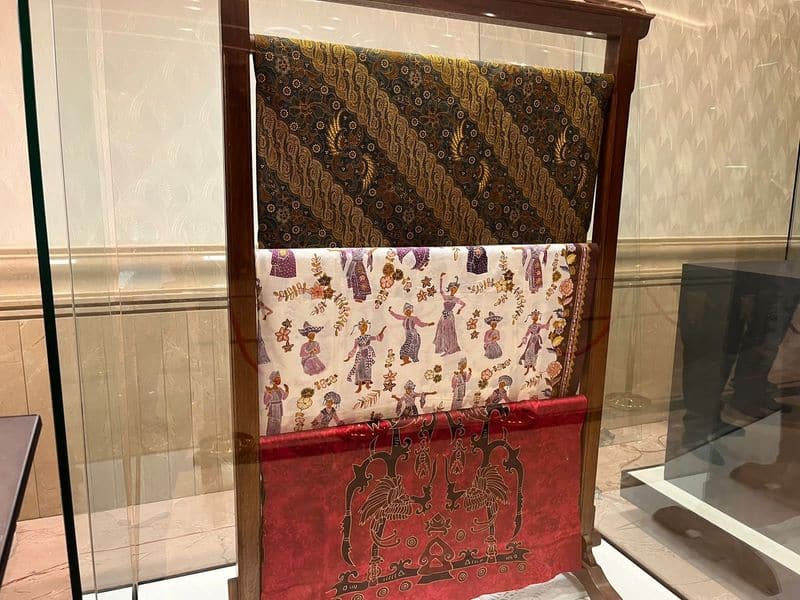 Brazil - Model of the National Parliament of Brazil
Brazil's iconic National Parliament Palace stands as a cornerstone, anchoring the Monumental Axis and neighboring ministries. It commands a vertex within the "Praça dos Três Poderes" alongside the President's Palace and Federal Supreme Court. The Parliament complex features a broad main structure supporting the domes of the Federal Senate and Chamber of Deputies.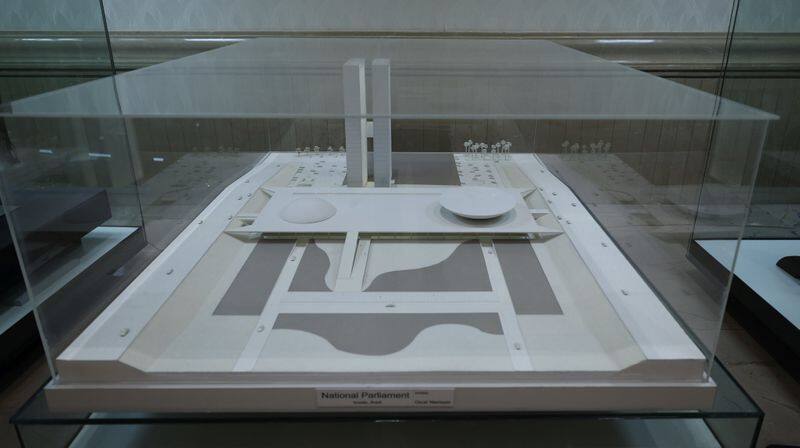 Argentina - Poncho
The poncho, a rectangular cloth with a central head opening, reflects Argentinian cultural heritage, woven by master-craftsman Graciela Salvatierra using traditional techniques from Londres, Catamarca province.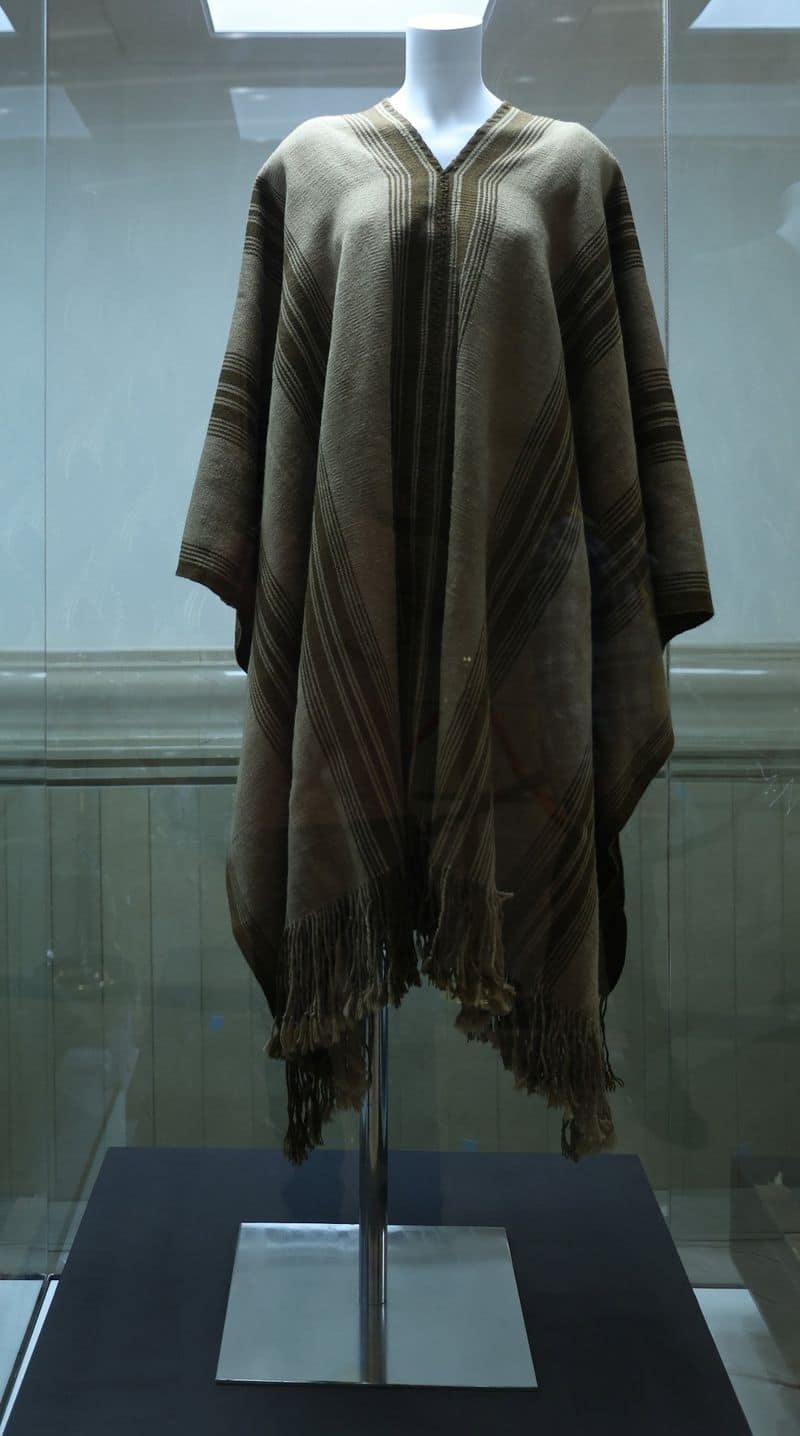 Australia - Yinapunapu at Djarrakpi
Narritjin Maymuru's 1963 painting stands as an embodiment of the profound cultural heritage and folklore of the Yolŋu community, a collective of Indigenous Australian people residing in the Northern Territory's north-eastern Arnhem Land. Within this artwork, a vibrant narrative unfolds, seamlessly weaving together themes of birth, death, and renewal through a captivating tapestry of vivid elements and bold motifs, inviting the viewer into a mesmerizing journey of Yolŋu storytelling and tradition.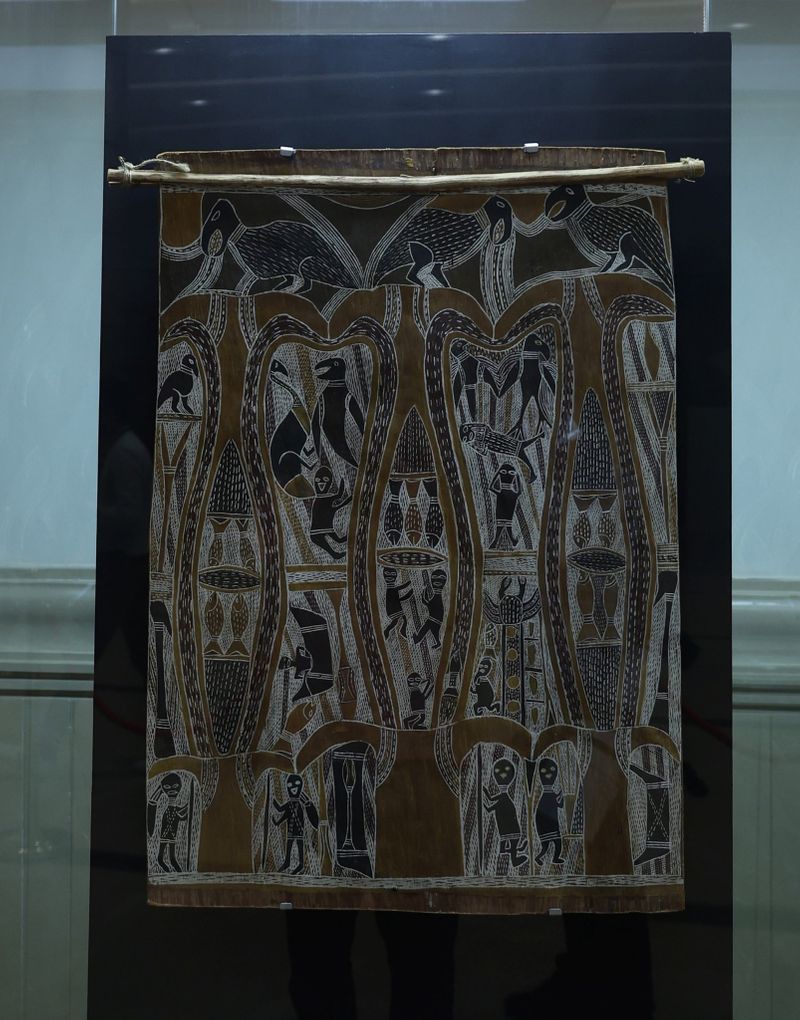 Canada - Sea Monster transformation mask
Master carver Calvin Hunt's Sea Monster Transformation Mask, created for his debut solo exhibit, YUXAN KIS'O, tells the origin tale of an underwater protector of a Kwakwaka'wakw village. As the Hereditary Chief of Mowachaht/Muchalaht First Nation, he's celebrated for monumental sculptures, totem poles, and more, beautifully bridging ancient traditions with Canada's Aboriginal heritage.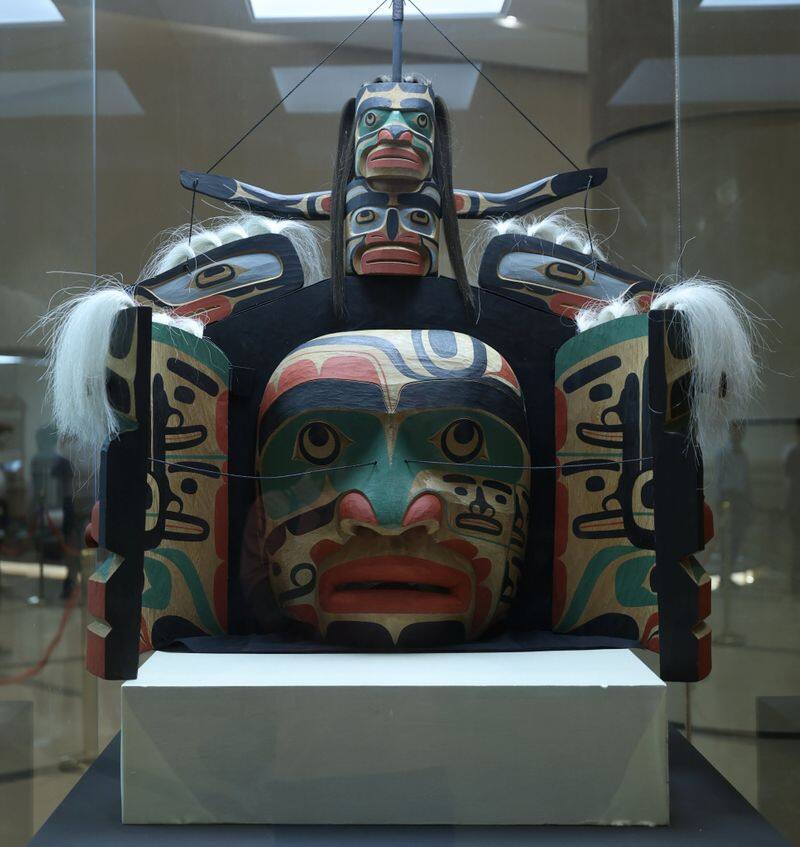 China - Fahua Lidded jar with lotus pond design
This Qing-era fahua ware, originating from the Yuan dynasty, showcases intricate raised designs and famille rose enamels, enhancing its beauty. Its vibrant lotus motifs and the symbolic yingluo motif on the shoulder evoke an elegant aura steeped in meticulous craftsmanship.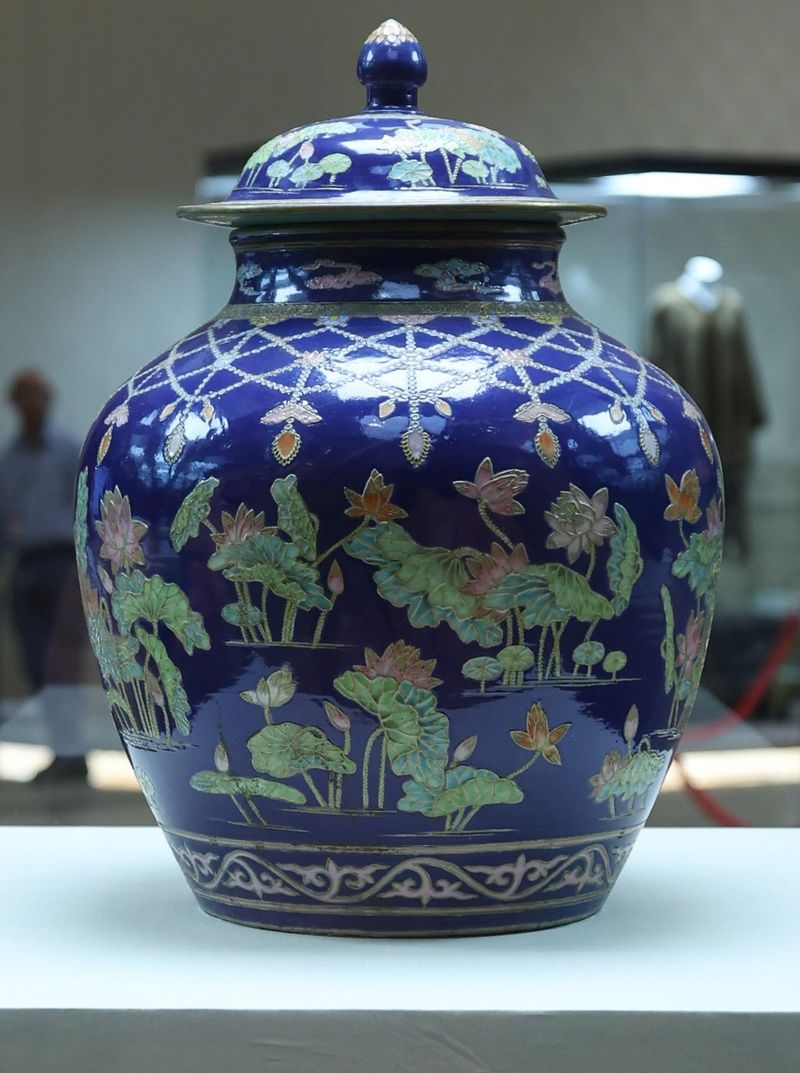 European Union - Marie Sklodowska-Curie (1867-1934)
Berlin artist Anna Franzika Schwarzback's bronze statue pays tribute to scientist Marie Curie, celebrated for her two Nobel Prizes and pioneering work during World War I. Curie's contributions inspired generations of scientists, especially women, aligning with the values of the European Union. The statue, displayed in Brussels' Berlaymont main hall, embodies Curie's enduring dedication to science and honors all women in the field.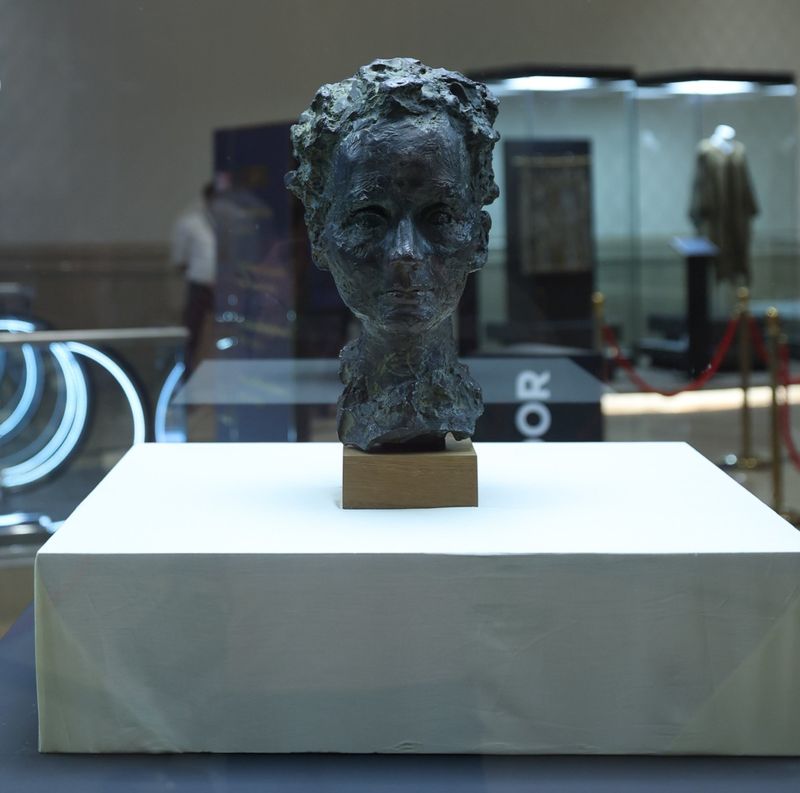 France - Auxerre vase with blue background and decoration of butterflies and trefoils
Crafted in 1912 by Manufacture de Sèvres, this Auxerre vase showcases their innovative "new porcelain" with vibrant colors. Named after the French town Auxerre, it was temporarily deposited with the French Consulate in Geneva to promote French culture and is now exhibited at the G20 Leaders' Summit in New Delhi.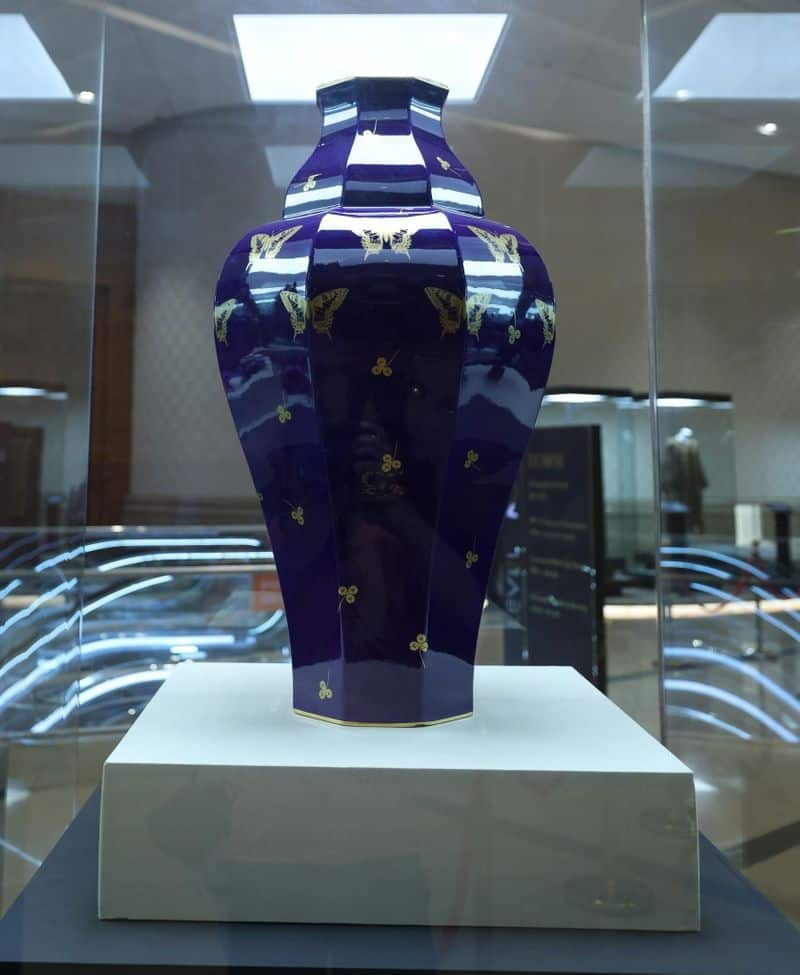 Germany - VW Beetle miniature models
This miniature Volkswagen Old Beetle is a tribute to Germany's automotive innovation and its iconic brands like Volkswagen and BMW. Affectionately known as the "Bug" in German, this 1:18 scale diecast model faithfully captures the car's distinct design, affordability, and enduring legacy, serving as a symbol of innovation and nostalgia.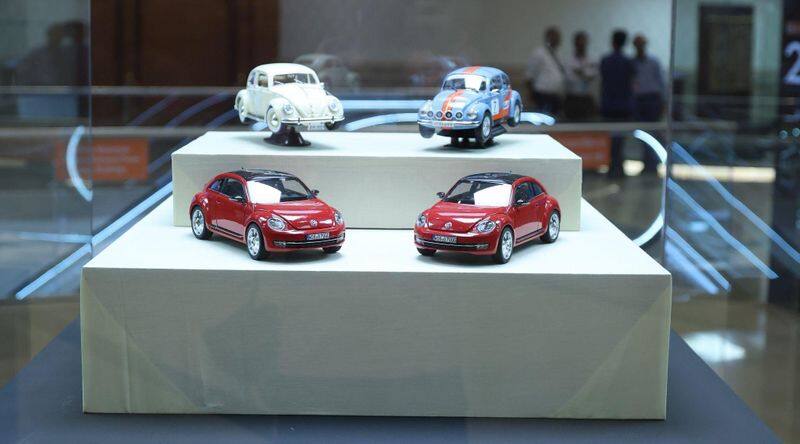 Italy - Belvedere Apollo
This bronze statuette, created by Renaissance sculptor Jacopo Bonacolsi, is inspired by the Roman marble sculpture of Apollo Belvedere. Housed in the Vatican Museum, it epitomizes the Renaissance ideal of beauty and the timeless pursuit of universal harmony through art.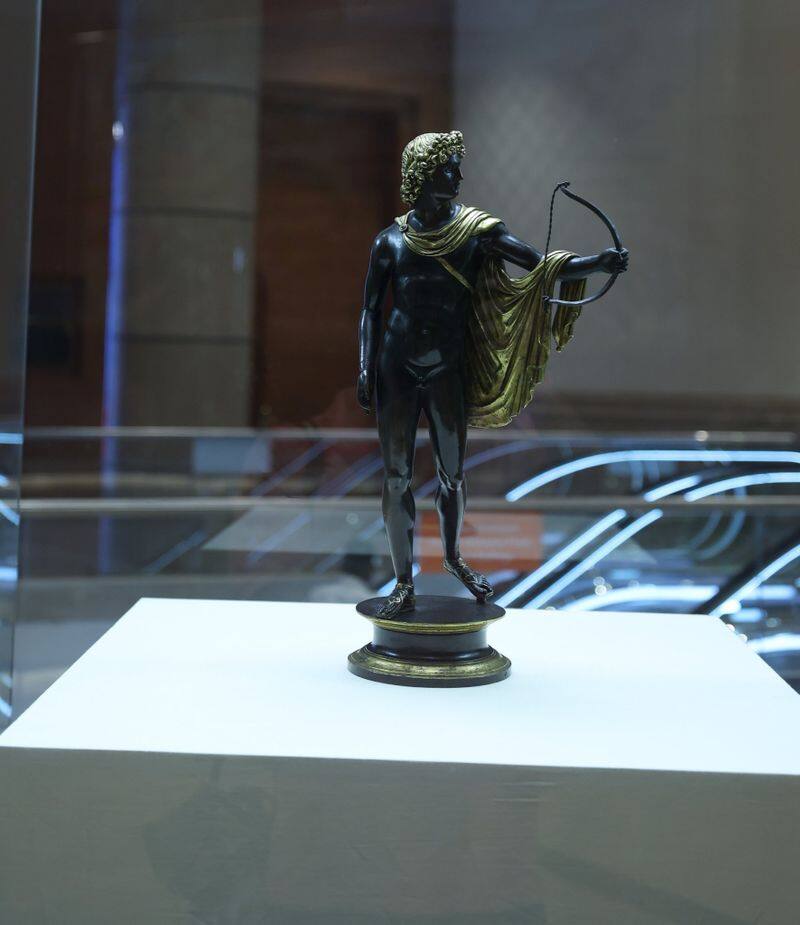 Japan - Nendoroid Hatsune Miku: Korin Kimono version and Kosode (garment with small wrist openings)
The Nendoroid Hatsune Miku figurine, originating from the Kōrin Kimono Restoration Project, symbolizes the fusion of traditional Japanese culture with modern global popularity. Clad in a 300-year-old Kōrin Kimono, this figurine represents the successful preservation of cultural heritage through collaborative efforts.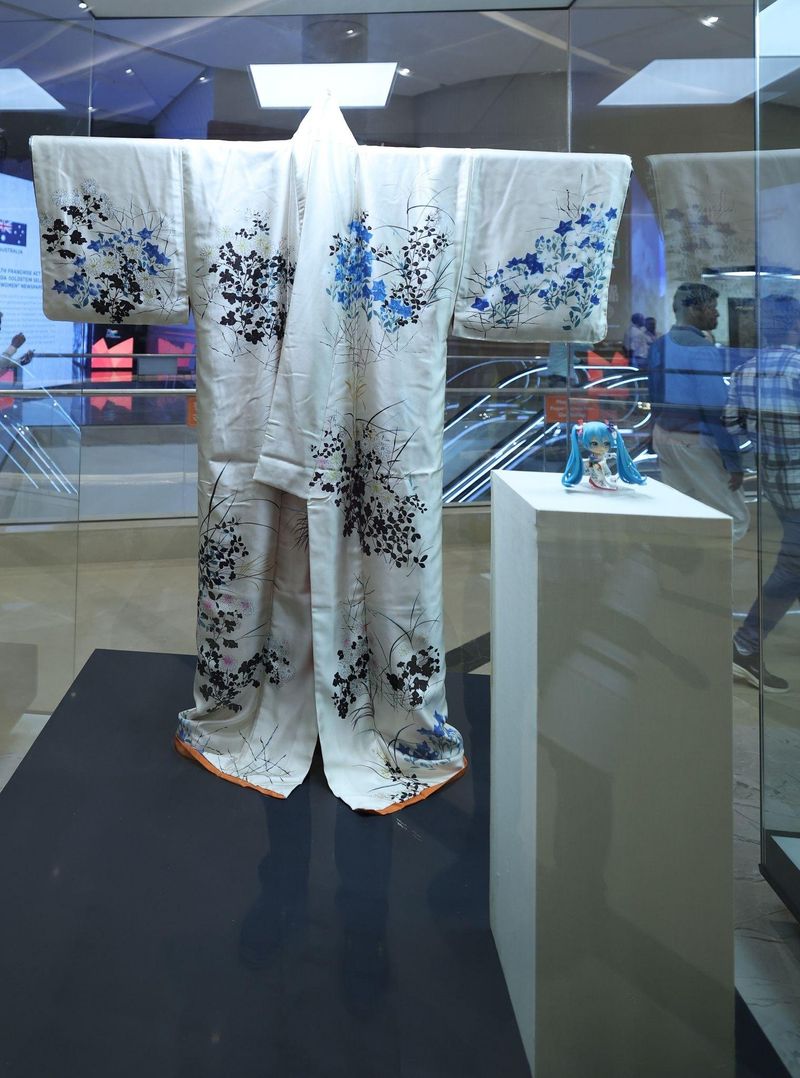 Republic of Korea - The artisan-crafted hat, gat and headpiece, Jokduri
Korea's traditional headwear, such as the Gat for men and the Jokduri for women, symbolizes social status and cultural grace, gaining international recognition through various media forms. Contemporary Korean pop culture actively reimagines these traditional elements in modern contexts, preserving and promoting heritage.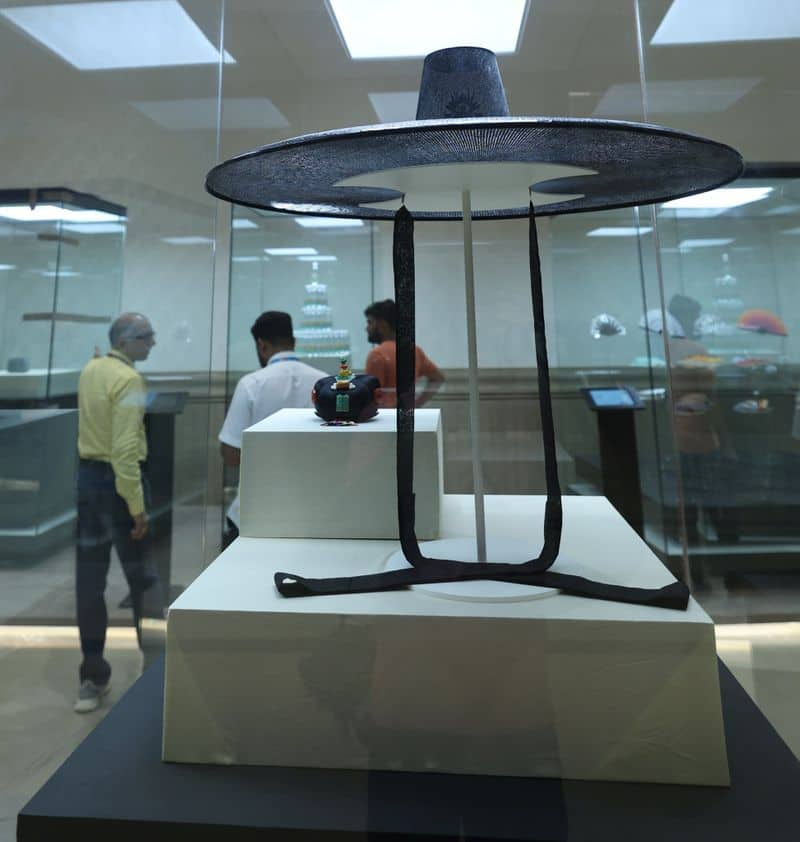 Mexico - Sculpture of duality: Quetzalcoatl (Feathered serpent God) and Tlaltecuhtli (Goddess of the Earth)
This remarkable sculpture features Aztec mythology's key figures: Quetzalcoatl, the Feathered Serpent God, and Tlaltecuhtli, the Earth Goddess. It symbolizes the creation of Earth from Tlaltecuhtli's body and showcases intricate designs, reflecting the rich mythological heritage of the Aztec civilization.
Russia - Traditional Khakass women's dress, vest and pogo
This traditional Khakass woman's attire features a pogó, a hemispherical embellishment on the wedding breastplate, adorned with beads, buttons, pearls, and cowry shells symbolizing fertility and prosperity. The pogó, with its goddess image, is deeply intertwined with Khakass marriage rituals and reflects the cultural richness and legacy of goddess-inspired customs in Khakassia.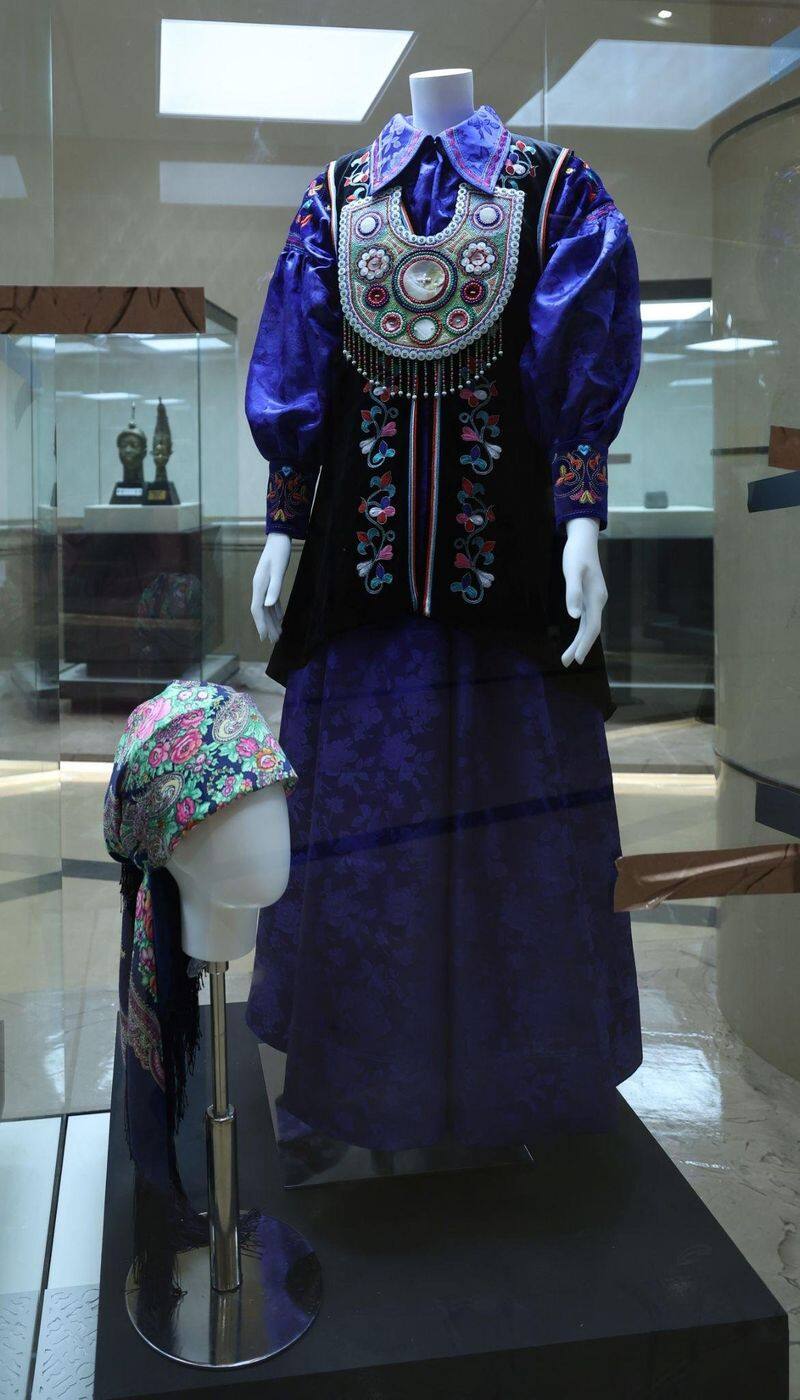 Saudi Arabia - Tayma Stele with Aramaic inscription
The 6th-century BCE Tayma Stele features a ten-line Aramaic inscription and religious tableau, documenting the appointment of a priest in the temple of the god Salm and mandating offerings to the deity. Tayma, known for its rich archaeological sites dating back to prehistoric and Madinian eras, boasts landmarks such as the Great Wall, Al-Hamra Palace, Haddaj Well, Al-Ablaq Palace, and Al-Bujaidi Palace in its historic landscape.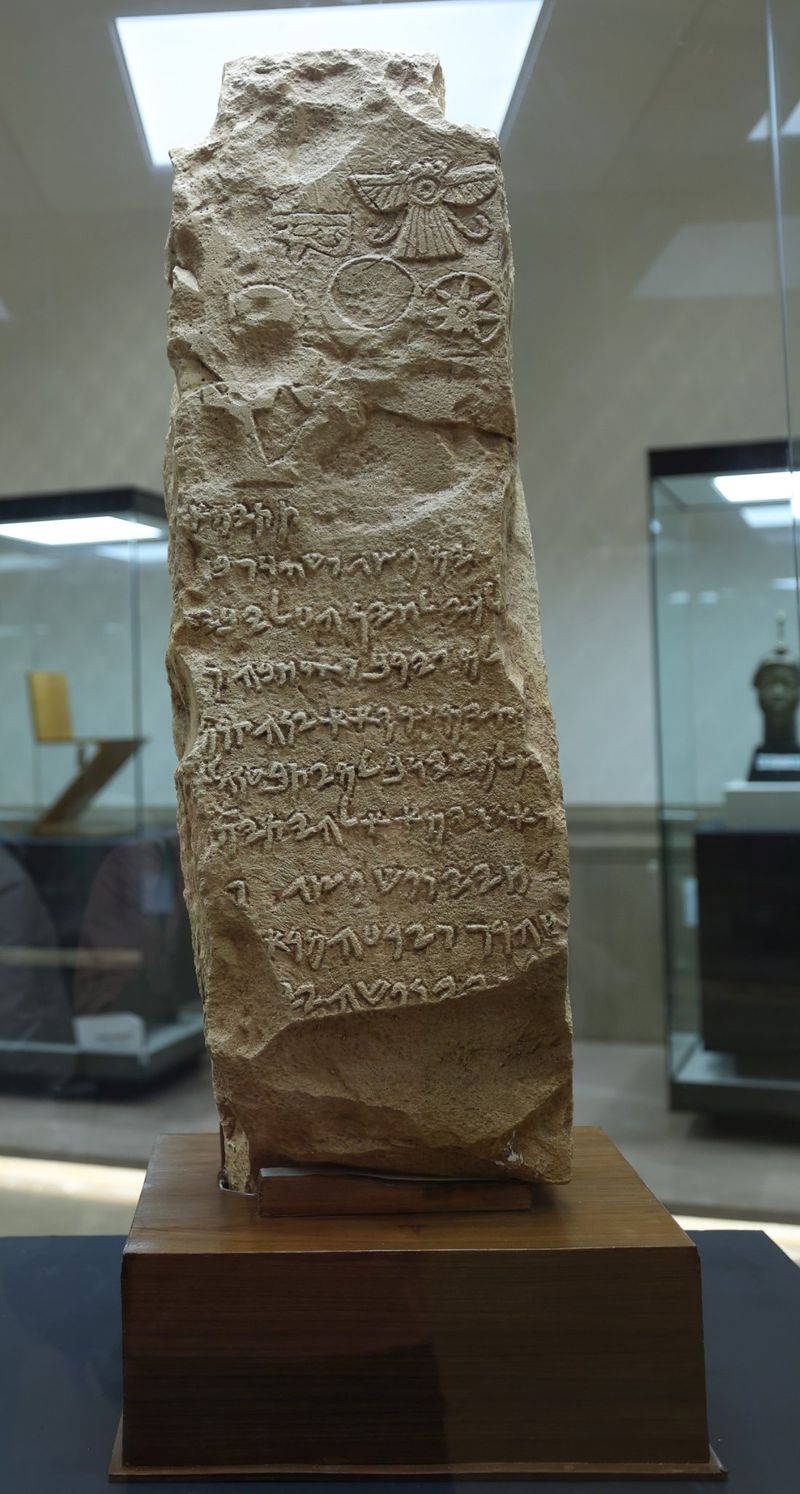 South Africa - A cast of Australopithecus Africans
Australopithecus africanus, known as Mrs. Ples, was discovered by Dr. Robert Broom in 1947 and dates back over 2.5 million years. This significant specimen's skull and potential links to a nearby juvenile skeleton contribute to the understanding of human evolution. In South Africa, Australopithecus includes species like Australopithecus prometheus (Little Foot), Paranthropus robustus, and Australopithecus sediba (Karabo), underscoring Africa's pivotal role as the cradle of humanity, as emphasized by paleoanthropologist Prof. Phillip Valentine Tobias.
Turkiye - Gobekli Tepe Stele
This modern glass replica represents a T-shaped limestone pillar from Upper Mesopotamia, once part of monumental megalithic structures during the Neolithic transition. The intricate totemic art on these pillars, including wild boars and vultures, reflects the presence of specialized craftsmen and interconnected socio-cultural networks in the region, with related artifacts found in museums like Şanlıurfa Archaeology and Mosaic Museums.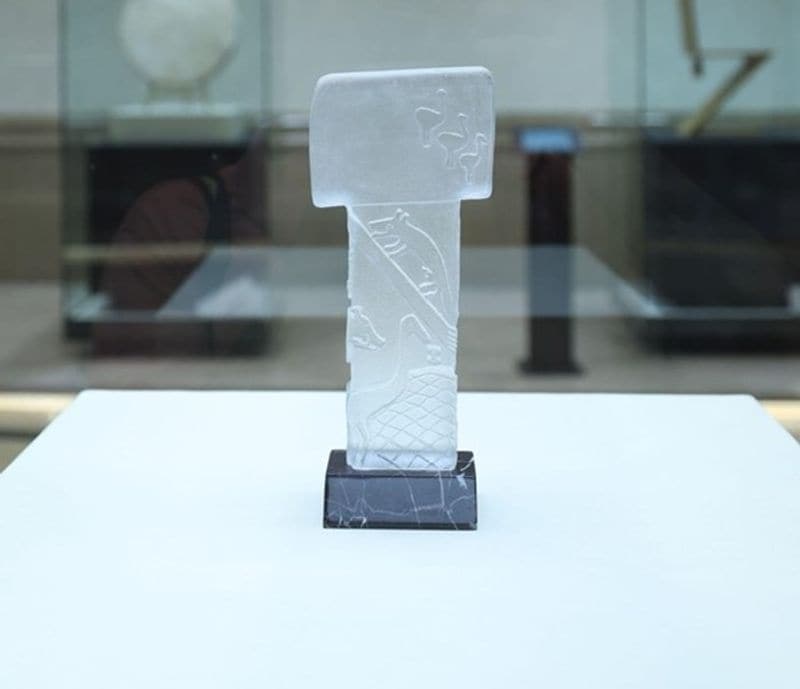 United Kingdom - Full-size colour reproduction of the entire original document, Magna Carta
The Magna Carta, originally composed in 1215, reshaped the king-subject relationship and established the rule of law in the United Kingdom. Its 1225 version, issued by Henry III, with three remaining clauses, including the right to justice and a free trial, symbolically laid the groundwork for democracy in England.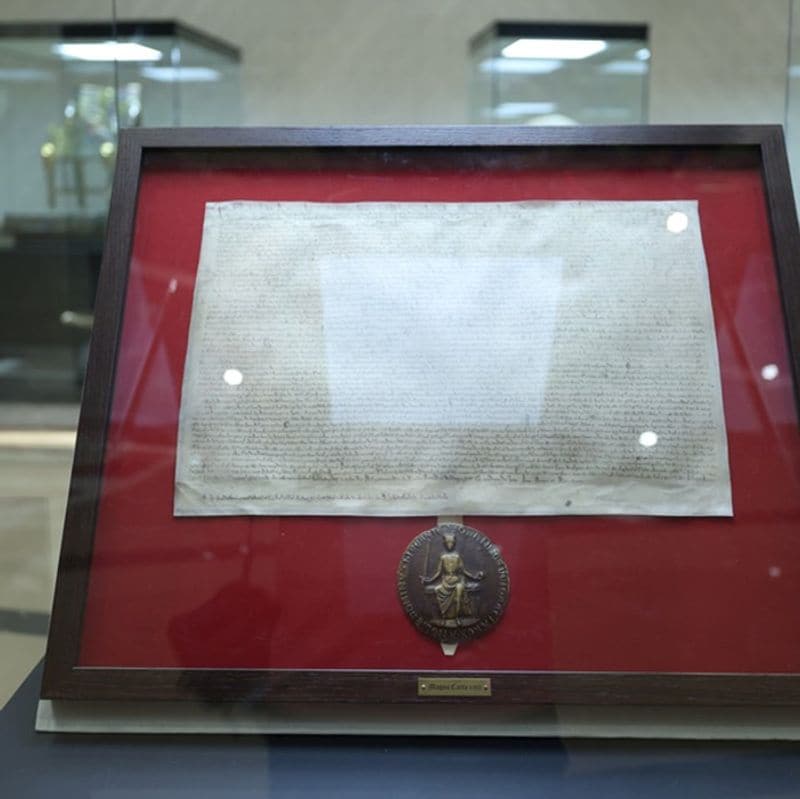 USA - Tyranny of Mirrors
The 'Tyranny of Mirrors' by Sanford Biggers is a part of his Codex series, which uses antique quilts to ignite cross-cultural discussions in contemporary art. This painting features dynamic, three-dimensional cubes symbolizing escape routes on the Underground Railroad, highlighting the strategic role of quilts as guides to freedom, while also incorporating diverse cultural references into Biggers' art.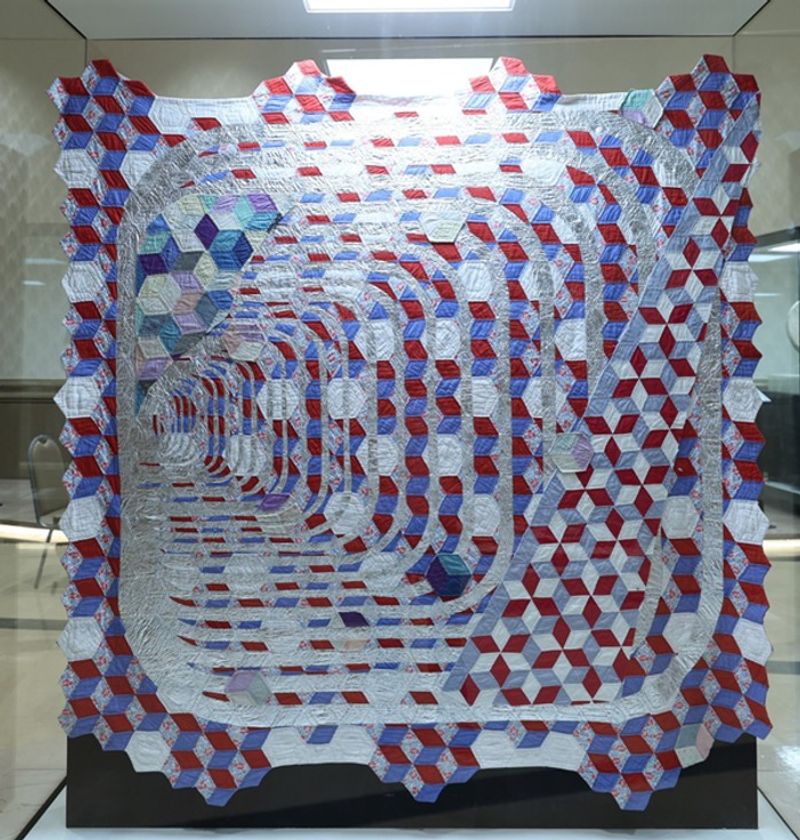 Bangladesh - Bust of Sheikh Mujibur Rahman
Bangabandhu Sheikh Mujibur Rahman, known as the Father of the Nation of Bangladesh, was a staunch advocate for Bengali interests and played a pivotal role in the nation's quest for independence. His historic 7 March, 1971 speech and subsequent leadership led to Bangladesh's liberation, but tragically, he was assassinated in 1975.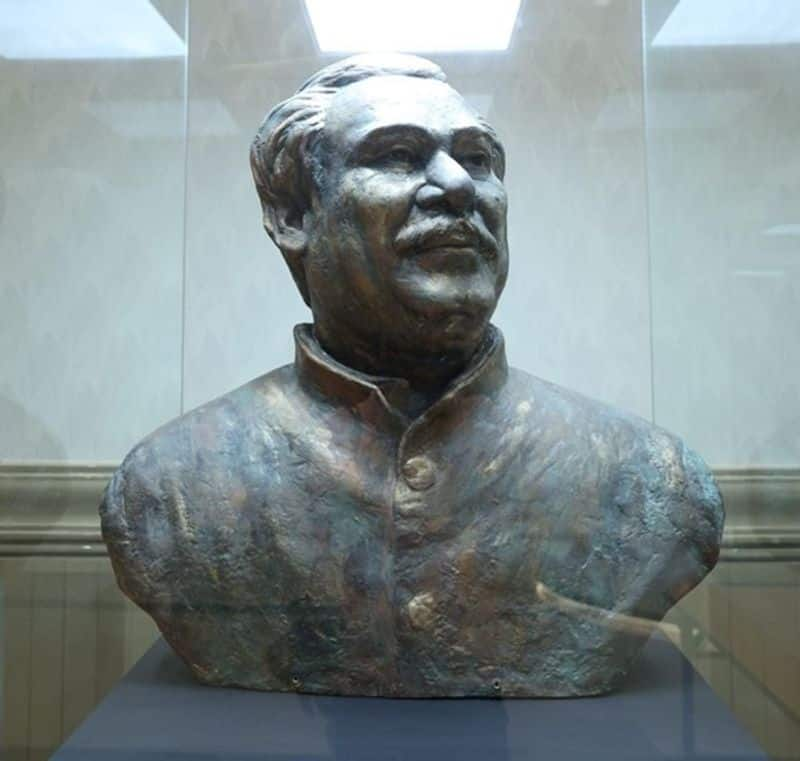 Egypt - The golden mask and modern ceremonial chair of King Tutankhamun
The iconic mask of King Tutankhamun resembling Osiris and the golden throne discovered in his tomb reflect the opulence of royal life and the significance of the sun god in Egyptian culture, showcasing the artistic and technical prowess of ancient Egyptians in the New Kingdom.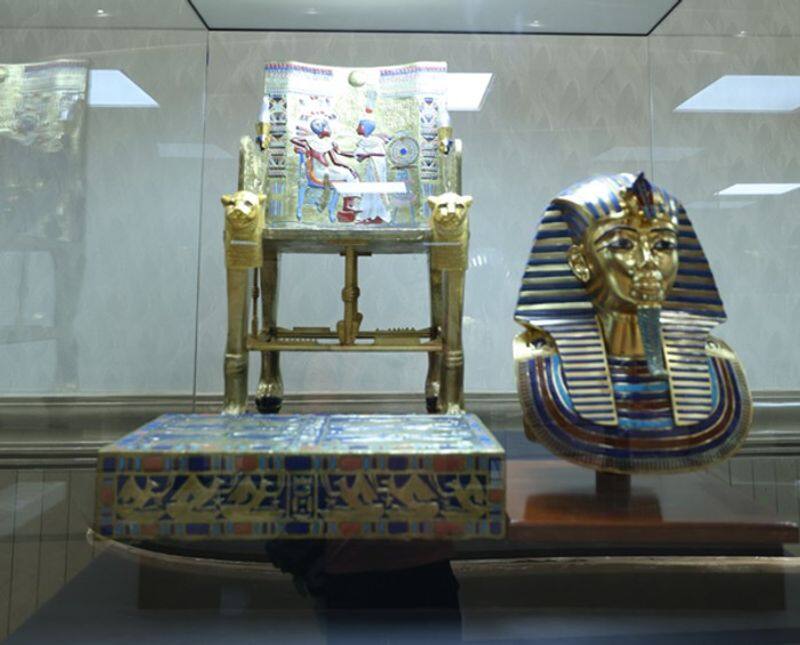 Mauritius - Ravann
The Ravann, a core instrument in Mauritian Sega, carries a rich cultural legacy, historically connected to the island's history of slavery and serving as a unifying element in Mauritius' cultural heritage. Recognized by UNESCO, it symbolizes community resilience and the enduring power of music in preserving traditions.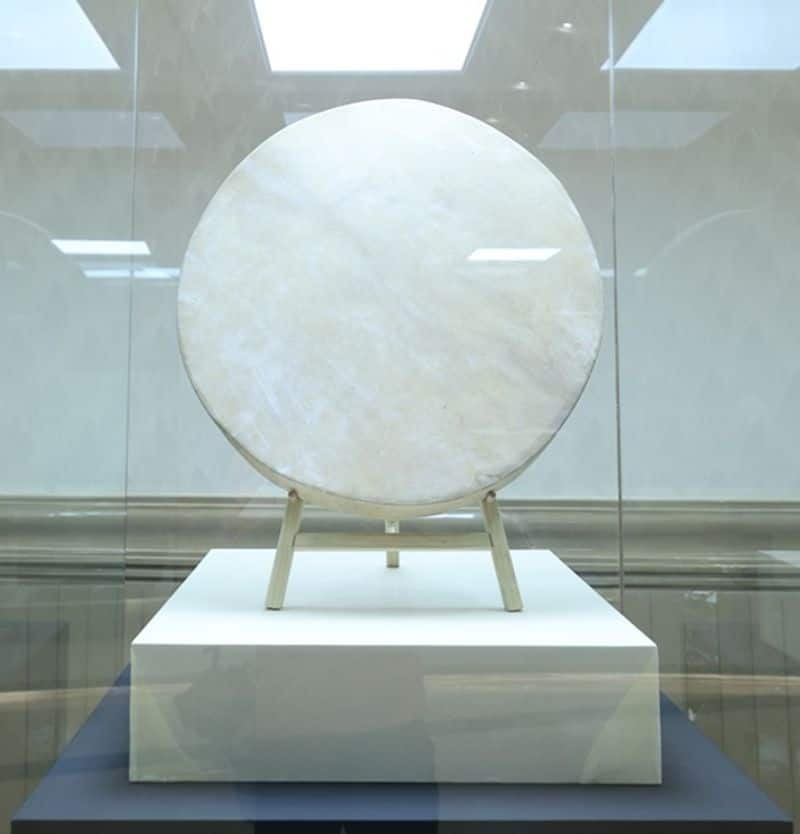 Netherlands - Zig-Zag chair
Gerrit Rietveld's iconic zig-zag chair epitomizes Dutch design's commitment to simplicity and functionality, rooted in the De Stijl movement's principles. Dutch design continues to captivate with its minimalist, innovative, and sustainable ethos, carrying forward the legacy of iconic pieces like this chair.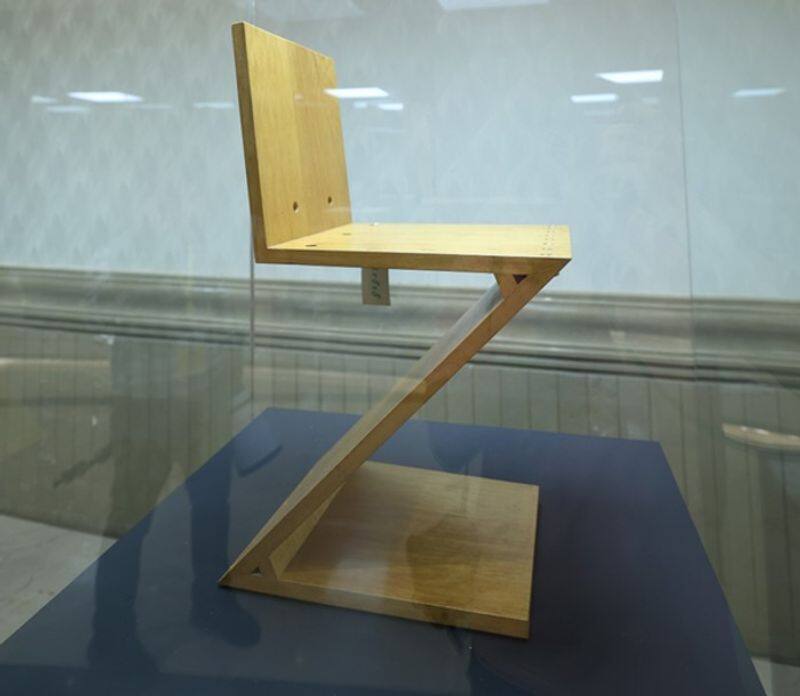 Nigeria - Head of Queen Ida and male head from Ife
The Bronze Head of Queen Idia from Benin and the Ife Bronze Head from Ife, both significant African artifacts, showcase the rich artistic and historical heritage of their respective regions, challenging Western perceptions of African art. While Queen Idia's bronze commemorates her support for her son's rule in Benin, the Ife Bronze Head possibly represents a Yoruba king from the 13th-14th century CE and was later housed in the British Museum.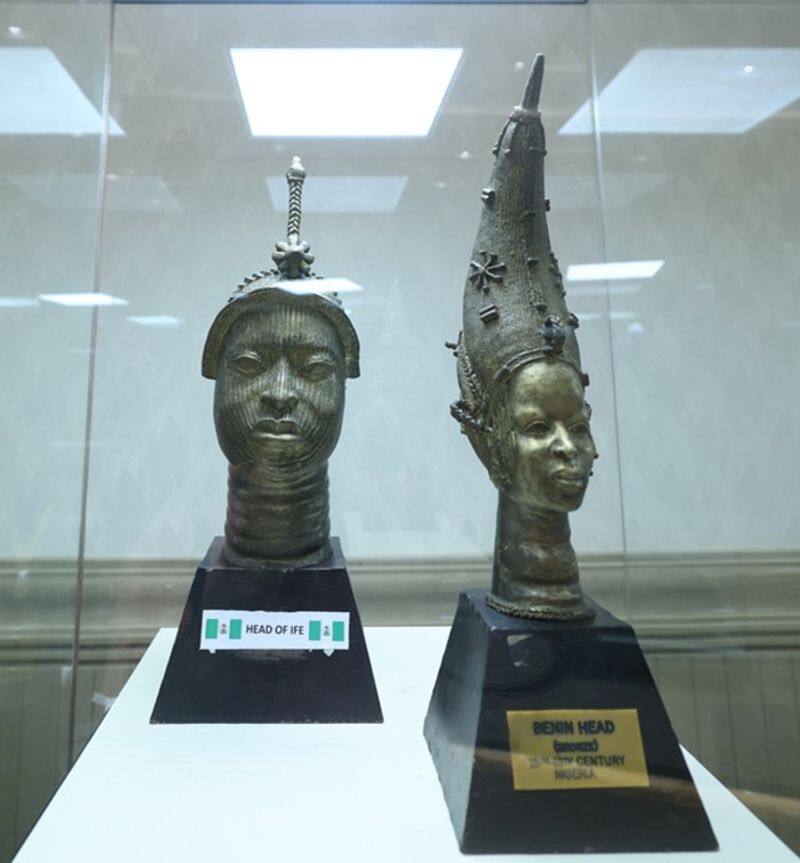 Oman - Soft stone box with narrative decoration
This soft stone vessel, unearthed in Oman's Musandam Governorate, dates back to the Iron Age and potentially played a role in regional trade networks. It showcases the artistry of Omani potters, incorporating diverse motifs inspired by daily life, folktales, and mythology into its design.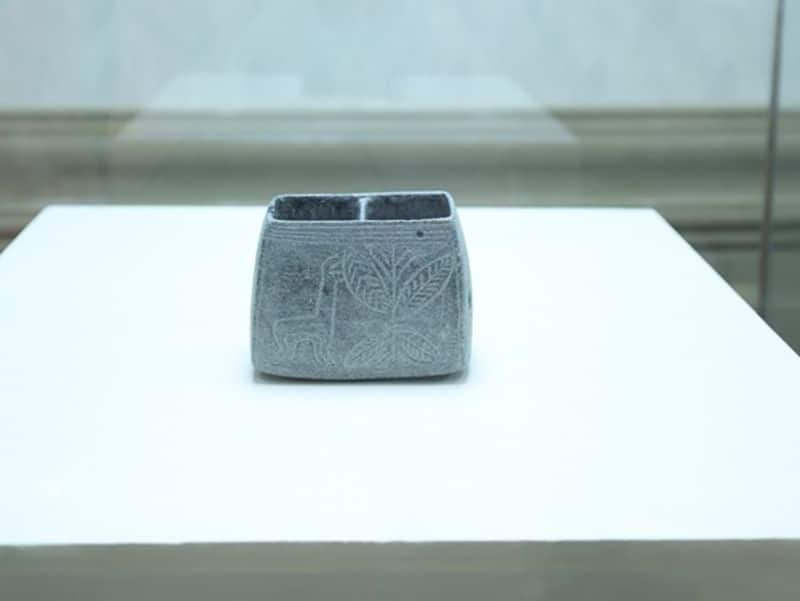 Singapore - Different packagings of NEWater and NEWbrew
The display outlines Singapore's journey to water sustainability through the development of NEWater, starting from a pilot plant in 1974 to its integration into the nation's social fabric and innovations like NEWBrew. NEWater serves as a global model for water reclamation, and future plans aim to harness energy recovery from the water-energy-waste nexus in collaboration with the National Environment Agency.
Spain - Abanicos (hand fans)
Spain's G20 Digital Museum Culture Corridor exhibit, "Diseñar el aire" (Designing Air), reimagines traditional Spanish fans with innovative designs by 16 creators, blending modern materials and technology with this historic accessory. Spanish fans have a rich history dating back to the 16th century and have symbolized femininity and culture, with Valencia leading global production since World War I, and the Aldaia Fan Museum (MUPA) collaborating in this effort to unite history with innovation in fan design.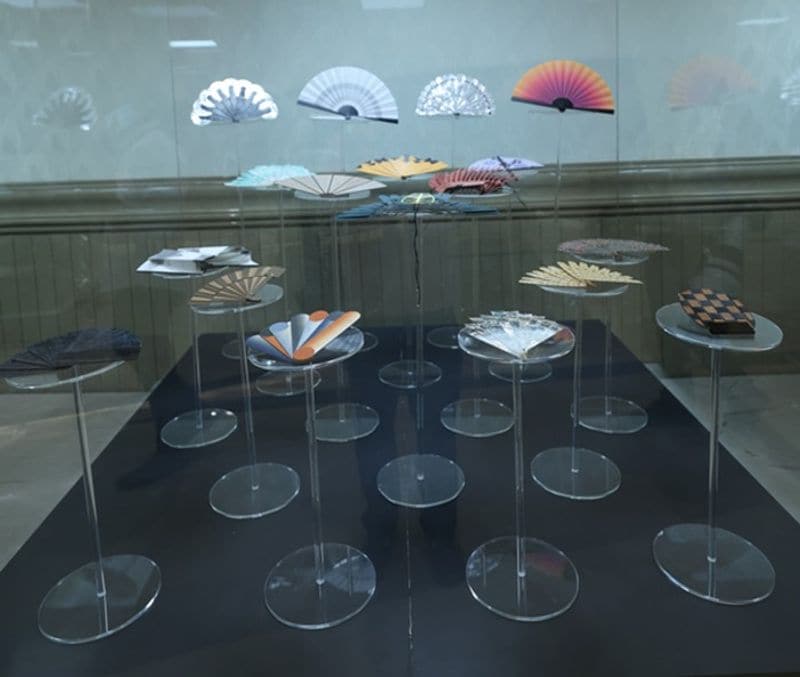 UAE - Replica of a horse gold bridle
This 1st-2nd century CE horse bridle from Mleiha in Sharjah, UAE, provides early evidence of horses in Southeast Arabia, accompanied by gold trappings that reflect regional prosperity and cultural ties among civilizations, showcasing the UAE's historical role as a cultural melting pot.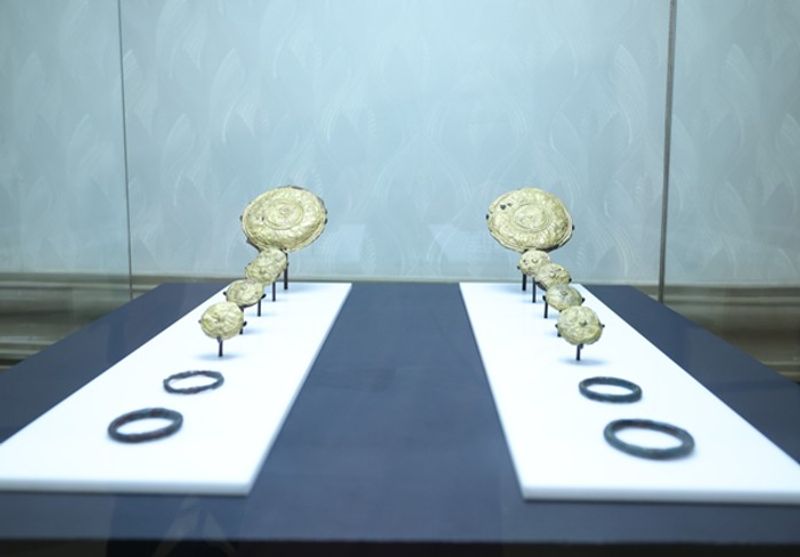 Last Updated Sep 10, 2023, 5:33 PM IST