COVID-19 loss: Can you wake up without the fear of losing your job or receiving pay cut?
Good things often take time, but how long will coronavirus lockdown remain in India? Each day, as the death count in the country increases, people are losing their jobs or receiving pay cuts. Will India see more deaths due to coronavirus or more unemployed citizens post lockdown?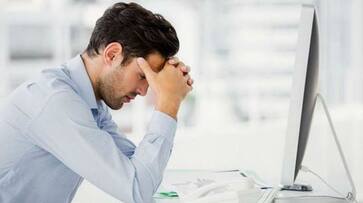 Bengaluru: India is under lockdown to avoid the spread of coronavirus. However, the death toll in the country now stands over 1,700, while coronavirus cases have crossed the 15,000-mark.
Each day, people are dying in India due to coronavirus, or getting infected. At the same time the lockdown stress has seen economy plummet as financial crises grow. Losing one's job is another fear gripping the country along with health concerns regarding COVID-19.
Bengaluru citizen Satish Nagabhushan, who is unmarried, is taking care of his mother and sister, who are dependent on him. After working in Wipro Travel Services Ltd (WTSL) for 3 years, he was on April 30 issued the termination notice without any prior intimation. Satish is A worried man today. "We all are going through tough times. How can they terminate suddenly?" he asked.
Also read:  Coready mobile app helps protect people by nudging users to follow social distancing and notifies them of risk on their phones
Kiran B worked at WTSL for six years. He recently got married and all was well as he set foot into this journey with his wife. Well, his happiness lasted for just 3 years. This lockdown has changed his life completely.
"The global HR spoke to us a week ago and promised to take care of all employees. Is this the way they take care?" asked Mohan Kumar M, who was working in the company for the past two years. "How am I going to survive with my family in the city?" 
Along with Mohan, Kiran and Satish, 12 others have been sacked out of total 70, who work at the MG Road office.
According to a survey, Indians fear two things during the lockdown. One is, will they or their family members be infected by coronavirus. Secondly, how post-coronavirus situation can affect their lives.
Those who work on field or need to work out of office, seem to be losing their jobs. And the ones who are working from home are also unhappy as their salaries have been cut.
Also read: 69 BSF personnel tested positive for coronavirus
Small companies are forced to cut the salaries of employees or sack employees as finances are on a downward trend.
How many more will lose their jobs during lockdown?
According to a report on the BBC, new data from a private research agency has shown that 122 million Indians have lost their jobs in April alone, due to the lockdown effect. 
The Centre for Monitoring the Indian Economy (CMIE) has revealed that unemployment rate is now at a record high of 27.1% in India. 
According to reports, unemployment figures in India are four times that of the US.
Last Updated Jun 9, 2020, 1:56 PM IST