Coronavirus: YSRCP MLA posing for shutterbugs as ambulance driver draws criticism
Nagari constituency RK Roja took to the wheel of one of the newly inducted ambulances and drove around while urging her supporters to click photos and shoot videos.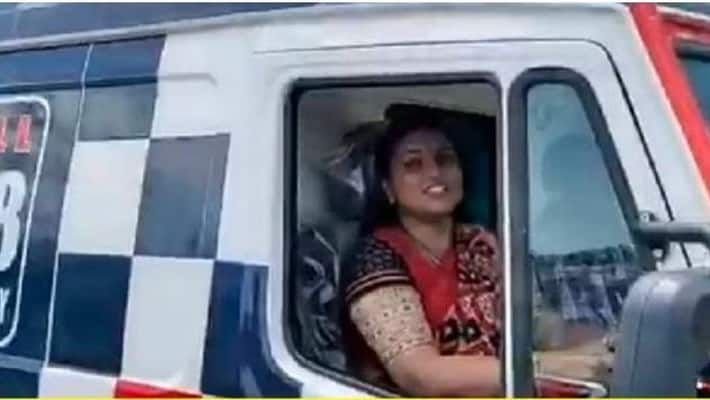 Chittor: Former Telugu actress and MLA from Nagari constituency, RK Roja on Tuesday drove the newly introduced '108' ambulance in Puttur town of Chittoor district.
A video of the same went viral, in which she is seen driving the ambulance for some distance at Puttur, a part of her Nagari constituency, followed by a fleet of ambulances. She was spotted without wearing a mask and was seen posing for pictures.
The ambulances allotted to Chittoor district reached on Monday. Nagari Assembly constituency MLA RK Roja inaugurated the ambulances allotted to her constituency in Puttur town.
Instead of dispatching the ambulances to various locations to be ready to attend to emergencies, the vehicles were held up by Roja for several hours as she insisted on having a function to "induct" the ambulances in her constituency.
The Andhra Pradesh government launched a fleet of 1,088 ambulances on July 1. Ambulances with call centre numbers 108 and 104 are sent to all mandals in the state. The ambulances are equipped with basic as well as advanced life-support systems. Apart from this, 26 neonatal ambulances are also introduced, two each for a district.
Andhra Pradesh has been reporting a huge surge in COVID-19 positive cases and there is huge demand for ambulances to take suspected COVID patients to hospitals and testing centres.
On July 7, the state reported 1178 new positive cases taking the total to 21,197, while 13 deaths were reported taking the total number of deaths to 252.
 
Last Updated Jul 8, 2020, 3:47 PM IST