Coronavirus: Ratan Tata clarifies on fake quote; urges people to verify WhatsApp messages
Ratan Tata has clarified that he did not say anything about Indian econonmy and urged everyone to verify messages that are circulated on social media platforms during the coronavirus (COVID-19) pandemic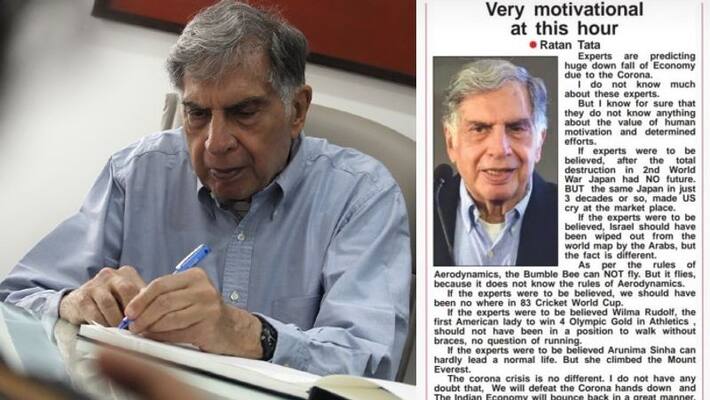 Bengaluru:
Tata Group chairman Ratan Tata has urged everyone to verify messages on social media platforms before believing them after a quote on Indian economy was attributed to him and it went viral.
As India is under a 21-day lockdown due to the novel coronavirus (COVID-19) pandemic, messages, photographs, videos have inundated social media platforms about the health crisis.
Also read: BJP MLA defies lockdown to throw birthday party
The government of India has been asking citizens not to fall for fake news on social media. But still there are some who believe messages which are not true.
On social media, a post was attributed to Ratan Tata, where he talks about Indian economy bouncing back and gives examples about World War, 1983 cricket World Cup among other things. However, this is not written by him. It is fake.
Also read: Anand Mahindra helps struggling banana farmers
Ratan Tata himself took to his Twitter account on Saturday (April 11) to clarify that it was not said by him and if he wants to say something he will only do on his official channels.
"This post has neither been said, nor written by me. I urge you to verify media circulated on WhatsApp and social platforms. If I have something to say, I will say it on my official channels. Hope you are safe and do take care," Ratan Tata wrote.  
The post was firs shared on Facebook. On Saturday, Bollywood actor Arshad Warsi too fell for the fake post and tweeted about the same, praising Ratan Tata.  
Last month, Ratan Tata tweeted that Tata Trusts is pledging Rs 500 crore for coronavirus relief efforts.
"The COVID 19 crisis is one of the toughest challenges we will face as a race. The Tata Trusts and the Tata group companies have in the past risen to the needs of the nation. At this moment, the need of the hour is greater than any other time," he said.
Last Updated Apr 11, 2020, 1:17 PM IST