Coronavirus: Need to rigorously fight against COVID-19 till vaccine is developed, says PM Modi
India recorded the highest single-day increase with 45,720 new cases pushing the COVID-19 tally to 12,38,635.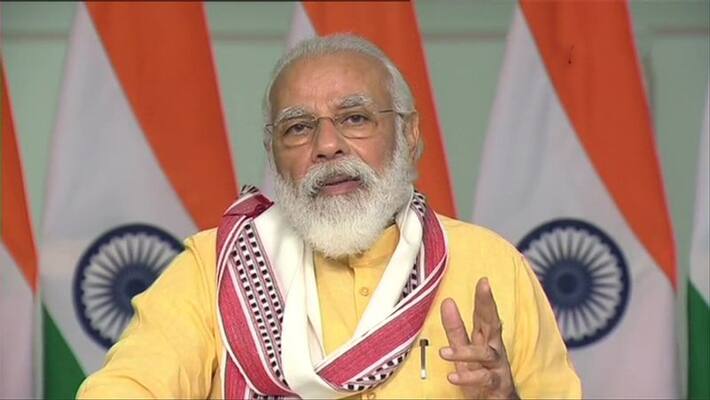 New Delhi: The COVID-19 tally in India rose to 12,38,635 on Thursday (July 23) after over 45,000 fresh cases were registered within a span of 24 hours. The total number of deaths has climbed to 29,861 while 7,82,606 persons have been cured or discharged.
Pune reported the highest number of COVID-19 cases in a city, 2,111, in India on Wednesday, as per data provided by the Maharashtra government. The Pune Municipal Corporation reported over 700 more cases than the Brihanmumbai Municipal Corporation in Mumbai, the city with the second highest number of cases, at 1,310.
Meanwhile, as cases in India crossed the 12 lakh-mark, Prime Minister Narendra Modi said that till the vaccine comes, the country needs to fight vigorously against the coronavirus.
Prime Minister Narendra Modi, while speaking at the foundation-stone laying ceremony of Manipur Water Supply Project, said, "Today's program is an example of the fact that even in this coronavirus crisis, the country has not stopped. Till the vaccine comes, where we have to fight vigorously against the coronavirus, development works also have to be carried forward with full force."
"The state government is working day and night to control the pace of the coronavirus infection in Manipur. The state government has taken all necessary steps to make necessary arrangements for the people of Manipur during the lockdown," PM Modi added.
"Northeastern India is dealing with a double challenge (COVID and flood). Heavy rainfall has caused huge damages; several people lost lives, many are displaced. I express my sympathies to all affected families. I assure you that the country stands with you in this tough time," the PM said stressing on the twin challenge in Northeast.
Amid the race for a vaccine, a World Health Organization (WHO) expert on Wednesday said researchers are making "good progress", with a handful in late-stage trials, but their first use cannot be expected until early 2021. "We're making good progress," Mike Ryan, head of WHO's emergencies programme, noting that several vaccines were now in phase 3 trials and none had failed, so far, in terms of safety or ability to generate an immune response.
Also watch:  We know India is battling enemies like the dreaded Covid-19 & a conniving China. But there is a bigger enemy, and that one lies within.
Find out more in #TheNewsableDecipher
Last Updated Jul 23, 2020, 12:16 PM IST