Coronavirus: Karnataka government to distribute sarees to women COVID-19 warriors
The state government will procure six lakh sarees from the weavers and distribute two each to women corona warriors, minister Srimanth Patil said.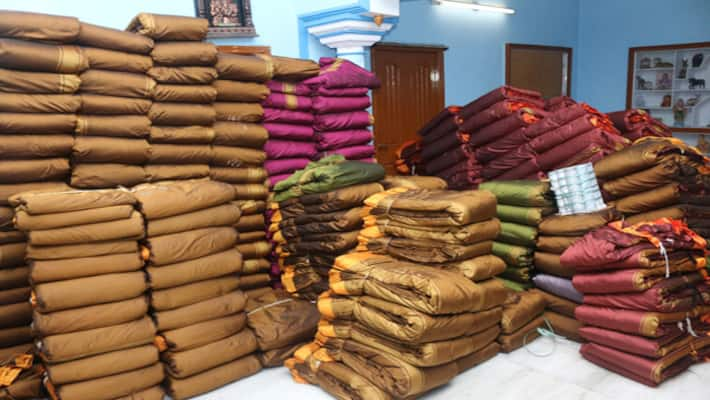 Dharwad: Coming to the rescue of weavers, who have been unable to sell their products during lockdown the state government has decided to procure six lakh sarees from them.
The Karnataka government will distribute two sarees each to women COVID-19 warriors.
According to Karnataka handloom and textile minister Srimanth Patil, the department will procure six lakh sarees from the weavers and distribute them to women corona warriors.
"The government has decided to purchase sarees from weavers in the state who are in trouble as they could not sell their products during the lockdown. These sarees will be distributed to Anganwadi workers, Asha workers and women COVID-19 warriors," Srimanth Patil said.
The Corona warriors are at the forefront putting their lives on the edge to ensure people are sound and healthy as the state battles coronavirus. These frontline workers have been working day and night for the past the 4 months since the pandemic began in March.
This is not the first time; the warriors are honoured for their service. Earlier too, Karnataka primary and secondary education minister Suresh Kumar had honoured the COVID-19 frontline warriors including sanitation workers, home guards, police and Asha workers for their service in Bengaluru.
Karnataka has recorded over 75,000 cases so far. The number of deaths linked to the pandemic in the state breached the 2000-mark on July 28 as 102 more fatalities in the last few days were linked to the pandemic. Of the total 2055 deaths so far, 957 are from Bengaluru. The other districts with most deaths to date are Mysuru (123), Dakshina Kannada (116), and Dharwad (109).
As the number of fresh COVID-19 cases and fatalities linked to the pandemic surge in Bengaluru, the capital city alone reported 1898 new cases while the same was 5536 across Karnataka on Tuesday.
Meanwhile, the number of active containment zones in the city comprising 198 wards rose to 12,325.
The health department also attributed 40 more deaths that took place over the last few days to Bengaluru's death toll on Tuesday.
With this, 957 deaths have been reported cumulatively from the city.
Also watch: We know India is battling enemies like the dreaded Covid-19 & a conniving China. But there is a bigger enemy, and that one lies within.
Find out more in #TheNewsableDecipher
 
Last Updated Jul 29, 2020, 3:22 PM IST