Coronavirus: Zoos in India put on high alert after tiger tests positive for COVID-19 in US
'Zoos in the country are, therefore, advised to remain on highest alertness, watch animals on 24x7 basis,' Central Zoo Authority (CZA) said after a tiger tested positive for coronavirus (COVID-19) in Bronx Zoo, New York
Bengaluru: After a tiger tested positive for the novel coronavirus (COVID-19) in the US, all zoos across India have been put on high alert on Monday (April 6) by the Central Zoo Authority (CZA).
In a statement on April 5, the United States Department of Agriculture's (USDA) National Veterinary Services Laboratories confirmed SARS-CoV-2 (the virus that causes COVID-19 in humans) in one tiger at a zoo in New York.
Also read: Tiger in US zoo tests positive for coronavirus
It said this is the first instance of a tiger being infected with COVID-19. Samples from this tiger were taken and tested after several lions and tigers at the zoo showed symptoms of respiratory illness.
Nadia (pictured), a four-year-old female Malayan tiger at the Bronx Zoo, New York, tested positive for COVID-19. She, her sister Azul, two Amur tigers, and three African lions had developed a dry cough and all are expected to recover.
Also read: 2.6 lakh people recover from coronavirus
Now, in India, Dr. SP Yadav, member secretary, CZA, has written a letter to the chief wildlife wardens of all states and Union Territories put all zoos on high alert after the case in the US.
He wrote, "Zoos in the country are, therefore, advised to remain on highest alertness, watch animals on 24x7 basis, using CCTV for any abnormal behaviour/symptoms, keepers/handlers not to be allowed in the vicinity without safety gear preferably PPE (Personal Protective Equipment), isolate & quarantine sick animals, and have least contact while providing feed to animals."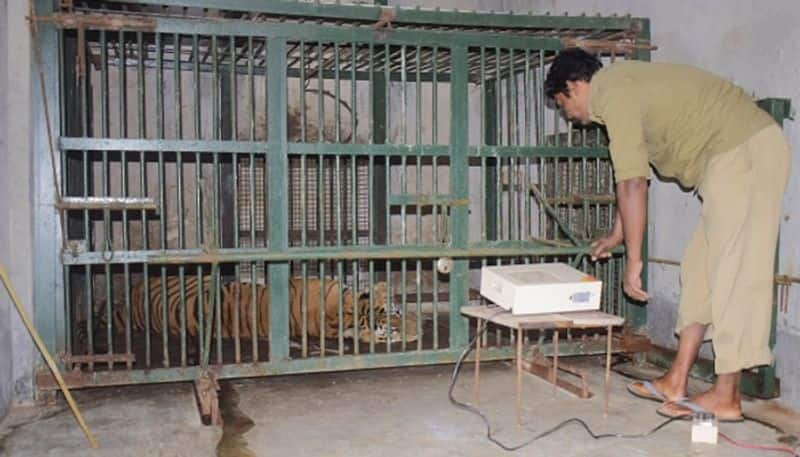 A tigress looks at a heater kept by the zoo authority to warm her up outside her enclosure on a cold day at Assam State Zoo in Guwahati on January 2, 2020
"Mammals like carnivores especially cat, ferret and primates to be carefully monitored and fortnightly samples of suspect cases to be sent to the designated animal health institutes to initiate COVID-19 testing following all bio-containment and safety measures required to handle this high risk pathogen as per the national/ICMR guidelines," he added.
Dr Yadav asked all zoos to strictly adhere to safety and disinfection protocol issued by the Union government.
"All zoo personnel to strictly adhere to safety and disinfection protocol issued by the Government, time to time, on Novel Corona Virus Disease (COVID-19). Further, zoos are advised to coordinate with designated nodal agencies of the Government responsible for public health response and permit screening, testing and surveillance and diagnostic samples as and when required by the nodal agency," he said.
Last Updated Apr 6, 2020, 2:21 PM IST