Coronavirus: Bengaluru airport introduces social distancing, thermal screening and more; 9 key points (Photos)
'Bangalore International Airport Limited (BIAL) — operator of BLR (Bengaluru) Airport — has introduced a slew of measures, including social distancing, thermal screening, sanitisation and disinfection tunnels, fumigation of the terminal, as well as a contactless F&B experience to ensure travellers pass through the Airport as safely and securely as possible,' BIAL said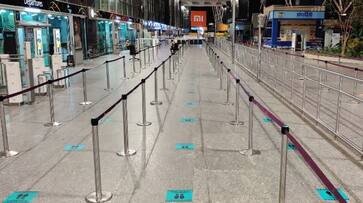 Bengaluru: The Kempegowda International Airport (KIA) in Bengaluru today (May 13) said it has introduced a slew of measures including social distancing, thermal screening to fight the coronavirus (COVID-19) pandemic.
"With stringent operating procedures in place, the Kempegowda International Airport, Bengaluru (KIAB or BLR Airport) is ready to welcome passengers," the Bangalore International Airport Limited (BIAL) said in a press release on Wednesday.
Also read: Bengaluru airport wins award
"Bangalore International Airport Limited (BIAL) — operator of BLR Airport — has introduced a slew of measures, including social distancing, thermal screening, sanitisation and disinfection tunnels, fumigation of the terminal, as well as a contactless F&B experience to ensure travellers pass through the Airport as safely and securely as possible," it added.
Photos: Planes remain grounded at airports around the world
"As the new Gateway to India, we at Kempegowda International Airport, Bengaluru have a key role to play in helping get through this global health crisis by acting responsibly. With the highest priority on safety of passengers, employees and other stakeholders, we have implemented a series of actions to protect passengers and minimise exposure from the transmission of the virus when the Airport reopens," said Hari Marar, MD & CEO, BIAL.
Also read: Delhi airport uses new technology to fight coronavirus
"BLR (Bengaluru) Airport is all geared up to welcome our passengers back and we're committed to guaranteeing a safe experience for our passengers by implementing the best-in-class standards, procedures and practices," Marar added.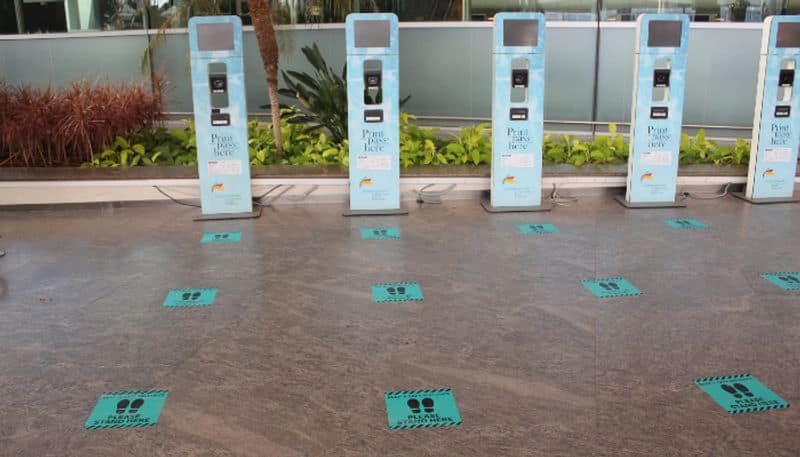 According to BIAL, the following measures are in place to keep the Bengaluru airport safe.
1. Social distance
Maintaining social distance at the Terminal and during boarding and deboarding would be crucial. To help our guests, BIAL is taking additional precautions to create extra space, right from entry to boarding. Seating – across the Terminal, including at F&B outlets – has been rearranged and marked in a manner that promotes social distance. At Security checkpoints, additional separation is marked – this area will be managed by BIAL staff.  For all of this to work, signage, including floor, seating, digital and standees, have been installed across the Airport to help passengers maintain an adequate distance. Social distancing will also be enforced across the parking areas. 
2. Thermal screening
BLR Airport will continue to work with the Airport Health Officer (APHO) and State Health Department to conduct thermal screening of all arriving and departing passengers, based on mandates from MoCA and the Department of Health and Family Welfare. Employees will undergo regular screening, both at the beginning and end of shifts. Efforts are underway to minimise wait time and avoid crowding at the kerb.
3. Hygiene awareness
Passengers will be provided with information on COVID-19 protection measures via electronic display systems. They are encouraged to use online check-in and bring an electronic or printed boarding pass with them to avoid contact with high-touch surfaces and queues at check-in counters. Passengers also have the facility of printing boarding passes at the Departure Gates or inside the Terminal. The Aarogya Setu app is now mandatory for passengers to download before they enter the Terminal.
Passengers will have access to hand sanitisers, placed at nearly 500 locations across the Terminal. Face masks are now mandatory at all public places, including the Airport. Passengers would be able to purchase both sanitiser and masks at BLR Airport.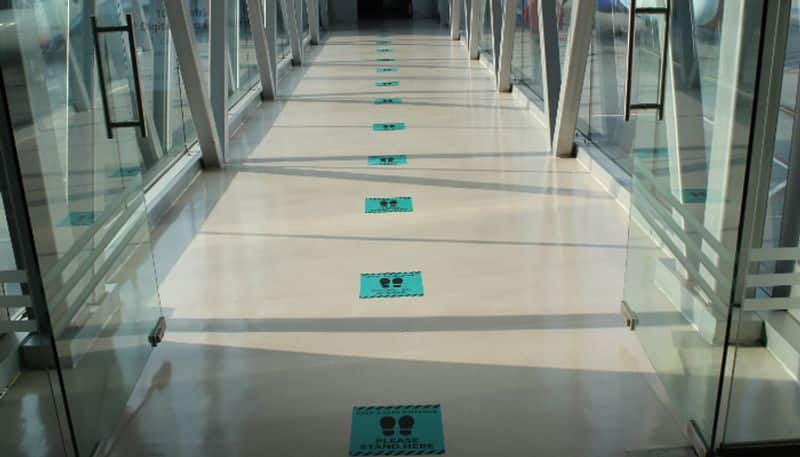 4. Deep-cleaning and sanitisation
An intense sanitisation and disinfection drive was initiated during the lockdown. As part of the enhanced cleaning drive, the entire 155,000 sq.m Terminal, Airside and Landside infrastructure have undergone multiple rounds of deep cleaning and sanitisation.
The areas frequently touched by passengers and high-traffic areas such as the Security Hold Area, Airline Counters, kiosks, Self-Bag Drop machines, trolleys, chairs, trays and ATMs are sanitised every two hours with mist. That apart, chairs, trolleys and other passenger touchpoints have been scrubbed clean. 
The washrooms across the airport premises are sanitised on a regular basis, irrespective of the frequency of usage. The frequency of misting, sanitising and deep cleaning will be gradually increased once the Airport resumes operation. The unique plants and shrubs, as well as the pots, at the Terminal are sanitised and cleaned on a regular basis.
5. Disinfection drive
The Pest Control team sprays high-grade disinfectant using a fog machine every two hours to decontaminate even the remotest corner of the Airport. The chemicals used are environmentally friendly and compliant with WHO standards.
Disinfectant is sprayed every four hours at Immigration counters, elevators, lounges, ancillary buildings, office spaces of various departments at the Terminal, apart from manual cleaning. The CISF Barracks, located at the Airport premises, are disinfected every 12 hours.
On the Airside, all vehicles are sanitised twice each day and frequency will be increased based on the usage.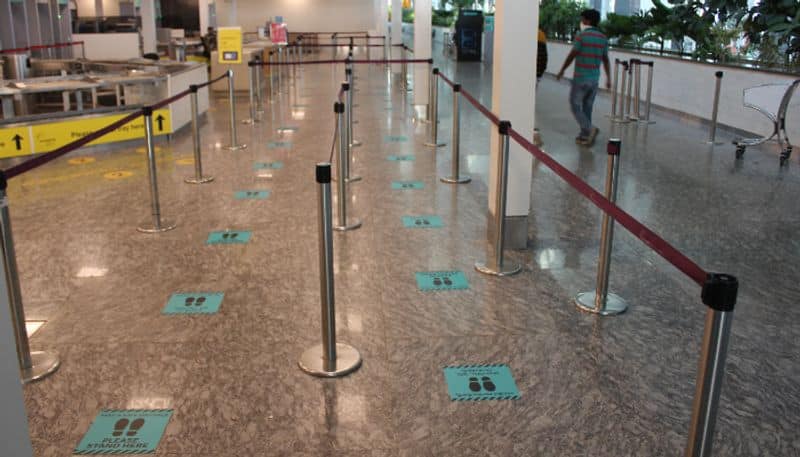 6. Medical support
With support from the experienced emergency medical experts from KIAB's medical partner Aster Hospital, BLR Airport will continue to provide the highest standards of medical care for passengers. With a clinic inside the Terminal and a larger facility outside, the Airport is equipped to handle emergencies.  To provide rapid response during emergencies, BIAL recently launched indoor ambulances. Equipped with oxygen cylinders and other essential equipment, the ambulance will enable immediate medical care before moving the patient safely and securely to Aster Hospital for further intervention.
7. Food and beverage service (F&B)
F&B is one of the prime features of BLR Airport that draws not only traveling passengers but casual visitors, as well. To ensure that the F&B is free of contamination, all staff must adhere to hygiene and sanitisation measures, as well as ensure the use of masks and gloves during food prep. To make people travel happier and healthier as well as enhance airport experience, BIAL has developed a contactless solution to help restaurants and eateries minimise human contact. It has three main components – contactless menu, contactless ordering and contactless payment—all done via a kiosk or a mobile app.
The curated food, which includes immunity-boosting combos, will be available for takeaway as well as delivery. The delivery would be made at a specific seat or designated point.
To drive confidence among passengers, sealed, tamper-proof packaging will be implemented for all orders to ensure food safety and hygiene. Apart from training F&B staff on food safety norms, wearing of PPEs will be mandatory during duty hours. Staff will be screened regularly. All restaurants will encourage diners to keep a safe social distance from others.
8. Retail and duty free
With an eye on safety and to develop a digital retail solution, BIAL will launch FASTR BY BLR, an omnichannel initiative that enables passengers to buy retail and Duty-Free products online. With this, passengers can also order a product and choose the option to collect it at their place of choice.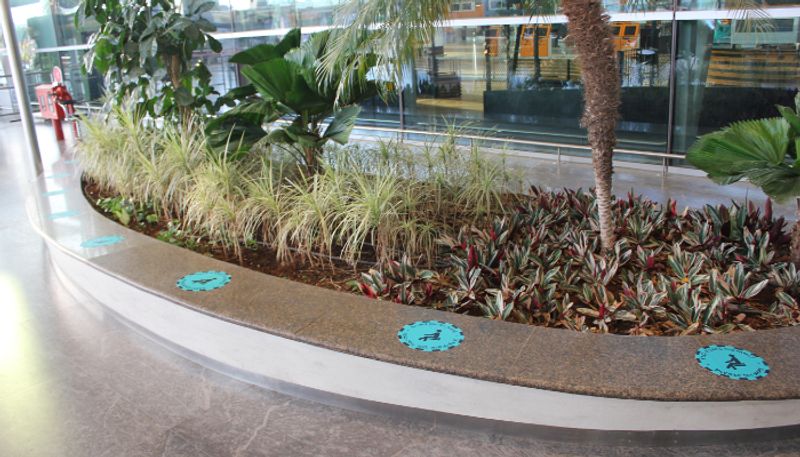 9. Infrastructure  upkeep
BIAL made optimum use of the lockdown to polish floors and address various other requirements of infrastructure upkeep. The entire floor of the Terminal has been polished. False ceilings, boarding bridges, doors, windows, elevators, facade glass, floor, high rise pillars, restrooms, baggage trays, signage boards, walkways, carpets and AC grills have been thoroughly scrubbed to keep the facility spotless.
Last Updated May 13, 2020, 2:19 PM IST