BMTC's surprise inspection leaves over 5,000 ticketless passengers shocked, Rs 10 lakh penalty collected
With over 6,000 buses under its fleet and over 5,000 operating daily, the BMTC launched a surprise check and found 5,497 ticketless passengers cheating the BMTC. The corporation made a whopping Rs 10,06,960 through penalties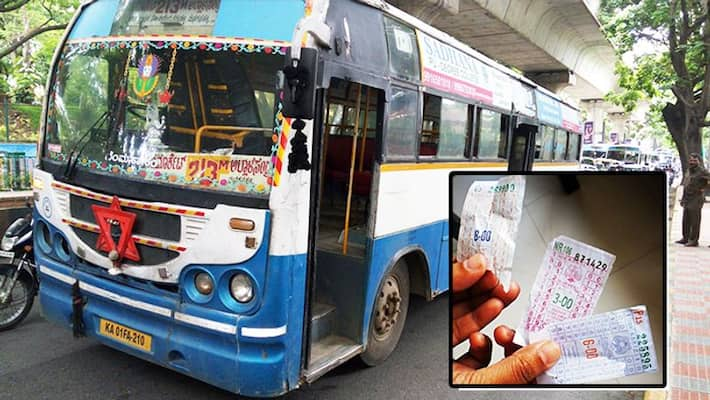 Despite cracking a whip on ticketless passengers in the past, conducting awareness programmes, passengers still cheat the BMTC. A surprise check by BMTC officials in December 2019 resulted in collection of penalties from 5,497 ticketless passengers.
The bus managed to collect a whopping Rs 10,06,960 in the form of fines and let offenders off with a warning, asking passengers not to repeat the offence.
 Officials also pulled up 2,748 bus conductors for failing to check on ticketless passengers and marked them in the books in the dereliction of duty category which may affect their promotion and other perks
To ensure that passengers do not cheat BMTC and travel without tickets in buses, there will be periodical check-ups and awareness programs created. The staff will be educated in reaching out to passengers travelling in BMTC buses and to take commuters into confidence and to display a sense of ownership.                 
The usual complaint from drivers and conductors in BMTC is that the ticketless passengers usually target buses during peak hours as there is a huge rush. The other reason is that such travellers say they have bus pass and board the bus during such a time.            
Realising that such passengers take buses during peak hours, the BMTC will intensify checking and stand in almost all locations in the core area of the city to bring such passengers under the scanner.
Be a gentleman, don't take her seat:
The BMTC also booked 266 male passengers for taking over seats reserved for women passengers in BMTC buses and collected fines totalling to Rs 26,600 from offenders.
Last Updated Jan 21, 2020, 5:43 PM IST