BJP targets TMC MP Mahua Moitra after Nishikant Dubey's 'cash-for-questions' claim
A political firestorm has erupted as the Bharatiya Janata Party (BJP) accuses Trinamool Congress MP Mahua Moitra of taking bribes to pose questions in Parliament, supposedly to target the Adani group and Prime Minister Narendra Modi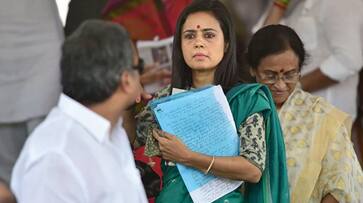 The Bharatiya Janata Party (BJP) has launched a fierce offensive against Trinamool Congress MP Mahua Moitra following allegations made by BJP MP Nishikant Dubey. Dubey triggered a political storm by demanding the immediate suspension of Moitra, accusing her of accepting bribes to ask questions in Parliament that targeted the Adani group and Prime Minister Narendra Modi, allegedly on behalf of businessman Darshan Hiranandani.
In his letter to Lok Sabha Speaker Om Birla, Dubey accused Moitra of breaching parliamentary privilege, showing contempt for the House, and engaging in criminal conspiracy. Moitra responded by welcoming any investigation into the matter.
The Hiranandani Group swiftly dismissed the allegations, asserting they had "no merit" and emphasizing their focus on business rather than politics. The group highlighted their history of cooperation with the government for the benefit of the nation.
Dubey's letter to Birla suggested that Moitra's questions were intended to promote the business interests of the Hiranandani Group, which had lost an energy and infrastructure contract to the Adani Group. Dubey alleged that Darshan Hiranandani had provided Moitra with Rs 2 crore in payments and gifts, including an expensive iPhone, as well as Rs 75 lakh for election funding. He further claimed that the majority of the questions posed by Moitra between 2019 and 2023 were at the request of Darshan Hiranandani, and the businessman or Moitra had posted them directly on her Lok Sabha account. Advocate Jai Anand Dehadrai, who conducted meticulous research, has taken some of these allegations to the Central Bureau of Investigation (CBI).
Moitra's questions pertained to topics such as oil and gas supply from Paradip, Dhamra Port, urea subsidy, steel prices impacting real estate, and the powers of the Income Tax Department. Dubey alleged that opposition parties followed her lead. In his letter, he drew a parallel to the "cash for questions" scandal that made headlines in 2005, which led to the suspension of 11 MPs in a record 23 days. He claimed the current situation resembled a resurgence of the "cash for query" issue.
Moitra promptly responded on a micro-blogging site, suggesting that she was being targeted for exposing alleged favouritism toward the Adani group. She also alluded to Dubey's educational qualifications. She maintained that attempts to silence or discredit her using questionable sources would be futile.
Moitra added that multiple breaches of privilege complaints were pending against Dubey and others, and she welcomed any motions against her once the Speaker addressed those issues. She also suggested that enforcement agencies should take action against the Adani group before considering any actions against her.
Last Updated Oct 16, 2023, 1:28 PM IST