Bengaluru: MP Rajeev Chandrasekhar praises young entrepreneurs, slams Indian dynasty businesses
Taking to Twitter, BJP Rajya Sabha MP Rajeev Chandrasekhar appreciated young entrepreneurs for their creativity and innovation and slammed old style Indian dynasty businesses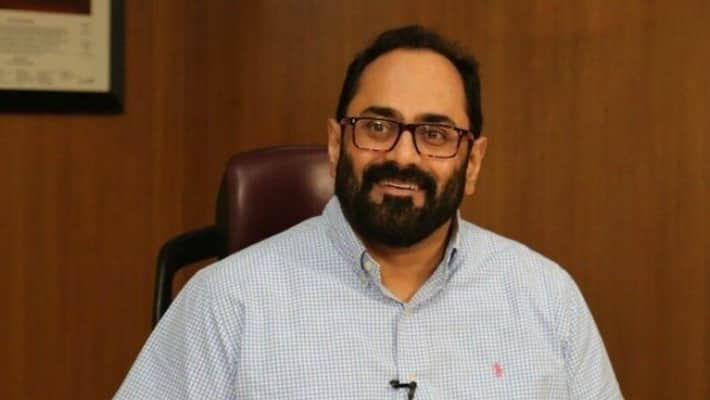 Bengaluru: BJP member of Parliament Rajeev Chandrasekhar hailed young entrepreneurs and lashed out at old style Indian dynasty businesses.
Bajaj Group chairman Rahul Bajaj triggered a sharp debate on Twitter on Sunday after he said that there is an atmosphere of fear in the country and people are afraid to criticize the government.
Among growing trend on Twitter were some Twitterati, who reverted and said it was then that industrialists and old-style entrepreneurs who never spoke against the UPA government.
Later, these Twitterati hinted at how Modi government is being abused and how industrialists would not speak against the UPA government.
"On the alleged atmosphere of lack of freedom to talk against Modi, two points. One, no Industrialist has ever dared ever to speak against the Gandhis in power or out it, after 1975. Still many spoke against Modi. Two, no politician has been abused more than Modi in 19 yrs." 
Responding to tweets, Rajeev stated that glory days of UPA style 'honchos' and their ability to exert influence on the government are are a thing of the past
On Monday, Rajeev Chandrasekhar took to Twitter and wrote, "Some corporate "honchos" are "insecure" - Yes. Reason ? Glory days of UPA style "honchos" exertng influence on govt n policy making is over. In @narendramodi govt, "honchos" no longer enjoy access n influence as they used to bfr. Live wth it! This is #NewIndia👍🏻 @AmitShah"
 
Rajeev also had a piece of advice for the old-style dynasty businesses and said they have lot to learn from the younger generation.
"Old style Indian dynasty businesses hv a lot to learn from young entrepreneurs. Of earning respect thru wealth creation by innovation n competing hard. Not by fixing policies, licenses n proximity to govt. Live with it. This is #NewIndia", his tweet read.
Last Updated Dec 2, 2019, 4:21 PM IST