Bengaluru anti-CAA protest: Organiser's agenda was to gain popularity among Muslims?
The anti CAA, NRC and NPR rally organised by JD(S) corporator at Freedom Park may have turned out to be a failure following Amulya's "Pakistan Zindabad" slogan, but it has certainly got organiser Imran Pasha some attention.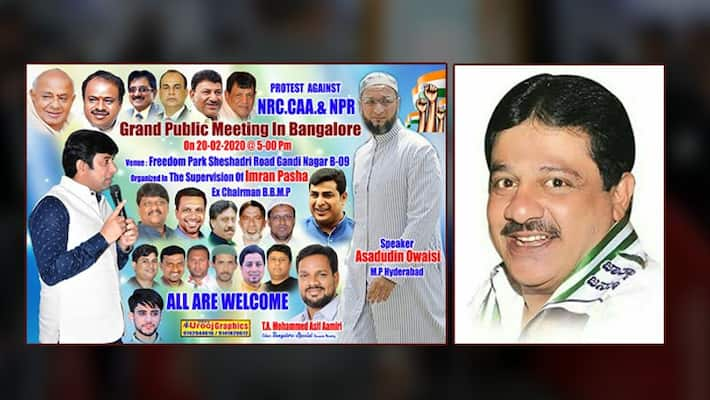 The anti-CAA, NRC and NPR protests has given rise to opportunity for many small-time leaders to use this agitation as a springboard to help them further their political career. Thursday's agitation at Freedom Park where Asaduddin Owaisi was invited, was one such platform created by Imran Pasha to emerge as the next Muslim face of JD(S).
However, his ambitious plan turned out to be a flop as 19-year-old Amulya poured cold water on it with her "Pakistan Zindabad" slogan.
Imran Pasha, who is the first-time BBMP corporator from Padarayanpura, is said to be an aspirant for the MLA seat from Chamrajpet, which is held by BZ Zameer Ahmed Khan.
Khan was the prized possession of the JD(S) and enjoyed the attention of Muslims. Once he defected to the Congress, the JD(S) has failed to fill the void. With Muslims leaders and MLC BM Farooq, JD(S) national spokesperson Tanveer Ahmed failing to make any impact among Muslims, Pasha hopes to cease the opportunity by stirring up anti-NRC, CAA and NPR agitations.
"It may be true that he wants to become more popular by organising such agitation." said JD(S) president, HK Kumaraswamy.
Opposition reacts:"There is no doubt that small-time leaders are using this agitation to become the face of the community. But this should not be something for leadership, it should be more of a fight for survival and dignity", said Kengal Shreepada Renu, Congress spokesperson.
"The agitation has derailed long back. Each leader is trying to outdo another and become famous. This is nothing but a divisive agenda by the JD(S) and Congress. It is through Imran Pasha that the 19-year-old girl who shouted Pakistan Zindabad was invited on the dais and he too should be booked under sedition charges" said S Prakash, BJP spokesperson.
Last Updated Feb 22, 2020, 12:18 PM IST