After victory in Delhi, AAP to kickstart 5-day rally in Bengaluru's BBMP limits
Aam Admi Party that steamrolled BJP and Congress in Delhi election, will now hold a rally and door-to-door campaign in Bengaluru's BBMP limits. The five-day rally is a signal that Kejriwal's party will test its luck in the local municipal election that will be held at the end of the year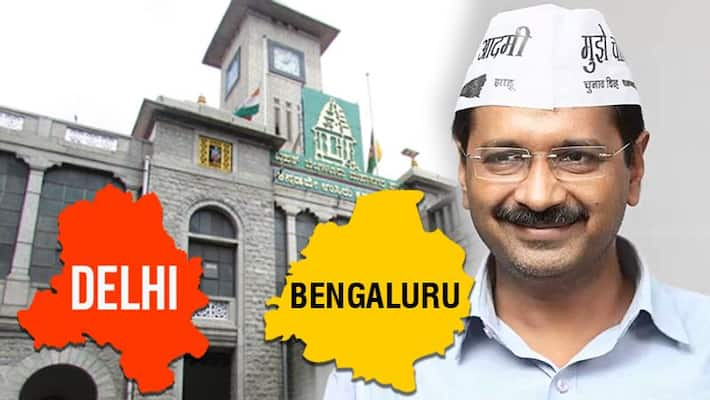 After sweeping the Delhi elections for a successive third term, Aam Admi Party will be planning to extend its foothold in the south. According to Shanthala Damble, Karnataka state co-convenor, party workers will kickstart the five-day rally from Anand Rao Circle on Wednesday and cover 107 kilometres within BBMP limits.
The party has been working over the last year-and-a- half, meeting residents and holding meetings about civic issues plaguing the city and have already appointed 35 ward presidents.
When asked about the challenge as Karnataka is bent towards Vokkaliga and Lingayat candidates, Damble said even in Delhi, Arvind Kejriwal found the same issue with caste and cash politics and after his 49-day rule for the first term, he managed to convince them and won by a thumping margin in 2015.
"For us only development matters. Settling the civic issues in BBMP area tops the list and a short film based on Delhi's success and AAP's work in solving and providing a solution will be shown to the public. This way we will try to reach voters," said Damble.
BJP, Congress say AAP making an impact outside Delhi impossible:

Reminding us about the past when Arvind Kejriwal had to reverse his decision of expansion following defeat outside Delhi, BJP says, If AAP were to try national, it will fall flat. Delhi voters will reject this type of mindset.
"It is a party led by a single man. If he keeps moving in the rest of the country, who will be answerable in Delhi. They don't have an organisation set up. It's a single-man rule party. If they do expand, they will insult Delhi voters. In the past, they tried to expand and failed," said Krishna Saagar Rao, chief spokesperson, BJP.
Echoing similar sentiments, Congress leader and Rajya Sabha MP Rajeev Gowda said the problem and atmosphere in Delhi are different and AAP governed, addressed few issues and were able to return to power, but when they stepped outside Delhi, they failed.
"In Punjab, they wanted to come to power but failed. They cannot repeat the Delhi mandate in the rest of the country as the set up outside is different," MP Rajeev Gowda said.
Last Updated Feb 11, 2020, 4:37 PM IST