After 'Bharat' transition, will Pakistan lay claim to 'India' name post deregistering at UN level?
Speculation abounds regarding a potential name change from 'India' to 'Bharat' in the Constitution of India, with implications for international recognition. Opposition parties express concerns, alleging political motivations behind the use of 'Bharat.'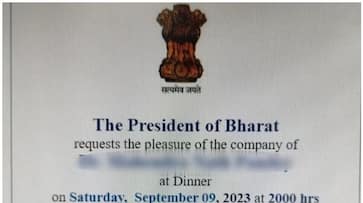 A controversy has erupted over the dinner invitations sent by President Draupadi Murmu to foreign dignitaries ahead of the G20 summit scheduled for September 9 and 10 in Delhi. The invitations contained a notable change, as they referred to the position as 'President of Bharat' rather than 'President of India.'
This change has led to speculation that during a special session of Parliament, the central government may introduce a bill to formally change the name from 'India' to 'Bharat' in the Constitution of India. Such a change could potentially trigger international repercussions, including the possibility of Pakistan asserting its claims to the name 'India' at the United Nations.
India to Bharat transition: 'Bharat' term used for PM Modi's recent foreign trips; G20 Summit ID cards
In Pakistan, local media outlets have reported that if the recognition of the name 'India' is officially revoked at the UN level, Pakistan could lay claim to the name 'India.' Pakistan has long argued that 'INDIA' refers to the Indus Region.
While the fate of India's name remains uncertain, opposition parties have raised objections to the use of 'President of Bharat' on the invitations. Some members of the opposition contend that the Modi government's decision to use 'Bharat' instead of 'India' may be an attempt to undermine the opposition alliance known as 'INDIA.'
Congress General Secretary Jairam Ramesh confirmed the change, stating on the social networking site X that the dinner invitations for the G20 Summit on September 9 were indeed sent in the name of 'President of Bharat' instead of 'President of India.'
Congress insults President Droupadi Murmu over 'Republic of Bharat' invite; I.N.D.I.A allies say govt spooked
The G20 Summit in Delhi will be attended by numerous world leaders, including US President Joe Biden, as India assumes the chairmanship of the event.
Last Updated Sep 6, 2023, 9:23 AM IST