India to Bharat transition: 'Bharat' term used for PM Modi's recent foreign trips; G20 Summit ID cards
It is rumoured that the Modi government will address this matter in a special parliamentary session immediately following the G20 Summit. The speculation doing the rounds claimed that the country's name would be officially changed, and it would universally be known as 'Bharat.'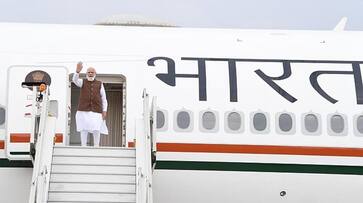 Did the transformation of India to Bharat officially begin some time back? According to television reports, signs of this transition to 'Bharat' have appeared in Prime Minister Narendra Modi's official documents for his recent visits to Greece and South Africa. Furthermore, ID cards for the upcoming G20 Summit also feature the term 'Bharat,' as reported by the Times Now channel.
Congress insults President Droupadi Murmu over 'Republic of Bharat' invite; I.N.D.I.A allies say govt spooked
Recall that a political controversy arose on Tuesday regarding the use of the names INDIA and Bharat. It is rumoured that the Modi government will address this matter in a special parliamentary session immediately following the G20 Summit. The speculation doing the rounds claimed that the country's name would be officially changed, and it would universally be known as 'Bharat.' The use of INDIA will become a thing of the past. However, it's essential to note that these are currently speculations.
The notion of changing the country's name gained traction for several reasons. On the morning of Tuesday, September 5, a new Twitter account named 'G20 India' was discovered. This account will serve as an additional official handle for G20, sharing comments and information related to G20 activities in the name of India.
Additionally, an invitation letter from Rashtrapati Bhavan for the G20 dinner on September 9 was issued in the name of the 'President of Bharat.' Traditionally, it has always been referred to as the 'President of India.' A photograph of this invitation letter, addressed to a minister, clearly displays the change from 'President of India' to 'President of Bharat.'
Not Team India, it's Team Bharat: Sehwag bats for players to wear 'Bharat' jersey for ODI World Cup
'India' or 'Bharat'? Controversy erupts over G20 dinner invite; check details
Last Updated Sep 5, 2023, 10:43 PM IST