96.94 per cent voting till 3 pm in vice presidential election
NDA's M Venkaiah Naidu is pitted against opposition candidate Gopal Krishna Gandhi
The counting of votes will commence after polling and the results will be declared by 7 pm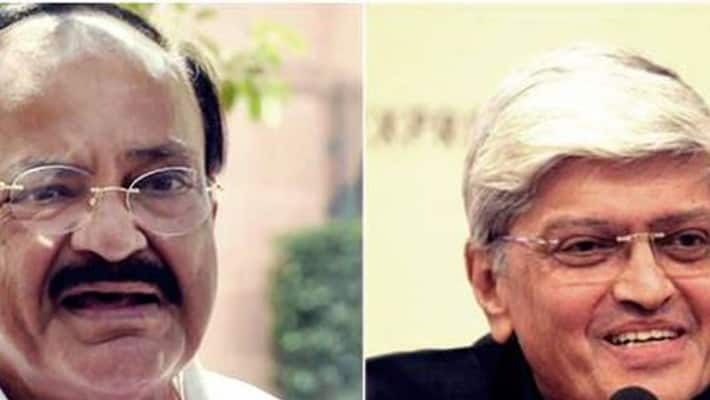 Nearly 97 per cent of the members of Parliament exercised their franchise till 3 pm in the vice presidential poll here today.
Assistant Returning Officer Mukul Pandey told reporters that 96.94 per cent (761 out of 785) members eligible to cast vote have exercised their franchise till 3 pm.
NDA's M Venkaiah Naidu is pitted against opposition candidate Gopal Krishna Gandhi.   The strength of the electoral college comprising both elected and nominated MPs of Rajya Sabha and Lok Sabha is 790.
There are two vacancies in each House. One BJP Lok Sabha MP is barred from voting following a judicial pronouncement.
Prime Minister Narendra Modi and M Venkaiah Naidu, as well as Uttar Pradesh Chief Minister Adityanath, a Lok Sabha member, were among the first to cast their ballot. In fact, the prime minister was standing in queue even before the voting hall opened at 10 am.
Congress vice president Rahul Gandhi, his party MPs Jyotiraditya Scindia, Deepender Singh Hooda and Sushmita Dev also voted to elect the next vice president. MPs are using special pens for marking their choice in the election which will conclude at 5 pm.
The counting of votes will commence after polling and the results will be declared by 7 pm, Election Commission officials said.
The electoral college which elects the vice president, who is also the ex-officio Chairman of the Rajya Sabha, consists of elected and nominated members of the Rajya Sabha and the Lok Sabha.
Last Updated Mar 31, 2018, 7:06 PM IST