Ram museum and others: Seven decisions by Yogi Adityanath on Day 1
He asked his senior officials to ensure good governance and transparency
Adityanath accepted Modi government's proposal to build a Ramayana Museum in Ayodhya
He also started delivery on his promise of shutting illegal slaughterhouses in UP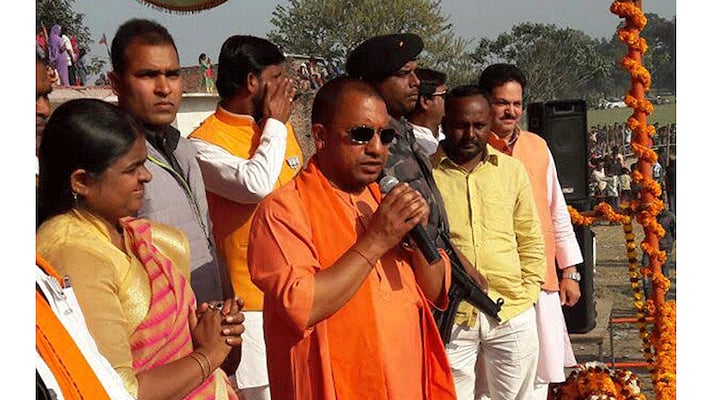 Yogi Adityanath's swearing-in ceremony was held at the Kanshiram Smriti Upvan saw a number of VIPs, including chief ministers of 11 states, besides Bharatiya Janata Party parliamentary board members and other dignitaries.
#Within hours assuming charge as Chief Minister, Yogi Adityanath asked the DGP and chief secretary to make sure that disturbance shouldn't be created in the name of celebrations.
#To the senior officials in the state he gave them the Bharatiya Janata Party's vision document - Sankalp Patra - for the 2017 state assembly elections and asked them to refer to it while preparing a roadmap for "good governance and transparency" for all departments. He asked them to ensure its "speedy and complete implementation".
#The late-night killing of the BSP leader in Allahabad also spurred him into action, with Yogi asking the police to ensure that law and order situation in the state improved within a week.
# Narendra Modi's mandate for a corruption-free India is what Yogi seeks to develop further and so he made an example by asking all his ministers to provide details of their income, moveable and immoveable assets within 15 days. This announcement he made at his first introductory meeting soon after assuming office. 
#In his first press conference at Lucknow, the new Chief Minister Yogi Adityanath had asserted that his government will take steps to fulfil promises made regarding slaughterhouses by the BJP in the run up to the state assembly polls. Two illegal slaughterhouses were sealed by the authorities at Allahabad on March 19.
#Taking ahead the motto of Swachh Bharat, Adityanath administered a sanitation pledge to the officials and asked them to ensure that the pledge is effectively implemented.
#Day 2: Adityanath accepted Narendra Modi's government proposal to build a Ramayana Museum in Ayodhya. The proposal, which was stalled during Akhilesh Yadav regime, has been taken up, says a report in Times Now 
Last Updated Mar 31, 2018, 6:32 PM IST