24 patients, including 12 newborns, die in Maharashtra hospital in a day; sparks massive concern
The article reports on a tragic incident in a Maharashtra hospital where twelve newborns and twelve adults died in 24 hours, attributed to a shortage of medicines and staff.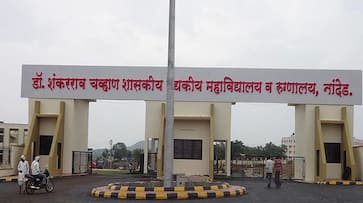 Over the past 24 hours, a state-run hospital in Maharashtra's Nanded witnessed a tragic toll with the loss of twelve newborns and an equal number of adults, as revealed by the hospital's dean. The dean attributed this distressing situation to a shortage of essential medicines and a reduced number of hospital staff.
Among the 24 casualties recorded in this timeframe, twelve adults were afflicted with "various ailments, mostly snake bites," as reported by the dean of Nanded's Shankarrao Chavan Government Hospital. This dire situation prompted the dean to comment on the staffing challenges faced by the hospital, particularly due to staff transfers, and the increased patient load resulting from being the sole tertiary-level care center in a vast radius.
The dean explained further, saying, "We are a tertiary-level care centre and the only such place in the 70 to 80-km radius. So, patients come to us from far-off places. On some days, the number of patients increases and it creates a problem for the budget." Additionally, he mentioned the hospital's procurement challenges, noting the unavailability of medicines from the Haffkine institute, which they were supposed to purchase from.
Despite these difficulties, the dean emphasized that they had sourced medicines locally and provided them to the patients. However, he expressed regret over the unfortunate deaths.
In response to these distressing events, Chief Minister Eknath Shinde expressed his condolences and stated that further inquiries would be made to understand the circumstances, with appropriate action to follow.
The political opposition in Maharashtra launched a scathing attack on the government, with criticism directed at the ruling coalition known as the "triple-engine sarkar" (comprising BJP, Shiv Sena, and NCP's Ajit Pawar faction). They called for accountability in the wake of 24 lives lost, and Congress leader Ashok Chavan visited the hospital to assess the situation, highlighting the lack of medical facilities, staff, and operational machines.
Supriya Sule, Sharad Pawar's daughter, also held the government accountable for the tragic deaths, emphasizing the responsibility of the "triple-engine sarkar."
Vikas Lawande, a spokesperson for Sharad Pawar's NCP, criticized the state government for its failure to supply medicine and condemned the government's focus on advertising festivals and events amid such a tragedy.
Notably, this incident occurred less than two months after 18 patients lost their lives in 24 hours at the Chhatrapati Shivaji Maharaj Hospital in Kalwa, Thane, in August, with similar concerns raised about medical facilities and patient care.
Last Updated Oct 2, 2023, 9:27 PM IST