'Don't go, Sir...' school children give emotional farewell to their beloved teacher; WATCH
PK Kunjabdulla Master, a native of Velom in Kakkuni, Kozhikode, got transferred from Kallachi Govt UP School, where he worked for seven years, to Arambol Govt UP School near his home. The children could not bear to see their favorite teacher leave the school.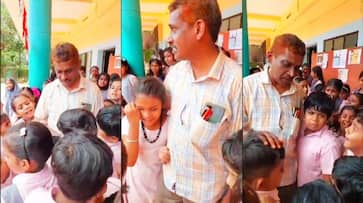 When a beloved teacher leaves, whether it's due to retirement, moving to a different school, or other reasons, it can be an emotional experience for the students. The bond between a teacher and their students can be quite strong, especially when the teacher has made a positive impact on the students' lives. A teacher named Kunjabdulla encountered a similar circumstance when his students gathered around him and began sobbing as they bid him farewell. The children can be seen sobbing and pleading with their teacher not to leave the school in the viral video. The Kallachi Govt U.P. school in Kozhikode witnessed the emotional farewell. 
As seen in the video, master Kunjabdulla comforts each student by wiping away their tears and promising to return tomorrow. Kunjabdulla was transferred to the Govt. U.P. school in Arambol, which is close to his home, after working there for the previous seven years.  The kids were unable to endure the thought of their favourite teacher leaving their school. 
The emotional attachment and the tears are an expression of the deep connection and affection the students have for their teacher. It shows that the teacher has left a lasting impression and that their presence will be missed. It is a testament to the significance of the teacher-student relationship and the value of the educational journey.
Last Updated Aug 7, 2023, 10:26 AM IST